Best in Show Chelsea Flower Show 2014 Luciano Giubbilei's Laurent Perrier Garden
By Alex N •


Luciano Giubbilei's Laurent Perrier Garden Wins Best in Show

Designed by:  Luciano Giubbilei

Built by: Crocus.co.uk

Sponsored by: Champagne Laurent-Perrier


We support this decision and in fact predicted Luciano's Laurent Perrier Garden as a clear best in show winner before judging was announced.  And arriving early at the show ground (5.30am) it's interesting as I now think some of the best predictors of a winning design are the unsung heroes of Chelsea – the garden photographers.  They were instantly round this garden like bees around a honeypot.  Of course photographers are obsessives about light, and light is really always at the heart of Giubbilei's designs.  But it seems to me that the photographers are the one to watch if you want to spot a winning design – they understand angles, light, and equally what the public will love.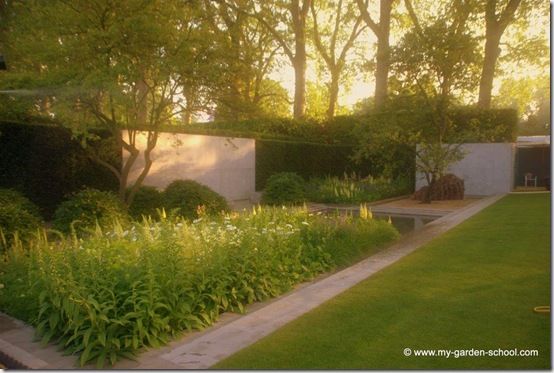 Luciano is not a typical show garden designer.  He recently told the Financial Times: "For many years, designing at Chelsea never crossed my mind – for the simple reason that I did not do flowers. The language of my gardens was defined by light and influenced by my classical Italian design heritage of proportion, balance and spatial arrangement."
It was Tom Stuart-Smith who changed Luciano's mind – introducing him to Laurent-Perrier who asked him to design his first Chelsea Flower Show garden. That opened the opportunity for Luciano to begin to experiment with perennials and develop relationships with some of the growers for the first time. Voluptuous peonies, filigree fennel and imperious salvias found harmony with the precision of  yew and box hedging and box-headed hornbeam trees for his Chelsea Flower Show Garden in 2009.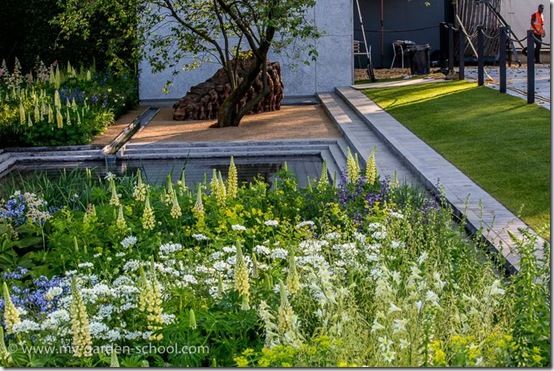 The rest is history.
Personally I also enjoy Luciano's gentle yet outspoken thoughts and brutal honesty on the true nature of gardens:  "The joy of gardens is gardening - and people should stop selling low maintenance gardens as an idea because it doesn't exist and for those people who wished it existed they should be playing golf instead"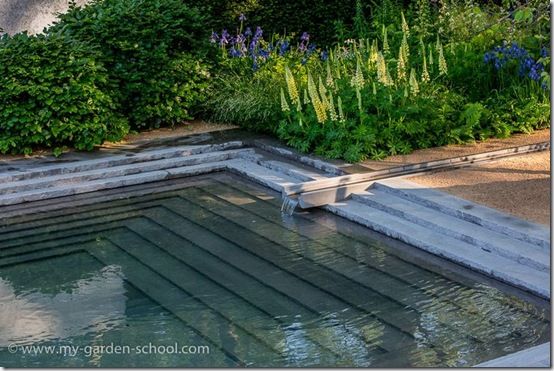 About Luciano Giubbilei's Laurent Perrier Garden 2014
Luciano Giubbilei's gardens aren't like some gardens which are high impact and dramatic.  They have a real sense of calm and depth – and often take some looking at to understand the design genius behind the overall serenity.   Two years ago at a lecture I did hear Luciano say he was entering a new phase; a new journey with colour was beginning.  And here it is.  And remarkably he has maintained the sophistication and class that was his signature in his all green controlled, italian classicism gardens.  Here his journey into colour, works with the planting, which included foxgloves, verbascum, aconite and Tellima grandiflora.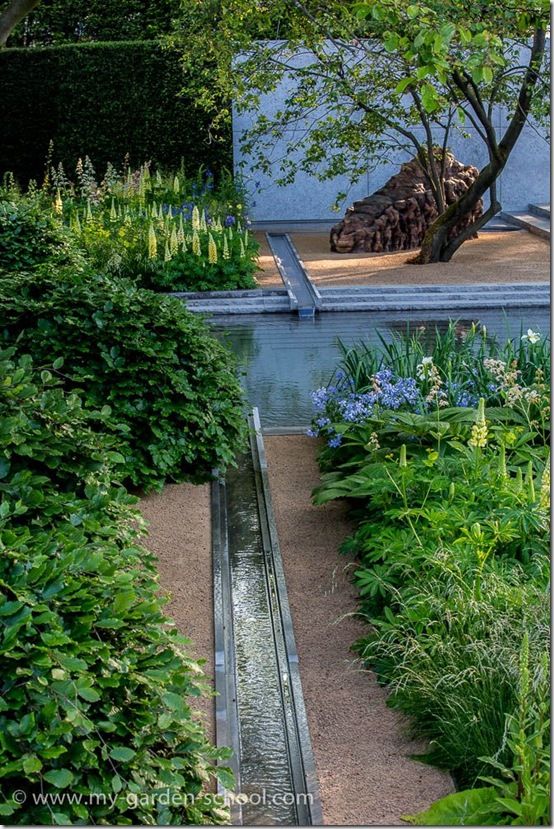 And although this is a calm garden, you only have to spend a little time with it to discover another critical element alongside the light that Guibbilei plays with – and that's movement.

Water glides seamlessly in two pools in opposing corners of the garden. Through careful flow control it appears motionless, but the pools feed the rills that deliver the water to the pond in the centre of the garden.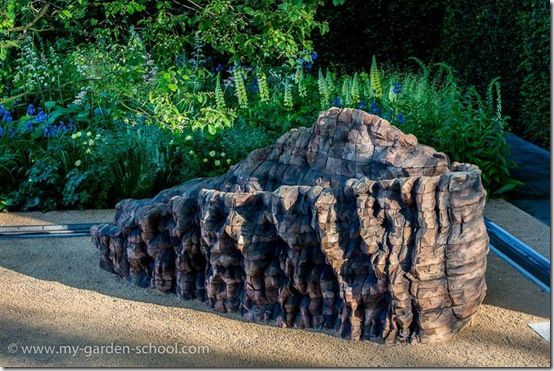 American artist Ursula von Rydingsvard's sculpture of layered cedar echoes the ripples of the pond and its diagonal placing leads the eye into the garden, while breaking the strong rectangular lines.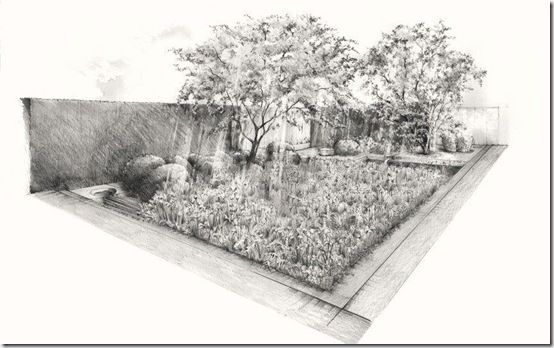 RHS Chelsea Flower Show Best in Show Garden 2014 Description


This garden is formed from a series of defined layers, and continues Luciano's ongoing interest in texture, form and light. The cool, contemplative design shows the interplay of natural elements with a simple geometric layout. The intention is to stimulate the enjoyment of observation, and to invite exploration of stillness and movement through relationships between the contrasting forms and materials in the garden.




The planting features delicate forms alongside stronger, bolder leaves; the walls combine lustres and materials; the stone surfaces are executed with contrasting finishes; the flow and reflection of water gives light and animation. Ursula von Rydingsvard's timeless forms, constructed in roughly hewn layers of cedar, contribute to the exploration of composition and texture.
Stay updated
Receive free updates by email including special offers and new courses.