Best in Show! The Laurent-Perrier Garden Chelsea Flower Show 2015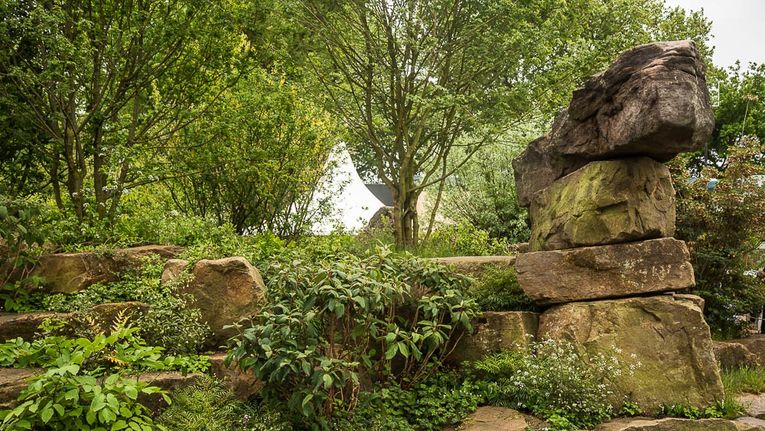 BEST IN SHOW - CHELSEA FLOWER SHOW 2015!

Dan Pearson returns to Chelsea with Laurent-Perrier after 15 years


This Garden holds one of the key spots at Chelsea this year (the triangle right in the middle of the show) and is probably one of the most talked about gardens.  For the 2015 show, institutions Laurent-Perrier and Chatsworth have come together to create drama in the middle of the show.




The important thing to remember about the 'triangle' position at Chelsea is that it can be viewed from all three sides, Pearson's creation does not have any of the cultivated formal look of most of the other show gardens - he's created a the face of a naturalistic part of the 105 acre Chatsworth Garden full of wild flowers.  This is not entirely unexpected as Pearson's known for having a passion for naturalism. The exhibit is inspired by Chatsworth's ornamental Trout Stream and Paxton's rockery.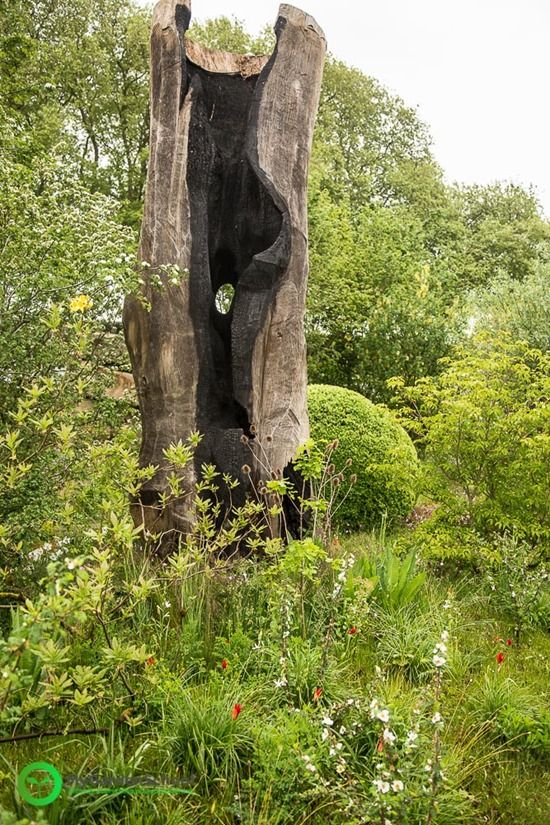 Apparently the entire plan this year nearly came tumbling down at the eleventh hour. Dan had come up against an unforeseen enemy lurking: London's creaking Victorian infrastructure. A sewer ran under the site of his garden; Thames Water had decided that his design – in particular a couple of weeping willows – would put too much weight on it.
"This is just what you have to do: design on the hoof," he said, directing JCBs and forklift trucks to move the weeping willows and rocks around a piece of land no bigger than a modest flat. "It's just the usual Chelsea madness, albeit on a slightly bigger scale."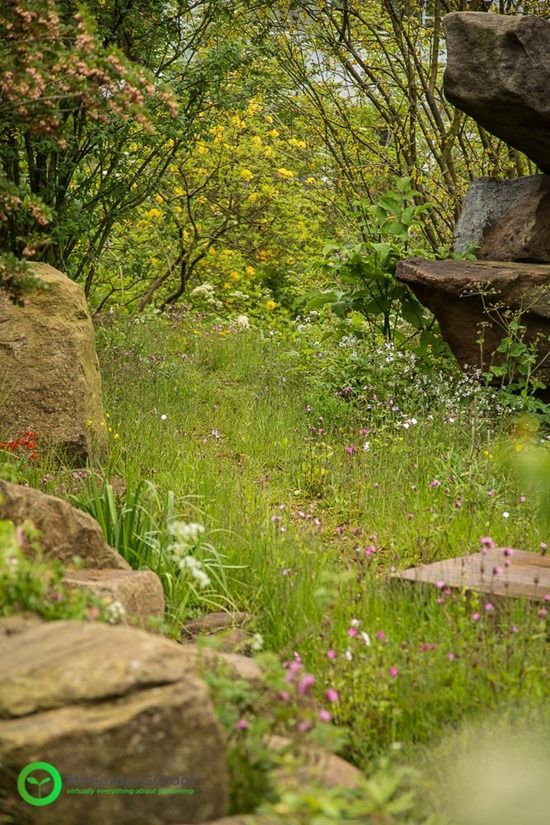 If you have not been to "Chelsea", imagine a marquee the size of two football pitches and 50ft high. Inside this tent are millions of flowers, row on flawless row. Surrounding it are tennis-court sized plots, each containing a show garden, with trees, plants and shrubs from all over the world in perfect bloom. Around these are hundreds of smart white tents where vendors sell everything from umbrellas to fish and chips. Now transpose the whole thing to a park on the Thames in the middle of London and fill it with 30,000 visitors. As The Guardian so eloquently put it "the show sits in the middle of a Venn diagram of class, art, horticulture and commerce, and it's possible that nothing else is quite as English"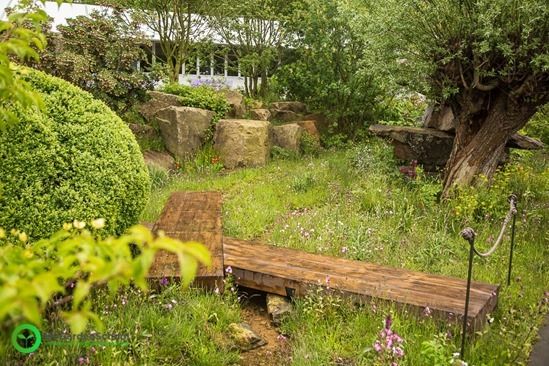 Planting in this design reflects the lightness, freshness and delicacy of the 200-year old family owned Champagne House.  Due to launch in spring 2016, Pearson's work can be viewed at Chatsworth itself as part of a regeneration project of the Trout Stream area.
Garden details
The garden is an ornamental woodland animated by a naturalistic water feature gracefully winding from its elevated source, beneath a dramatic rock stack, to a still moon gazing pool.  Wooden paths gently weave through the design.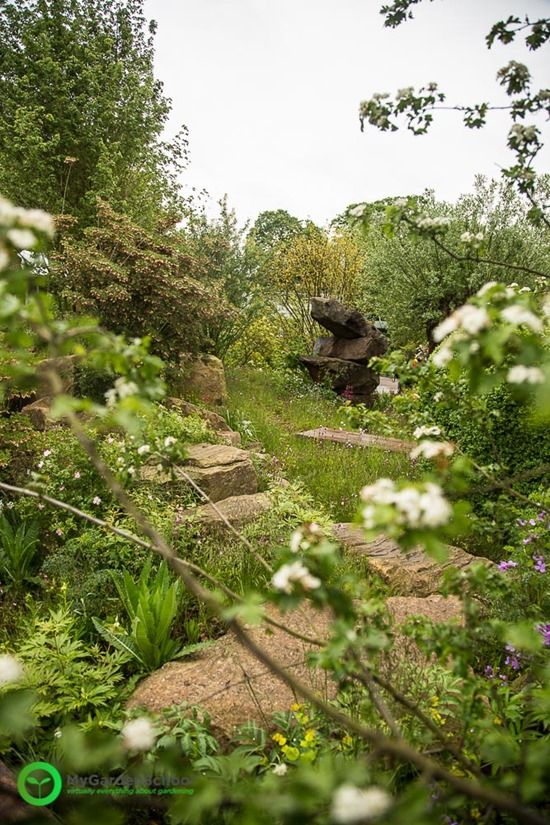 Two glades are fringed with a variety of different plant combinations, all chosen to thrive in acid woodland and partial shade, and displaying a refreshing spectrum of green, white and yellow punctuated with accents of pink.  Flowering shrubs and small trees create an ornamental counterpoint to native trees. A number of key plants and trees have been sourced from Chatsworth and selected for their distinctiveness, including Azalea and  Rhododendrons that naturally will be in bloom at Chatsworth as well as Chelsea in May. Seedling oaks highlight regeneration and their ecological value and the larger trees and shrubs give the garden a sense of maturity.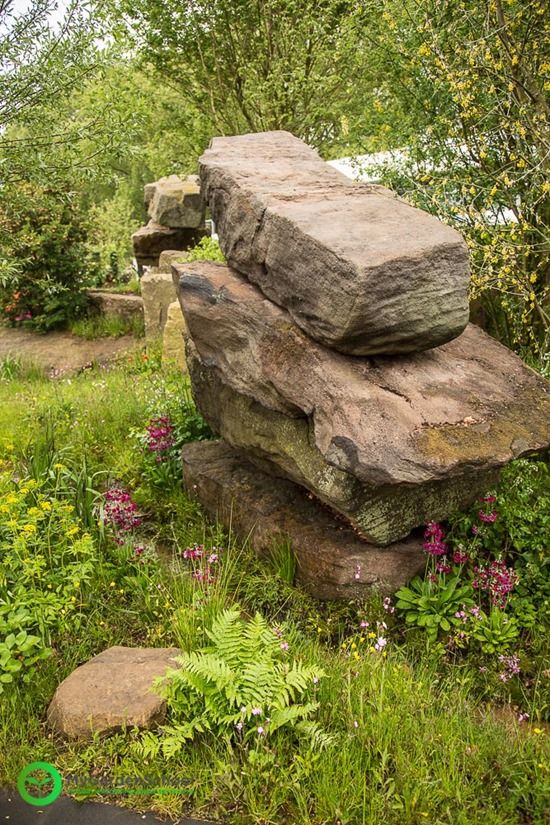 The burnt tree sculpture is a dominant feature, much photographed by the press for this garden.  It adds drama and height to the design giving it a theatrical feel alongside the wild plantings.  This garden is much debated and will be interesting to see where the judges place it.
Plant list
Trees
Acer campestre – Field maple
Carpinus betulus - Hornbeam
Cornus 'Norman Hadden' – Flowering dogwood
Crataegus monogyna - Hawthorn
Halesia carolina - Carolina silverbell
Laburnum anagyroides – Golden Chain Tree
Magnolia wilsonii – Wilson magnolia
Quercus robur – Oak
Salix alba – White willow
Styrax japonicus – Japanese snowbell
Shrubs
Aesculus parviflora – Dwarf buckeye
Buxus sempervirens – Common Box (Rock Form)
Calycanthus x raulstonii 'Hartlage Wine' - Sweetshrub
Enkianthus campanulatus – Redvein enkianthus
Hedera helix 'Poetica Arborea' – Arborescent Ivy
Hydrangea aspera 'Macrophylla' - Large-leaved scabrous hydrangea
Hydrangea aspera subsp. sargentiana – Sargent hydrangea
Lonicera periclymenum 'Graham Thomas' - Honeysuckle
Mahonia eurybracteata subsp. ganpinensis 'Soft Caress' - Mahonia
Paeonia lutea var. ludlowii – Tibetan peony
Rhododendron loderi – Loder rhododenron
Rhododendron luteum - Yellow azalea
Ribes sanguineum 'Tydeman's White' – Flowering currant
Rosa eglanteria – Eglantine rose
Rosa sericea subsp. omeiensis f. pteracantha – Winged thorn rose
Rubus fruticosus 'Oregon Thornless' – Thornless blackberry
Rubus tridel 'Benenden' – Tridel berry
Sambucus nigra f. laciniata – Cut-leaved elder
Viburum opulus - Guelder rose

Perennials
Actaea simplex 'James Compton' - Baneberry
Ajuga reptans - Bugle
Alisma plantago-aquatica -  Water plantain
Angelica dahurica – Chinese angelica
Anthriscus sylvestris - Cow Parsley
Aquilegia chrysantha 'Yellow Queen' - Columbine
Aralia cordata - Spikenard
Aruncus 'Horatio' – Goat's beard
Astrantia major 'Shaggy' - Master Wort
Brunnera macrophylla 'Betty Bowring' – Siberian bugloss
Bupleurum perfoliatum 'Bronze Form' - Bupleurum
Caltha palustris var. alba – White marsh marigold
Cardamine pratensis - Cuckoo flower
Cenolophium denudatum - Baltic parsley
Cornus canadensis – Creeping dogwood
Corydalis temulifolia 'Chocolate Stars' – Fumewort
Digitalis albiflora – Foxglove
Dipsacus fullonum - Wild teasel
Disporum longistylum 'Green Giant' - Disporum
Disporum longistylum 'Night Heron' – Disporum
Doronicum orientale - Leopard's bane
Epimedium wushanense 'Caramel' - Bishop's hat
Euphorbia palustris – Marsh spurge
Fragaria vesca - Wild strawberry
Galium odoratum – Sweet woodruff
Geranium phaeum 'Samobor' – Dusky cranesbill
Geranium robertianum 'Album' – White herb Robert
Geum rivale - Water Avens
Gillenia trifoliate - Bowman's root
Hemerocallis lilioasphodelus – Yellow day lily
Hyacinthoides non-scripta 'Alba' – White Bluebell
Iris fulva - Copper Iris
Iris pseudacorus 'Berlin Tiger' – Yellow flag iris
Iris x robusta 'Dark Aura'- Water Iris
Lamium album – White deadnettle
Lamium galeobdolon - Archangel
Lamium orvala - Balm-leaved red deadnettle
Laser trilobum – Horse caraway
Ligusticum scoticum – Scotch lovage
Lunaria rediviva – Perennial honesty
Lunaria annua 'Corfu Blue' – Annual honesty
Lychnis flos-cuculi 'White Robin' – White ragged robin
Lysichiton camtschatcensis - Asian skunk cabbage
Meconopsis cambrica – Welsh poppy
Myosotis scorpioides 'Alba' – White water forget-me-not
Myrrhis odorata - Sweet Cicely
Paeonia emodi 'Late Windflower' – Himalayan peony
Paradisea lusitanica - Paradise Lily
Petasites japonicus var. giganteus – Giant butterbur
Pilosella aurantiaca - Fox-and-cubs
Polygonatum multiflorum – Common Solomon's seal
Polygonatum biflorum - Great Solomon's seal
Primula bulleyana - Bulley primrose
Primula 'Inverewe' - Candelabra primula
Primula pulverulenta - Mealy primrose
Ranunculus aconitifolius – Aconite buttercup
Rheum palmatum 'Hadspen Crimson' – Ornamental rhubarb
Rodgersia podophylla - Rodgersia
Sanguisorba officinalis - Greater Burnet
Silene fimbriata - Fringed campion
Smyrnium olusatrum – Alexanders
Smyrnium perfoliatum - Perfoliate alexanders
Symphytum caucasicum - Caucasian comfrey
Symphytum ibericum - Iberian comfrey
Telekia speciosa - Heart-leaved ox eye
Thalictrum aquilegiifolium 'Album' - French meadow rue
Typha angustifolia - Lesser bulrush
Valeriana officinalis subsp. sambucifolia - Elder-leaved valerian
Vinca major var. oxyloba – Greater periwinkle
Viola odorata - Wood violet
Zizia aurea - Golden Alexanders
Grasses & Sedges
Briza media - Common quaking grass
Equisetum hyemale 'Robustum' - Scouring Rush
Deschampsia cespitosa - Tufted hair grass
Juncus effuses – Common rush
Luzula nivea - Snow rush
Luzula sylvatica 'Marginata' - Great wood-rush
Melica altissima 'Alba' – White Siberian melic
Sesleria heufleriana - Blue green moor grass
Ferns
Asplenium scolopendrium – Hart's tongue fern
Dryopetris erythrosora – Autumn fern
Dryopteris filix-mas – Male fern
Matteuccia struthiopteris – Ostrich fern
Osmunda regalis – Royal fern
Bulbs
Camassia leichtlinii 'Alba' – White Californian quamash
Hyacinthoides non-scripta 'Alba' – White bluebell
Lilium martagon 'Aspen Gold' – Turk's cap lily
Lilium martagon 'Claude Shride' - Turk's cap lily
Narcissus poeticus var. recurvus – Old Pheasant's eye
Tulipa sprengeri – Sprenger tulip