The Telegraph Garden The Chelsea Flower Show 2015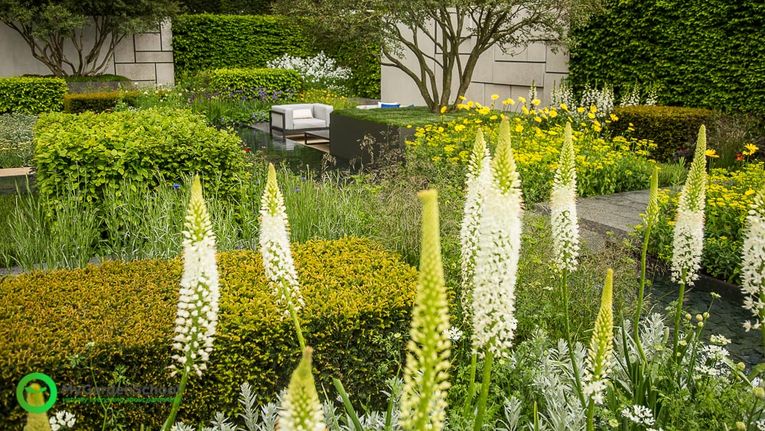 The Telegraph Garden


The Telegraph Garden for the 2015 RHS Chelsea Flower Show by Marcus Barnett.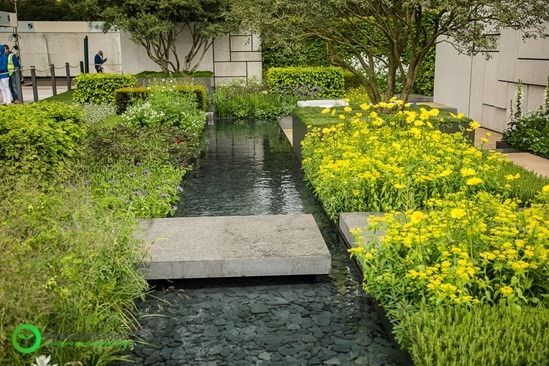 Really interesting stand out planting - which used bold yellows and reds - cheering up the grey days early in the week at Chelsea.  Inspired by the De Stijl Movement, this year's Telegraph garden isn't anything radically new in design terms (there have been many over the years based on a block formation) - but it is undoubtedly executed with great finesse.  And in some ways, there are only so many different ways you can split up such a small space whilst still maintaining unity - which this garden does very successfully.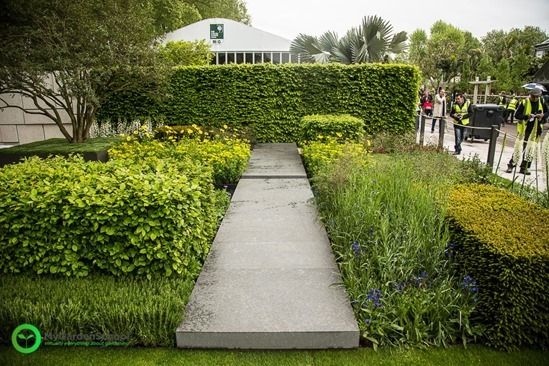 The more you look into the garden in detail, the more you can see the thinking and structural base - the sign of a good design.  There is also a clear flow which is so important in smaller garden designs.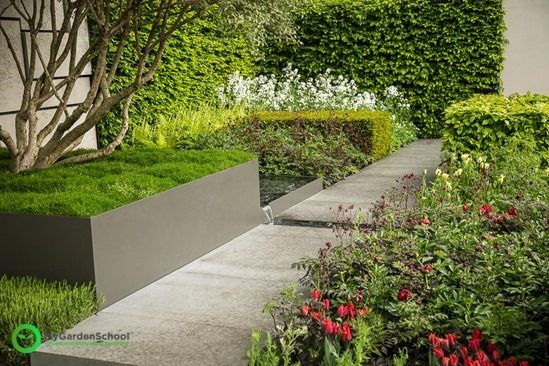 This garden manages to use drama with primary colours inspired by the de stijl movement, yet still remains a calming space to be around.  Surely must have been a contender for best in show.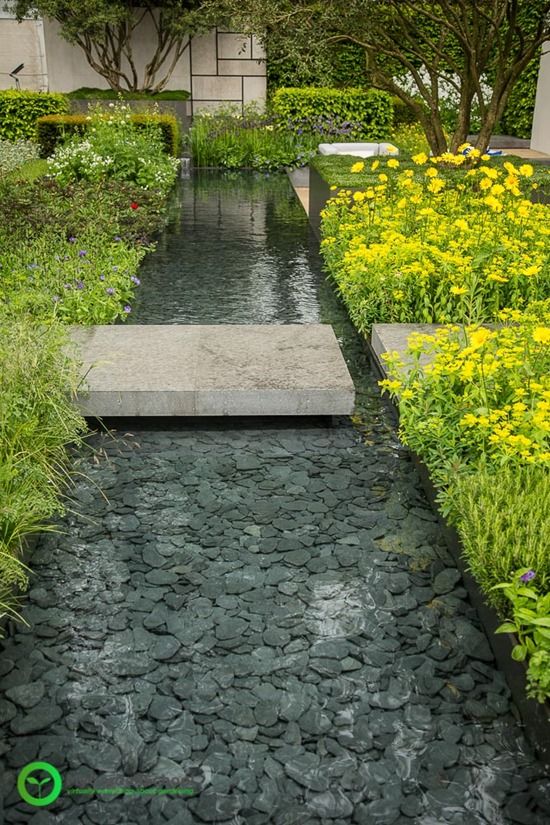 Plant list
Trees & Blocks
Osmanthus x burkwoodii
Carpinus betulus
Taxus baccata
SHADES OF RED
Achillea Red Velvet
Actaea simplex Atropurpurea Group
Aquilegia Ruby Port
Astrantia Hadspen Blood
Astrantia major 'Claret'
Dianthus barbatus Nigrescens
Dianthus cruentus
Double Primulas Crimson Beauty
Double Primulas Ladybird
Double Primulas Red Velvet
Euphorbia Fen's Ruby
Euphorbia griffithii Fireglow
Euphorbia polychrome Purpurea
Geranium sanne
Geum Fire Opal
Geum Mrs Bradshaw
Heuchera Red Spangles
Imperata cylindrical Rubra
Lobelia cardinalis (foliage only)
Paeonia Buckeye Belle
Paeonia Inspecteur Lavergne
Papaver Beauty of Livermere
Papaver Ladybird
Phlox Blue Paradise (for foliage)
Potentilla atrosanguinea
Primula auricula Black Jack
Primula Belarina Valentine
Primula Elizabeth Killelay
Bulbs
Tulipa Appledoorn
Tulipa Jan Reus
Tulipa Red Hat
Tulipa sprengeri
Annuals
Alonsoa meridianalis Red
Alternathera lehmanii Bright Red
SHADES OF BLUE
Ajuga Catlin's Giant
Anchusa Loddon Royalist
Aquilegia alpina
Aquilegia vulgaris
Campanula persifolia
Catananche caerulea
Centaurea montana Blue
Echium vulgare Blue Bedder
Festuca glauca 'Elijah Blue'
Geranium Gravetye
Geranium Johnsons Blue
Iris bulleyana
Iris graminea
Iris sibirica Shirley Pope
Iris sibirica Tycoon
Lavandula forms
Lithodora diffusa Heavenly Blue
Nepeta
Polemonium brandegeei Bressingham Purple
Primula Belarina Cobalt Blue
Primula Miss Indigo
Pulmonaria Roy Davidson
Salvia blauhügel
Salvia Caradonna or Salvia viola Klose
Salvia mainacht
Sesleria heuffleriana
Veronica Georgia Blue
Veronica 'Shirley Blue'
Viola cornuta Blue
Bulbs
Bellevalia
Camassia caerulea
Campanula glomerata Superba
Camassia leitchlinnii
Campanula patula
Linum perenne
Scilla peruviana
Tritellia Queen Fabiola
Annuals
Myosotis sylvestris
SHADES OF YELLOW
Achillea Cloth of Gold
Achillea Moonshine
Achillea Taygetea
Alchemilla erythropoda
Anthemis tinctoria EC Buxton
Aquilegia chrysantha
Aquilegia viridis
Doronicum Harper Crewe
Euphorbia oblongata
Euphorbia palustris
Euphorbia polychroma
Geum Lady Stratheden
Geum Lemon Drops
Glebionis segetum
Helianthemum nummularia
Helichrysum italicum
Lysimachia nummularia Aurea
Meconopsis cambrica
Melissa officianalis Aurea
Milium effusum Aureum
Paeonia Itoh yellow forms as available
Phlomis fruticosa
Primula Belarina Buttercup Yellow
Santolina serratifolia
Santolina virens
Scabiosa atropurpurea 'Fata Morgana'
Sisyrinchium californium Yellowstone
Smyrnium perfoliatum
Verbascum Gainsborough
Bulbs
Allium Molly
Allium Obliquum
Fritillaria imperialis Lutea
Tulipa Avant Garde
Tulipa Clusiana
Tulipa 'Fringed Elegance'
Tulipa Yellow Spring Green
Annuals
Alternathera lehmanii Yellow Green Betti
Cephalophora aromatic
Mecardonia Magic Carpet
SHADES OF WHITE
Acanthus Rue Ledan
Artemisia Boughton Silver
Artemesia Valerie Finnis
Astilbe ie. Bumalda/Deutschland
Astrantia white
Aquilegia vulgaris var. stellata 'White Barlow'
Campanula glomerata Alba
Catananche (white)
Centaurea montana Alba
Centaurea cyanus
Centranthus ruber Albus
Delphinium belladonna Casablanca
Dicentra Aurora
Dicentra eximea Alba
Eremurus Image or himalaicus
Gallium odoratum
Geranium white
Gladiolus The Bride
Hesperis matronalis Alba
Hesperis matronalis var. albiflora
Iris sibirica (white) maybe White Swirl/Great White Heron
Ornithogalum thyrsoides
Paeonia White Wings or Duchess de Nemour
Polemonium (white)
Salvia Schneehugel
Silene dioca alba
Thalictrum Splendide White
Veronica spicata Alba
Viola cornuta Alba
Bulbs
Allium Graceful Beauty
Allium Mont Blanc
Allium nigrum
Camassia c. Alba
Ornithogalum arabicum
Tulip Clearwater
Tulip Spring Green
Annuals
Euphorbia Diamond Frost
Euphorbia hypericifolia Gloria
Myosotis sylvestris Alba
Omphaloides linifolia
Orlaya grandiflora
SHADES OF GREEN & NEUTRAL
Asplenium scolopendrium
Astrantia major subs. involucrata 'Shaggy'
Artemisia capillaris (for foliage)
Briza media
Cenolophium denudatum
Convallaria majalis
Deschampsia cespitosa
Deschampsia cespitosa
Deschampsia flexuosa
Dryopteris cycadina
Dryopteris erythrosora
Euphorbia martinii
Euphorbia robbiae
Foeniculum vulgare (green Fennel)
Fragaria vesca
Helleborus foetidus
Heuchera 'Greenfinch'
Heuchera Malachite
Hosta Devon Green
Leptinella squallida Platts Black
Matteuccia struthiopteris
Mathiasella b. Green Dream
Sagina subulata
Santolina E A Bowles
Scleranthus uniflorus
Sesleria argentea
Sesleria autumnalis
Sesleria heuffleriana
Tellima grandiflora
Teucrium crispum
Bulbs
Fritillaria persica 'Ivory Bells'
Hermodactylus tuberosa

Annuals
Alternathera lehmanii Green
Calocephalus brownii