My Top Ten Herbs to grow in pots and on the windowsill
By Andy McIndoe •
We have lots of herbs in the garden, especially those woody herbs sage, thyme and rosemary. These grow well on our light, sandy soil and provide us with aromatic leaves to use all year round. They are also an important part of the ornamental planting alongside lavenders, silver foliage shrubs and herbaceous geraniums. I also have a few herbs in a corner of the vegetable plot: mint, French tarragon and chives. These are useful in summer when we are harvesting vegetables, but they are a long way from the house for the rest of the year, and on wet days. It didn't take me long to reach the conclusion that the herbs we get enjoy most are those that are close at hand!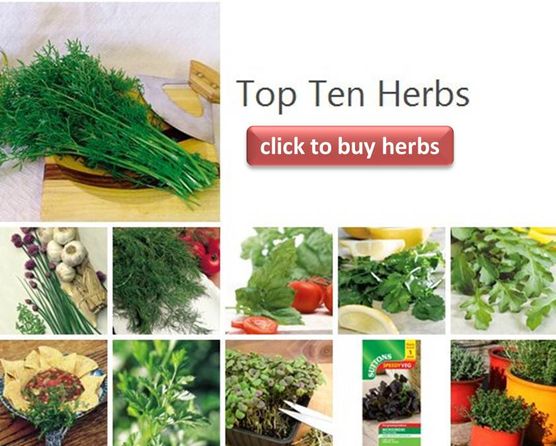 Most herbs are easily raised from seed and can be grown in pots on the doorstep, patio or a sunny windowsill. Spring is the ideal time to sow as light levels are good and days are longer, however most will grow on the windowsill or in a greenhouse or conservatory at any time of the year. Some like it cooler, so are better suited to outdoor cultivation rather than warm conditions indoors. I know you can buy pots of growing herbs in the supermarket but the range is limited and growing your own is inexpensive and satisfying. Get into the herb habit this season and add a new dimension to your diet.
I chose my top ten herbs that I would like to have to hand. Ones I can reach for to tear and chop and add to salads, sprinkle over grilled meat and fish (hopefully the barbecues season is coming up here!), to add to soups and sauces and to just sprinkle as a garnish. One of my favourite dishes is gougere with baby vegetables, bathed in warm unsalted butter and olive oil running with chopped parsley, basil, chives and dill; delicious. You will find the seeds of all of these herbs in the Suttons range of herb seeds.
1. Plain-leaved parsley. This has a stronger flavour than curled parsley and I prefer the texture. It needs deep, fertile soil and you will use lots of it so grow it in a large pot of loam-based compost. Seeds can be slow to germinate so do not let them dry out after sowing.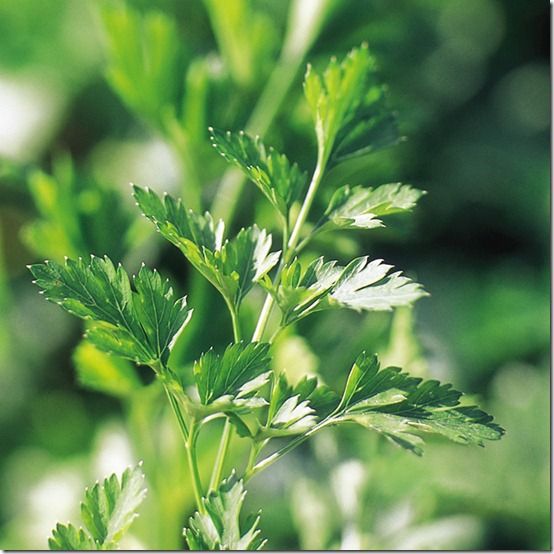 2. Coriander Confetti. This is a fern-leaved coriander from Suttons Seeds with finely cut foliage. It is slower to bolt than other varieties and can be cut when very young. Suitable for pots on the windowsill or on the patio. If plants run to seed use the green seeds in ratatouille.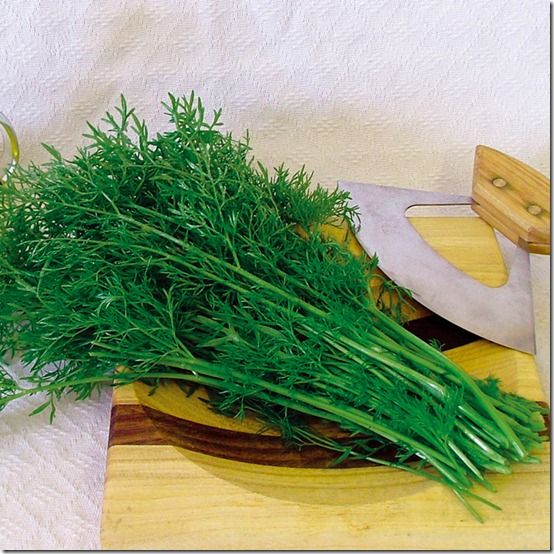 3. Lemon Coriander. If you don't like the taste of coriander you may prefer this one with broad leaves and a distinctive lemon flavour. A good choice to grow on the windowsill the leaves are perfect to spicy up a salad; delicious with crisp 'Little Gem' lettuce and olive oil as a simple accompaniment to couscous or Eastern dishes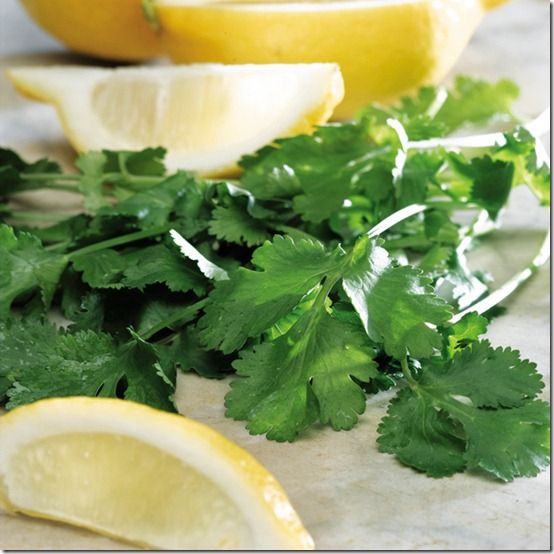 4. Basil Neapolitan. I love this lettuce-leaved basil with its large crumpled leaves that are so good chopped with ripe tomatoes, olive oil and red onion. Basil likes it warm so it's ideal in pots on the windowsill. Sow the shining black seeds individually in seed compost; about ten seeds to a 15cm (6") pot. Feed with very weak tomato fertiliser when seedlings are 3cm (1") high and repeat weekly.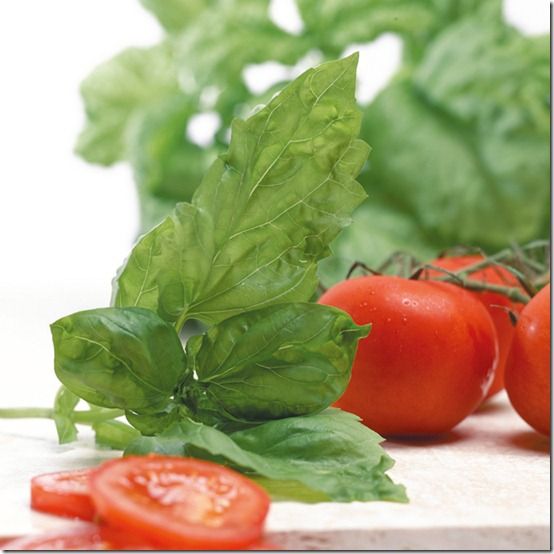 5. Chives. Chives can be grown in pots indoors or out. Left to mature the pretty purple flowers look good in salads and as garnish. The fine young leaves have a wonderfully delicate flavour. Cover the seeds with compost carefully when you sow them; if light reaches them they don't always germinate.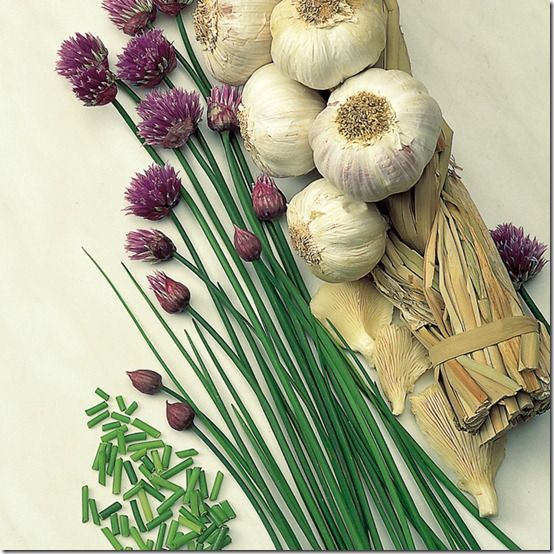 6. Rocket. Home grown rocket bears little resemblance to the rather tasteless green leaves you buy in a bag from the supermarket. To grow tasty leaves grow rocket cool in a large pot outdoors in a sunny spot. Sow a new pot every four to six weeks to maintain supply.
7. Dill. Young dill leaves are delicious in oil or butter on freshly grilled fish or smoked salmon. Dill can be grown indoors or out. The flavour is milder and more delicate if the foliage is young and soft.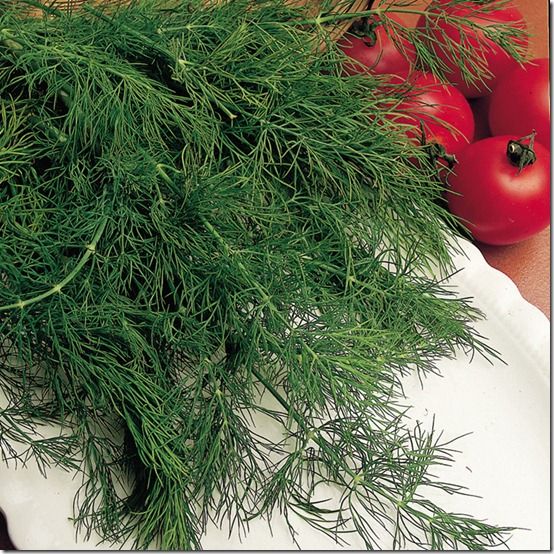 8. Thyme. Thyme is a woody herb when mature but if raised from seed the young seedlings are tender and the foliage is delicious. The seeds are slow to germinate but in my experience they are easier if kept warm and moist on a windowsill indoors before planting out into containers on the patio.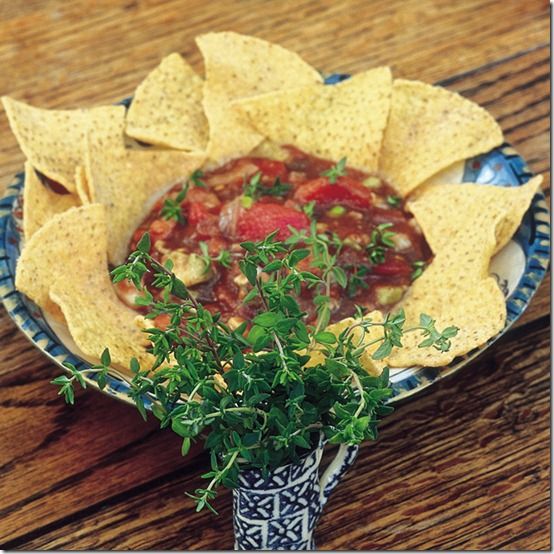 The last two of my Top Ten Herbs you raise and use as seedlings and these are ready to use in days rather than weeks. You grow lots of the seedlings and cut and use the baby leaves and stems. The flavour is mild but delicious: perfect for salads and to sprinkle. These seedlings are crammed with vitamins too.
9. Speedy Veg: Basil Dark Opal. A purple leaved basil you sow thickly on seed compost and harvest the seedlings with scissors when the seed leaves have developed. Grow on a sunny windowsill to develop the wonderful purple green colour of the foliage. This one is a must for that gougere I mentioned earlier.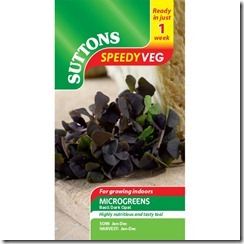 10. Speedy Veg: Rocket Victoria. A great way to get a mild mustardy flavour or rocket on your windowsill; more successful than trying to get well-flavoured leaves indoors. These seeds grow really quickly and you could be harvesting tasty tender seedlings in just a week or so.
Growing herbs is easy, economical and encourages you to add a new flavourful element to your food. Growing herbs also means they are in your control; you know they have not been sprayed with chemicals and you know they are fresh. Take a look at the Suttons Seeds range of herb seeds: there are lots to choose from. Also look at James Wong's Home Grown Revolution range. James is a great fan of herbs and he's chosen some different ones that are certainly worth a try.
Stay updated
Receive free updates by email including special offers and new courses.