The Best Father's Day Present: An Online Gardening Course
By Alex N •
Get your Father's Day 2013 all wrapped up with a unique gardening course, taught by a leading garden expert, from MyGardenSchool (www.my-garden-school.com), the world's first online gardening school.  Gift certificates are available for every MyGardenSchool course from £120.
With over 20 online gardening courses to choose from, including 'How to Get the Perfect Lawn', 'Design and Build a Treehouse' and 'Grow Your Own Vegetables and Allotment Gardening' (more information below), you are sure to find something for the dad in your life.
Each course is packed with information, tips and insights and your dad will get his own personal tuition from a leading gardening expert through a virtual classroom.  He can watch video tutorials, download course notes, ask questions and chat with tutors and fellow classmates online, all from the comfort of his own home. Each course is £145 and lasts for four weeks. The next courses begin on Saturday 6th July, and if you're buying a father's day gift - you can buy it now, and then on father's day print out a gift certificate to give to your Dad.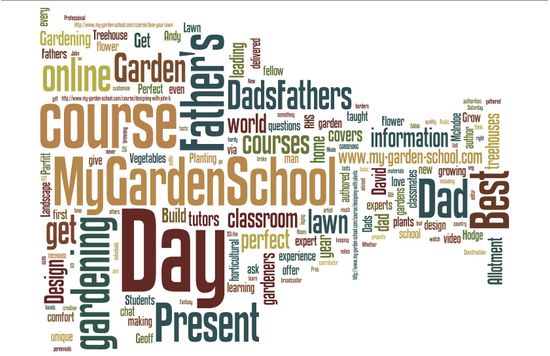 The Perfect Father's Day Gift
HOW TO GET THE PERFECT LAWN by Andy McIndoe
The perfect course for the perfect lawn: The course covers reducing lawn maintenance, which mower to buy, how to get stripes, how to control weeds and moss, feeding, how to restore a neglected lawn and even creating a new lawn from scratch.
Andy McIndoe has over thirty years' experience as a practical horticulturist, and has designed and advised on gardens of all sizes. At this year's Chelsea Flower Show he broke the RHS record by winning his 68th consecutive gold medal. A regular contributor to magazines, newspapers and BBC Radio, he lectures widely and has authored books on hardy shrubs, trees, herbaceous perennials, flower bulbs and garden design.
DESIGN AND BUILD A TREEHOUSE by David Parfitt
The course for the man that would love the skills to build extraordinary treehouses: The course covers making basic and elaborate treehouses, creative ways to customise a treehouse, design considerations, making platforms, materials, fastenings and safety issues.
David Parfitt is a visual artist and author of 'Build Your Own Fantasy Treehouse'. Specialising in site-specific sculpture and public art projects, he has worked with multi-national corporations, local authorities, community groups and individuals.
GROW YOUR OWN VEGETABLES AND ALLOTMENT GARDENING by Geoff Hodge
The course for the man that wants to know all about vegetables. This no nonsense course is crammed full of facts and covers pretty much every vegetable you can think of from sowing to harvesting. If it isn't covered by this course, it's probably not worth growing.
Geoff Hodge is a freelance gardening and horticultural writer, author, editor, and radio and TV broadcaster. He authored the RHS Allotment Journal. His aim is to help gardeners get the best from their plants.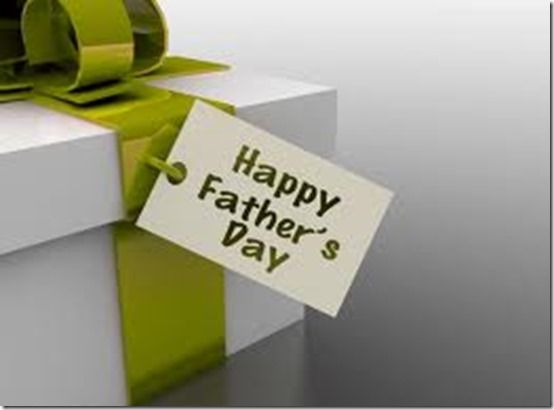 The British are known throughout the world for their love of gardening, and our country is brimming with keen gardeners, from those with showcase gardens or allotments, to those growing a few modest plants in pots, to those latent gardeners just itching to get their hands dirty. If you've fallen into the habit of getting your dad the same old presents year after year, now's the perfect time to turn over a new leaf and give him the gift of learning directly from the experts at MyGardenSchool.
MyGardenSchool is the first and only online gardening school to offer a classroom learning experience from the comfort of a student's own home. Students get the same tutorial, delivered via video online, as they would in the classroom. Students can listen to tutors and ask questions via MyClassRoom, and even chat to fellow classmates online. MyGardenSchool has gathered together some of the world's leading experts, to bring students a fantastic opportunity to learn from people they'd never normally get access to. New courses are added each month, from roses to bee keeping, treehouses to chickens. More information about MyGardenSchool and the many other courses on offer can be found at: www.my-garden-school.com.
About MyGardenSchool
MyGardenSchool Ltd is a unique global online horticultural classroom. Whether you want to grow organic veg, create enviable flower borders, nurture that perfect lawn, or simply give a good home to an egg laying chicken – MyGardenSchool offers a high quality range of gardening courses taught by some of the world's top tutors and delivered right to your green fingertips. For more information, please go to www.my-garden-school.com.
Stay updated
Receive free updates by email including special offers and new courses.