Tree Trends – Trees for landscape designers
By Andy McIndoe •
On rather a grey, damp autumn day I paid a visit to Hillier Nurseries tree nursery in Hampshire, England. Here literally thousands of trees are grown in the open ground for planting in public open spaces, corporate developments and high profile landscape projects. You might expect row after row of young standard trees, but here the size and form is more diverse. Designers are looking for different shapes and for instant maturity. Careful cultivation, in some cases for many years ensures safe transplanting of bare root and rootballed trees from late autumn through to early spring. In some cases trees start their lives here in the field and then move to large containers to allow successful planting at other times of the year.




Although a visit to a tree nursery is nothing new for me, I am always excited by the scale and drama that rows of trees create. It's almost like a series of majestic avenues rolling out across the undulating countryside. Here design trends unfold more slowly than in other areas of nursery production; trees are a long term crop, especially when you are growing semi-mature trees of dramatic proportions.




What trees to plant in small gardens?


I am a great fan of multi-stemmed trees in garden design. A single multi-stem has great presence and creates a rich architectural effect in a small garden. In a larger space several multistemmed trees spaced through simple low planting, or ground cover suggest contemporary woodland. Growing a tree as a true multistem slows its growth and the overall size is rarely as large as a standard. Birches are the most popular subjects to be grown as multi-stems, both the white-barked Himalayan birches and the silver birch, Betula pendula.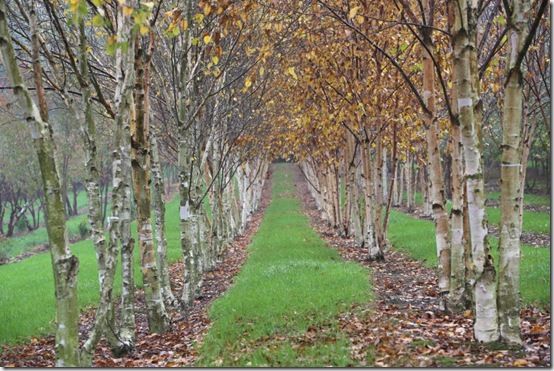 However if it is beautiful bark you are looking for the Prunus serrula, takes some beating. On a damp autumn day that mahogany peeling bark positively shines and takes on an even deeper, richer tone than usual. Prunus serrula has quite thin foliage, the leaves are narrow and willow like. The spring flowers are small and white and unremarkable; but a multi-stemmed specimen is just stunning. I could see one of these in a small, contemporary garden surrounded by sandy pebbles.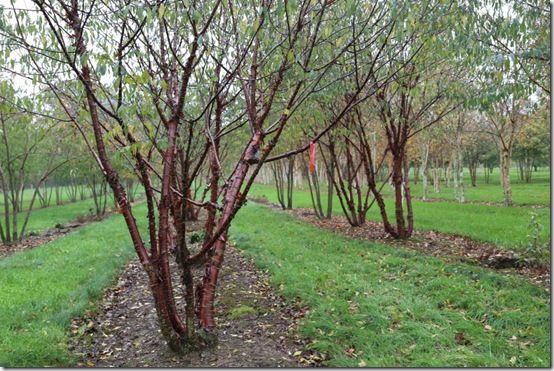 Trimmed and trained trees have become increasingly popular in recent years. Of course there are long-term maintenance issues, because of the need for ongoing pruning, but their size and shape continues to be controllable. In design terms they can contribute formality and bold, contemporary or traditional structure. Hornbeam, Carpinus betulus lends itself to shaping because of its well-branched twiggy structure. It makes magnificent conical structures; on the nursery show what a dramatic avenue they could make.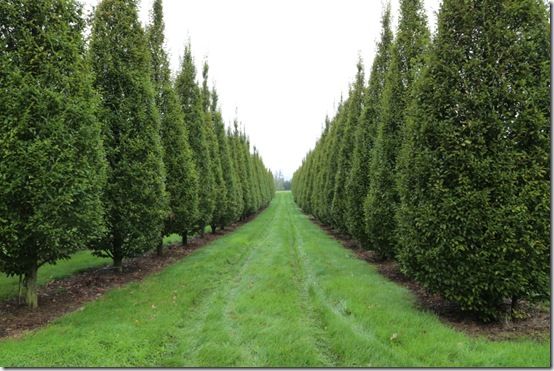 Hornbeam is also trained into arches which can introduce dramatic gateways and vistas to gardens of all sizes. I have used these at Chelsea Flower Show and they are always a show stealer. I was surprised what wonderful archways can be created from beech, Fagus sylvatica. These take a lot of regular pruning to produce this densely branched structure. Beech looks just as dramatic in winter when the foliage turns to warm brown and it is glorious in spring as the fresh green leaves unfurl.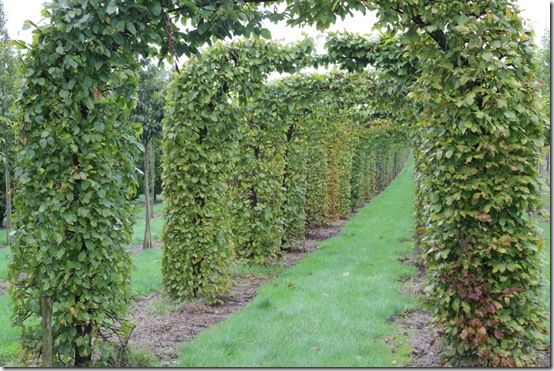 Beech too can be clipped into stunning square or round columns, both the green and purple leaved forms make superb vegetable masonry. They work effectively to introduce exclamation marks through low planting or to balance the strong lines of a building. A series of these square columns can create a wonderful perspective in a landscape.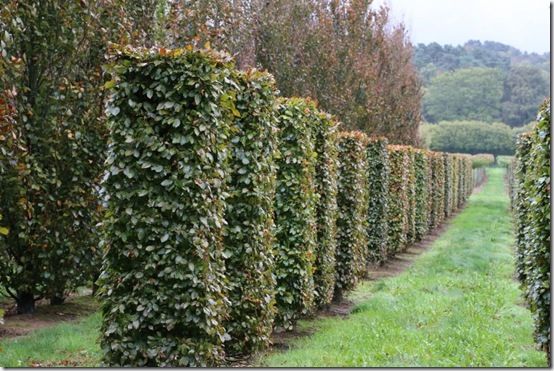 Despite the presence of many stately ancient cedars in large gardens these magnificent plants are rarely one of the first subjects you think about when choosing a specimen tree. We tend to plant for today rather than for the future and most gardens are not large enough to accommodate a tree of these proportions. However if space allows they make a breathtaking statement and there is something very rewarding about planting for future generations. If you have the facilities you can plant large specimens which will make an instant statement. Cedrus libani, Cedrus atlantica and Cedrus deodara can all appear rather similar until you see them growing alongside one another. Cedrus deodara has much softer drooping branches. Cedrus libani and Cedrus deodara are more horizontally branched but the former has much shorter needles and an altogether sharper appearance.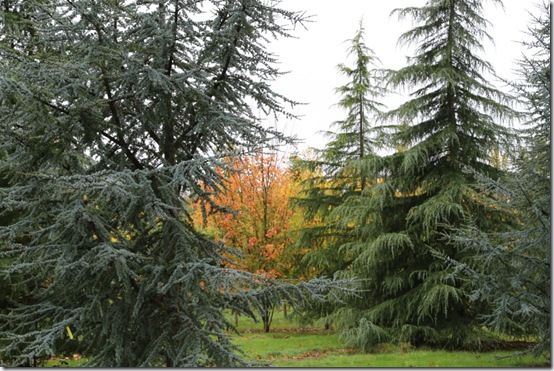 There is always a shortage of evergreen trees which are so desirable for screening and all year round foliage interest. Most hollies are slow growing, even if they can make fine specimens as they mature. Ilex x koehneana 'Chestnut Leaf' is an exception. It grows quickly and lends itself to training as a standard. Fine dark green leaves set off the freely-produced red berries and it has a striking conical head when trained from an early age. This would be a good choice for a mall urban garden.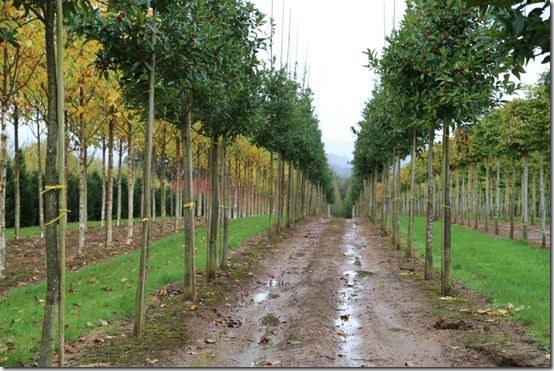 I always think of Japanese maples as shrubby trees, one rarely sees them grown as standards because most cultivars do not lend themselves to training in this way. Acer palmatum 'Redwing' is an exception. It has good dark-green foliage with a hint of bronze and it colours exceptionally well from the tips of the branches in autumn. Again it is a good choice for a smaller garden and any Japanese inspired planting scheme.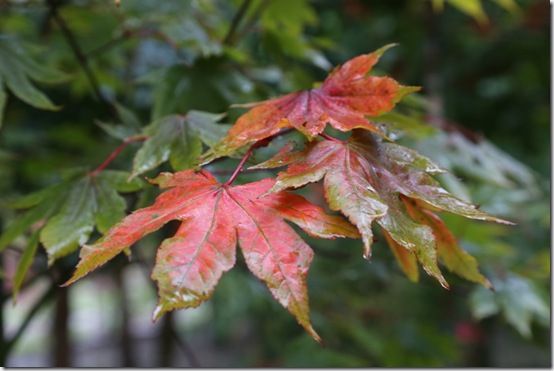 If I was choosing a small tree for autumn colour I would now be drawn towards Sorbus commixta Olympic Flame ('Dodong'). Seeing it alongside a number of varieties of Sorbus aucuparia it was the only Mountain Ash to hang onto its leaves after our recent gales and it lit up the field with its leaf colour. It appears rather still and upright as a young tree and i think this has put me off in the past – not any more.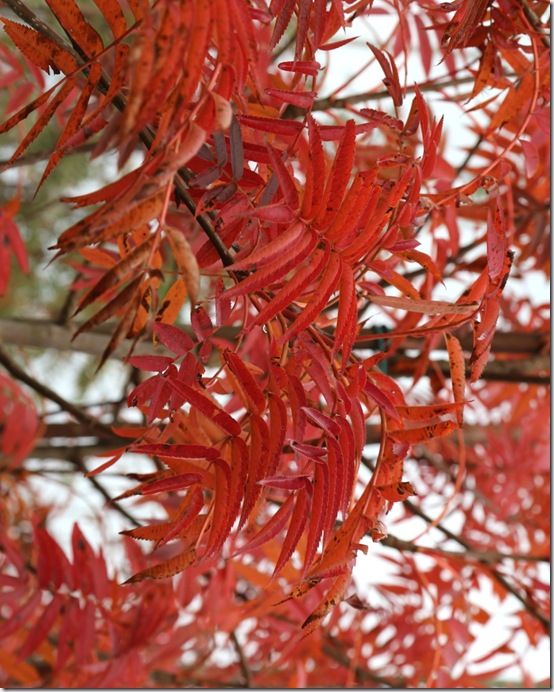 Obviously compact, upright trees are in demand as street trees and for small gardens and narrow spaces. As someone who prefers plants with a looser more naturalistic habit I tend to avoid trees which claim to be compact and upright, and that has probably put me off Malus 'Adirondack' in the past. This is a small fruiting crab with ascending branches. Apparently the flower power when it produces its white flowers in spring is outstanding. I can believe this having seen young trees in fruit; their branches were garlanded from trunk to tip with crimson and gold fruits; a wonderful sight. I would like to see this tree grown as a multi-stem. It's the perfect wildlife friendly tree which delivers two fantastic seasons of interest, so important in a small space.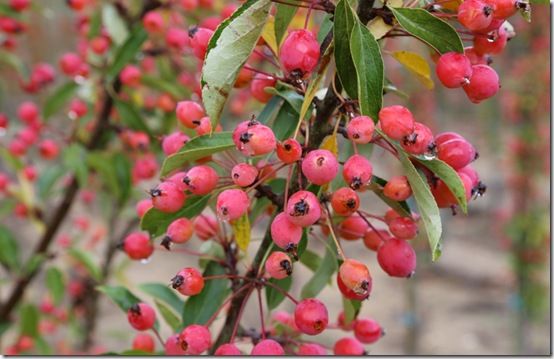 I've just had a practical landscaper as a student on my course on Choosing, using and planting trees. We've used the course to discuss the choice of tree for some of his projects. Why don't you join me on the next one? http://www.my-garden-school.com/course/a-professional-guide-to-choosing-using-and-planting-trees/
Stay updated
Receive free updates by email including special offers and new courses.