Garden Ideas: Designing with ornamental grasses
By Alex N •
The Grass Revolution!


The introduction of ornamental grasses into planting plans was one of the most significant changes to occur within garden design in the past twenty years. Through their inclusion amidst an evolving planting pallet of perennials, contemporary gardens took on a naturalistic feel, far removed from the stiff block plantings of traditional herbaceous borders; grasses introduced an informal air with strong associations with wild nature.




The distinctive characteristics that set grasses apart from the other plants that we grow in our gardens results in them having a powerful influence wherever they are used and this brings with it both advantages and dangers. Their presence within your planting schemes will never go unnoticed and invariably leads to powerful associations and significant contrasts.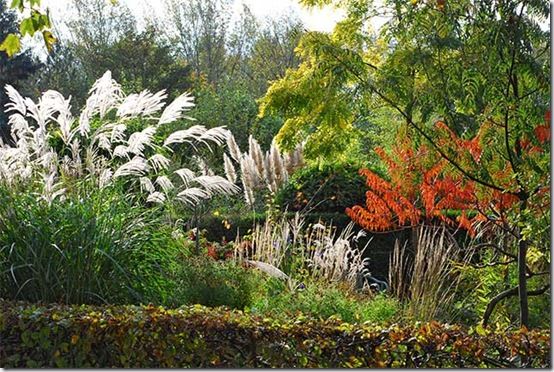 Most of us associate grasses with the countryside and therefore their presence in our planting schemes triggers a sense of informality. This suggest that to use grasses in a formal arrangement is going against their true character and will lead to problems. As a rule this is true, but it can also be rule to break when exploiting their other qualities of distinctive forms, textures and foliage colours.
Designing with grasses requires an ability to balance these somewhat conflicting characteristics and being aware that every single grass into your designs must be placed
with extreme care.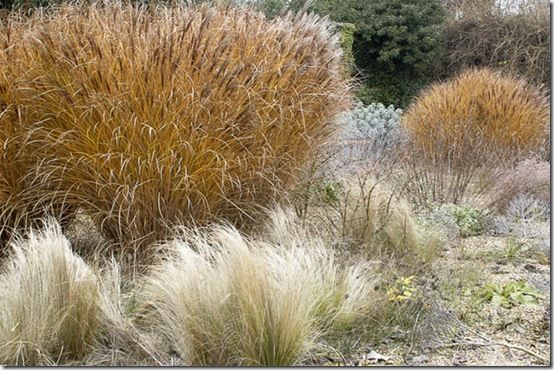 From a position of total obscurity in the 1980s to their heyday as the most trendy plants in the 1990s grasses are now finding their rightful place in our planting designs. Used with sensitivity they can be used to weave together mixed perennial planting schemes into evocative perennial meadows, but often just a few plants in a scheme will be enough to develop the appropriate emotional response.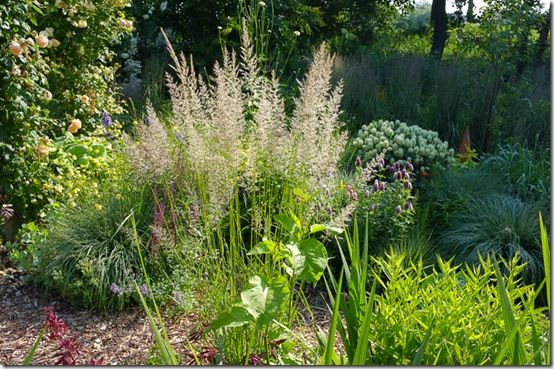 Contrasts in planting design are fundamental, but need balancing with areas of harmony. When grasses are planted in masses or used as the dominant theme in a mixed planting scheme, their characteristic shapes introduce zones of harmony. Alternatively single specimens of bold grasses can stand out within their settings making striking contrasts with any broad leaved plants nearby.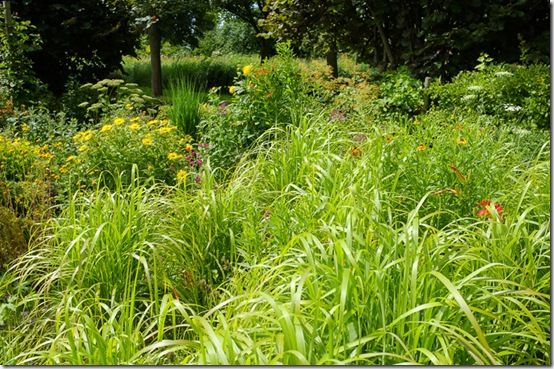 One mistake too often seen is a designer lining up bold upright grasses to form barriers in their landscapes. When deliberate such arrangements make bold design statements, but without care can also introduce disruptive elements that divide up garden space that do not call for such organisation.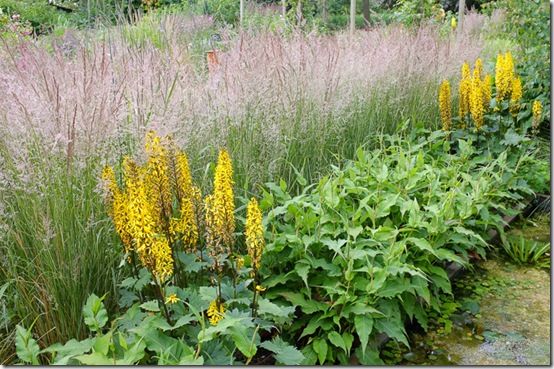 Many ornamental grasses both short and tall are capable of bringing impact to contemporary planting schemes and learning how best to use them in a variety of different situations and for different reasons needs to be mastered by both keen gardeners and professional garden designers in equal measure!




Please post your questions on the blog for particular varieties – if you would like feedback with regard to your own planting plan you should book Michael's online horticulture course on ornamental grasses with MyGardenSchool



About Michael King – gardener, garden designer and gardening author
Michael King is the master of grasses and works regularly with prairie planting pioneer, Piet Oudolf.  Michael calls himself a gardener above all else. Although he has been designing gardens and advising clients with spectacular garden ideas for more than 25 years, it is plants and how best to use them when creating outdoor spaces that interests him most of all. You can read more about his work on his well trafficked blog:  www.perennialmeadows.com

His passion for gardens, garden design and plants started in his teens and lead to a university degree in botany and microbiology in the UK. A career in finance, commerce and administration followed, which eventually lead to the position of Secretary to the Board of Trustees of the world famous Royal Botanic Gardens, Kew in London.

For the past twenty years Michael King has lived in the Netherlands were he, writes, designs and gardens.  His first two books, written jointly with Piet Oudolf, revealed how to use ornamental grasses and other perennials in the new naturalistic gardens which were becoming increasingly popular in Continental Europe at the time.

Book Course on Garden Design with Grasses

 
Stay updated
Receive free updates by email including special offers and new courses.