Serendipity: Composition & How Sometimes Chance Plays a Role
By Geoff Harris •
A lot of great photographic images owe their success to careful planning by the photographer.   A landscape photographer will plan his visit to a location at the time of day when the light will be coming from the best direction; a wildlife photographer will maybe spend hours or even days studying the habits of the animal he wants to photograph, so that he can be in the right place at the right time.  In any photographic genre a bit of knowledge and planning will increase the chances of making a successful image.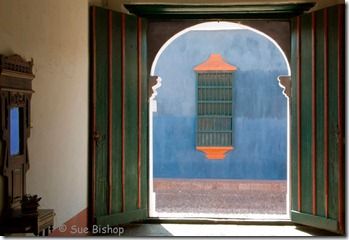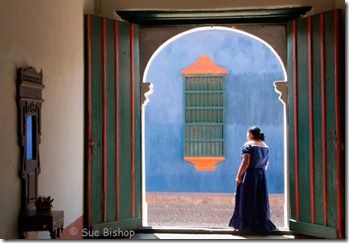 However, planning and preparation can only achieve so much.  The landscape photographer may arrive at the right time of day, but be thwarted by bad weather; the wildlife photographer might sit in his hide for hours without a sight of his hoped-for subject.

There is often an element of chance and luck as well as the careful planning.  And as the French chemist Louis Pasteur said, "Chance favours the prepared mind".

A few years ago I came across a beautifully coloured gateway in Venezuela.  For various reasons, I didn't have my DSLR with me, but just my new compact camera.  I didn't feel very comfortable with taking a photo without having a viewfinder to look through – or a tripod to help me fine-tune my composition!

There were lots of tourists going in and out through the gateway, as well as traffic going past on the road outside, so I had to wait quite a while to get a people-free moment for a photo.  Eventually there was a pause in the comings and goings, and I snapped a picture.

Because I felt so little confidence in my ability to have got it right with the compact, I decided to wait a bit longer for the next lull and have another go.  Eventually there was a moment, and then just as I was about to take the photo a lady stepped into the gateway.  She was perfect for the image – wearing the right type of dress in an ideal colour, standing in the right place, even looking in the right direction.

I had time for just one photo before she turned and saw me and the moment was gone.  Every now and then, we all get one of those pieces of serendipity – this was certainly a lucky one for me!

For further information about photographic composition consider taking our course on Finding the Picture
Stay updated
Receive free updates by email including special offers and new courses.