Andy's Best Gardens to Visit; A MyGardenSchool Collection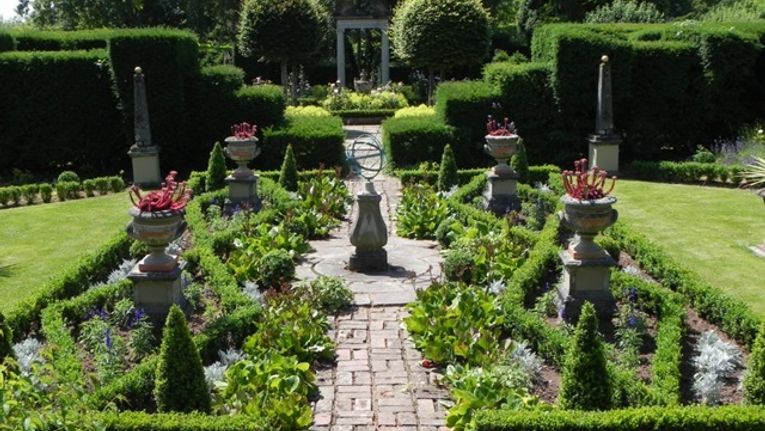 Our MyGardenSchool chief blogger, Andy McIndoe, regularly takes us 'virtually' with him to special gardens he visits via the MyGardenSchool blog.  As well as being a master of online gardening courses (Andy is our most prolific tutor at MyGardenSchool), Andy brings a wealth of gardening expertise and narrative with each post he writes for the MyGardenSchool blog  - so we thought it was time we did a collection of Andy's favourite gardens to visit.  Many of these gardens are in the UK (Andy is mostly based in Hampshire), but we'd love to hear from any of you who have favourite gardens in the rest of the world.  Please feel free to pop by and let us know your favourite gardens in the comments boxes.
Top things you need on a garden visit!:
Decent Digital Camera, Waterproofs, Rucksack, Binoculars, Good reference on flowers, books to plan your next garden visit, picnic set, good walking boots!
Garden Visits:

Hidcote Manor Gardens


It's on a hill in the heart of the English countryside not far from Stratford-upon- Avon. I grew up not far from there in Leamington Spa and Hidcote is one of the first gardens I remember visiting with my parents. Although a stone's throw from Stratford by today's standards I remember then it was something of an expedition which made the visit even more exciting. So what do I remember of that visit when I was probably about seven or eight years old? – Read on..



Tintinhull Gardens


I have wanted to visit Tintinhull Garden, nr. Yeovil, Somerset (UK) for quite some time. In fact, ever since I spent many a happy hour pouring over 'Colour in your Garden' by the garden designer Penelope Hobhouse. Although she wasn't responsible for creating the garden at Tintinhull, she and her husband Prof. John Malins were tenants there from 1980 to 1993. As a great gardener and plantsman she undoubtedly influenced the planting, and certainly aspects of the garden featured in the book. - Read on..


 
The Devon Gardens


I  timed my trip to the West of England perfectly. Despite recent heavy rain and storms I picked two glorious days of mellow autumn sunshine, fall foliage colour at its peak and Damien Hirst's Verity in position in Ilfracombe harbour.  The reason for my visit: I was invited to speak at West Downs Gardening Club on spring flowering bulbs: a subject close to my heart as you know.  On the way down I managed a late afternoon walk in the sunshine on the beach at Combe Martin: Damien Hirst's home.  I had forgotten just how beautifully rugged that North Devon coastline is, and just how unspoilt and quiet it is for the visitor coming from the central south. Read On




RHS Rosemoor


The glorious Devon garden of The Royal Horticultural Society  I was first introduced to the RHS garden Rosemoor, just outside Torrington, Devon when leading a garden tour a few years ago. My group was lucky enough to have a lecture the evening before by Chris Bailles, Curator of the Garden; Chris has since moved on to The Chelsea Physic Garden. Our visit the following day was far from a disappointment. The enthusiastic description that Chris presented was reflected in this treasure trove of plants. Garden after garden unfolds as you pass through this plant wonderland which demonstrates amazing creativity in a collection that is beautifully labelled and maintained.  Read on


 
The Laskett Garden


I recently visited The Laskett, the garden made by Sir Roy Strong and his late wife Julia Trevelyan Oman. With her background as set designer for opera, theatre, television and film, and his as a historian, Director of the V&A and The National Portrait Gallery, the garden is needless to say theatrical; a tapestry of their lives. The Laskett is mindblowing, complex, intricate, ornate, charming and surprising. Read on


 
Mottisfont Abbey Gardens


I am very fortunate to live very close to the wonderful Mottisfont Abbey in the lovely Test Valley, Hampshire, in southern England – it's one of the best gardens to visit in Hampshire. The crystal clear waters of the River Test are renowned for the trout and excellent fishing. Mottisfont is known by gardeners the world over for its collection of old roses, originally established in the walled garden by the late great Graham Stuart Thomas. Midsummer is not complete for me without a visit to Mottisfont to enjoy the scents and spectacle of the roses, enhanced by an array of wonderful perennials.  Read On



Bourton House Gardens


Bourton house is a beautiful Cotswold manor house in Gloucestershire, England. I have visited the garden on several occasions over the years and am always amazed by the attention to detail and excellent standards of cultivation. This garden combines classic borders of perennials and shrubs with amazing topiary and extravagant exotics. What I love about this garden is how elements of it change every time I visit: an established garden that is still evolving. I believe that's what we should all aspire to. Read On


 

Other Recommendations
Gardens to Visit in London This Summer
Fritillaria Meadows at Magadelen College, Oxford University