Christmas Floral decoration: what's around?
By Andy McIndoe •
[caption id="attachment_9659" align="alignleft" width="550"]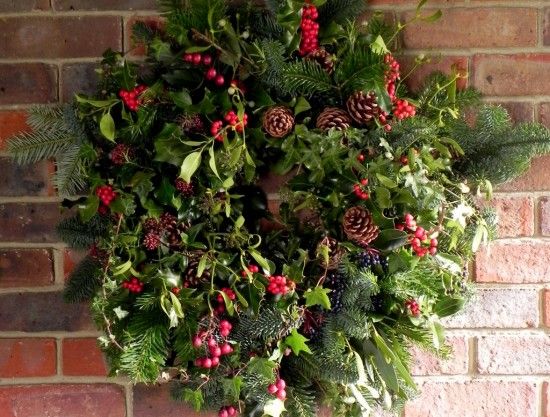 Christmas wreath[/caption]

I'm just about to embark on a round of Christmas floral decoration demonstrations. I love this time of year because it's a time when so many people get a bit creative and have a go. Over the next couple of weeks I hope to inspire those that like the idea of making something, but are just not sure how to go about it.  In the days before the demos I usually try to think about something different to do, however I know it's the traditional Christmas favourites that are the real crowd pleasers: door sprays, wreaths, garlands and table decorations. To start with I thought I would pay a visit to a flower wholesalers and share with you some of the material that's around for you to use.

[caption id="attachment_9660" align="alignleft" width="550"]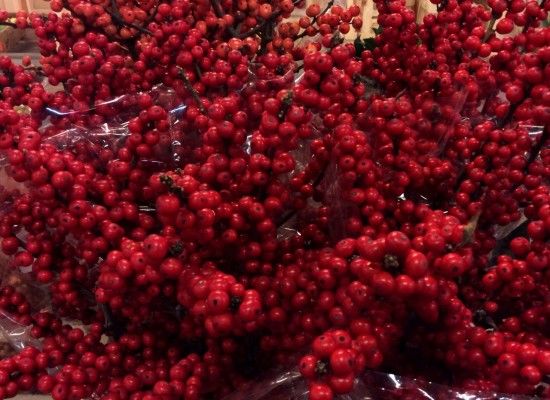 Ilex verticillata[/caption]

Berries abound in this season, but there is far more to choose from than just traditional red-berried holly. Winterberry, Ilex verticillata used to be one of those choice subjects you saw occasionally in London florists. I've just seen it on sale in an Aldi supermarket. Straight, angular dark stems carrying bright scarlet berries right on the wood make this a startling but versatile subject to work with. You can just use two or three stems in a clear glass cylinder for a simple contemporary decoration, or use the twigs for their berries with more traditional holly and evergreen foliage. A native of North America it is now grown commercially in large quantities.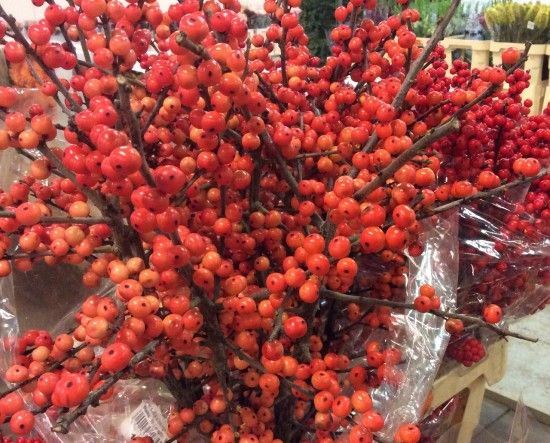 I've noticed different coloured forms appearing on sale over the past couple of years. There are ones with orange berries and even golden yellow. At first sight they may not seem as seasonal but they do offer the opportunity to go for a different colour palette.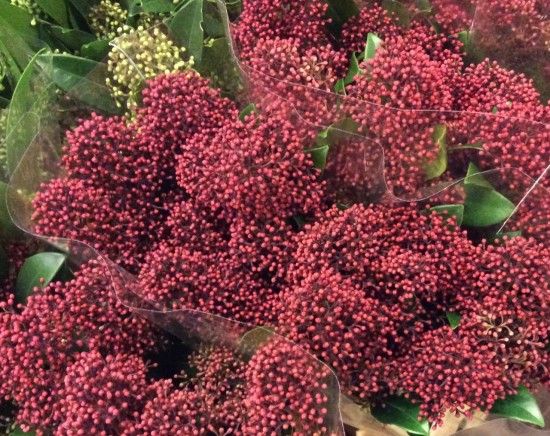 Skimmia japonica 'Rubella' is one of the best-selling winter shrubs. The dark green foliage and red buds make it an appealing potful. In the garden it is not always as successful and tends to go rather yellow if it is planted in a situation with too much sun.  It makes an excellent subject for flower decoration; small sprigs of leaves and buds are ideal in wreaths and table decs. It is now widely available as a cut flower and although it's not cheap to buy it goes a long way.

[caption id="attachment_9663" align="alignleft" width="550"]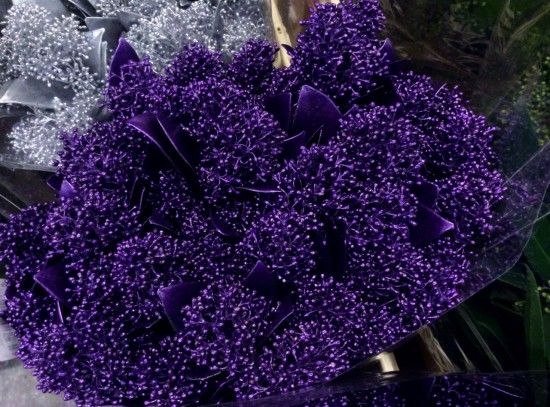 Coloured skimmia[/caption]

There are often lacquered forms of skimmia available which can look effective. The gold and silver ones are useful used in moderation. Personally I think the vibrant lacquers like this purple one look very cheap and artificial and rob the plant of its natural form and beauty.

[caption id="attachment_9664" align="alignleft" width="550"]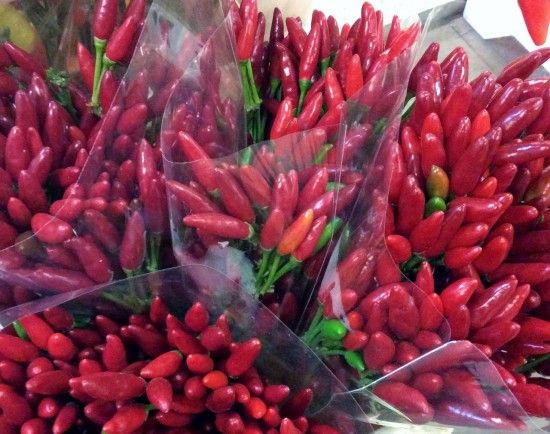 Chillies[/caption]

Chillies span the seasons. They are great in arrangements for autumn and Halloween and add hot colour to your Christmas creations. I particularly like them in simple table decorations with woody herbs like rosemary and thyme and dried orange slices and cinnamon sticks. They also work well with exotic blooms such as anthuriums and green orchids.

[caption id="attachment_9665" align="alignleft" width="550"]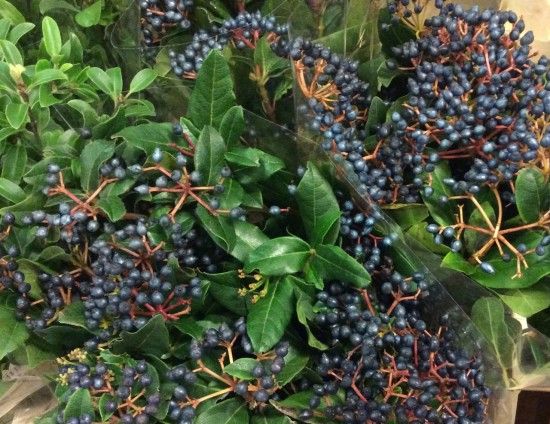 Viburnum tinus[/caption]

Viburnum tinus rarely produces good fruits in the garden, however you can buy good cut laurustinus with its blue-black berries for floral decoration. It is brilliant with blue spruce and also with deep purple blooms. I often use carnations and spray carnations in door sprays and wreaths because they last well with little water.  A few blue-black viburnum berries really help the flowers to work with other foliage. They are great for those little floral foam cupcake decorations too.

[caption id="attachment_9666" align="alignleft" width="550"]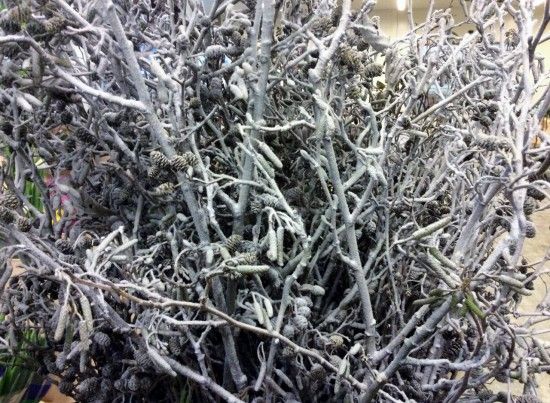 Snowy twigs[/caption]

I remember coating birch twigs with a paste made from washing powder and water when I was a kid. It soon absorbed moisture from the atmosphere and turned into a nasty soapy mess, but I thought it looked just like real snow-covered twigs.  Today it's easy to buy them ready done and they last through the festive season before the buds and catkins start to expand. I think the hazel twigs work best.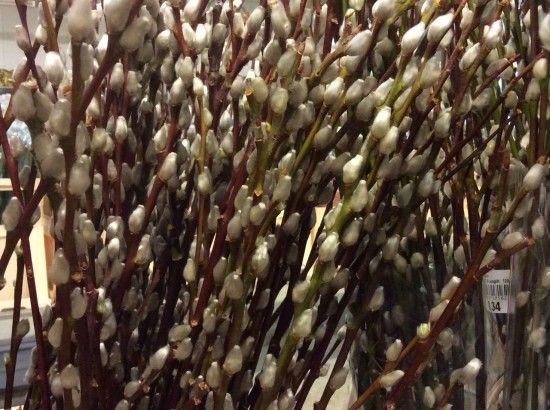 Pussy willow, Salix caprea is a spring essential for flower arranging, however it has become more popular for winter arrangements.  It does add a different texture and the silvery, silky catkins work well with most flowers and foliage. A few twigs are lovely tucked into a pot of hellebores and ferns.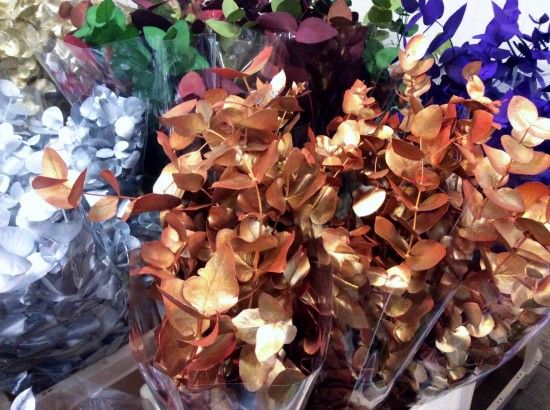 I've already mentioned lacquered foliage; there is a great variety around including subjects such as eucalyptus and ruscus.  A little can be very effective and it does add a bit of festive sparkle. One word of warning. If you leave it in water with other fresh cut foliage the lacquer may come off when you handle it. The same applies when you use it in door sprays and wreaths. It is fine as long as you don't touch it when it's been soaked but it can be inconvenient if you spread the lacquer where you don't want it.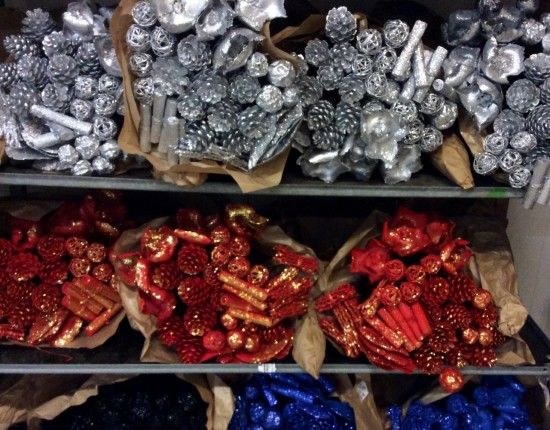 Most retail florists and wholesalers offer a great variety of lacquered, glittered picks including cones, seedheads and cinnamon sticks.  These are an easy way of adding highlights to arrangements and decorations.  They may be more expensive than spraying and wiring your own but they are convenient and reusable and offer a good variety of colours.

Tip: If you are cutting your own evergreen foliage still condition it in water with flower food before you arrange it.  Also make sure you soak any foam or wreath bases in flower food before you start. This will really help to prolong the life of your arrangement.

 
Stay updated
Receive free updates by email including special offers and new courses.