MyGardenSchool Blooms at The Garden Media Guild Awards 2011
By Alex N •
MyGardenSchool tutors include Lifetime Achievement Award winner and finalists in the Book Awards; MyGardenSchool website is a finalist in the Website of the Year
Just seven months after its launch, MyGardenSchool has had an impressive showing at The Garden Media Guild Awards 2011. Designed to celebrate the best in garden media, The Garden Media Guild Awards honours garden writing: books, newspapers and magazines; photography; broadcasting: TV and radio; and new media, including gardening websites and gardening blogs. They are the garden media 'Oscars'.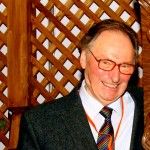 MyGardenSchool tutor, John Brookes MBE, won a Lifetime Achievement Award for his services to gardening. The award, voted for by members of the Guild, is the highest accolade the Guild has to offer and is even more significant in 2011, the Guild's twentieth year.
John Brookes MBE has designed gardens for the rich and famous, won multiple gold medals at the RHS Chelsea Flower Show, and written over 30 gardening books that have sold millions of copies worldwide. In his MyGardenSchool online gardening course, Introduction to Garden Design, he covers how to design your garden with design rules applying to any size of garden; design secrets of the Pros; what to plant; and turning your dream garden into a reality.
MyGardenSchool tutor, Alex Mitchell, who teaches a course on Edible Gardening Made Easy, was a finalist in the Book Awards with: The Edible Balcony: Growing Fresh Produce in the Heart of the City, published by Kyle Cathie. The judges commented that this year the competition for the Book Awards was particularly tough, as the standards of writing, layout/design and photography shone out from a significant number of entries.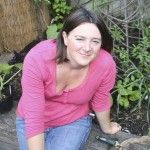 Alex's book is designed for people that want to enjoy delicious fruit and vegetables every day of the year, but who may not have a garden. It explains everything from how to create an easy edible balcony over a weekend, to using recycled and salvage materials, to growing exotic fruit and creating a futuristic salad and herb wall. It is the essential guide for both beginner and experienced gardeners alike.
The MyGardenSchool website was also a finalist – in the Website of the Year award. The editor of the website, and MyGardenSchool Managing Director, Elspeth Briscoe said: "It is an incredible achievement for the website to have been shortlisted for an award, just six months after we launched it. We are also proud to have two of our tutors do so well, too. All round, it was a great night for MyGardenSchool.
Briscoe added:  "We plan to work closely with the horticulture and gardening industries to foster a deeper understanding of the future of the web - and how it can serve gardeners as a place for building communities, breaking geographical boundaries, and as a leading space for excellence in e-learning.  Traditionally in gardening websites have been thought of as another type of 'push communication' or magazine medium.  But done well we are actually creating virtual interactive communities which is something entirely different"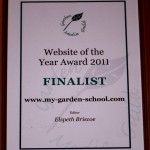 The Garden Media Guild is a trade organisation for professional garden writers, photographers, broadcasters and members of allied trades. The Guild was established in 1991 to improve the quality of garden writing, photography and broadcasting by improving links between the gardening mass media and the horticultural industry.




But John Brookes, Alex Mitchell and the MyGardenSchool website aren't the only stars at MyGardenSchool. All of the MyGardenSchool tutors are outstanding in their field (and gardens), being accomplished gardeners and acclaimed gardening writers. For example, there is the multi-gold medal winner at RHS Chelsea Flower Show, Andy McIndoe with courses in bulbs, shrubs and trees; Stephanie Donaldson, author and Gardens Editor of Country Living magazine with a course on organic gardening; leading garden designer and author, Hilary Thomas with a courses in planting design; photographer and author Sue Bishop with a course on flower photography. But that's not all. Take a look at our course pages to see our other tutors: (http://www.my-garden-school.com/courses/).




MyGardenSchool is the world's first online gardening school where students can learn from gardening experts about how to do absolutely everything in the garden from keeping bees or hens, landscaping, design, growing vegetables and herbs, building treehouses or growing the perfect roses. And everything in between. Our courses are four weeks long, and video tutorials are delivered weekly, together with course notes and assignments that will be assessed by your tutor. You also get to chat to your tutor online, as well as your classmates, in the 'virtual classroom'. MyGardenSchool will teach you everything about gardening – virtually.




About MyGardenSchool
MyGardenSchool Ltd is a unique global online horticultural classroom. Whether you want to grow organic veg, create enviable flower borders, nurture that perfect lawn, or simply give a good home to an egg laying chicken – MyGardenSchool offers a high quality range of gardening courses taught by some of the world's top tutors and delivered right to your green fingertips. For more information, please go to www.my-garden-school.com.


Press contact: Tara Sinclair at MyGardenSchool, Tel: 07968 514 802, tara@my-garden-school.com
Stay updated
Receive free updates by email including special offers and new courses.