Press Release: Growing the perfect cutting garden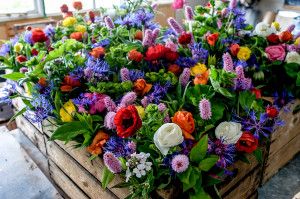 PRESS RELEASE December 2014


Growing the perfect cutting garden


Decorate homes with beautiful blooms all year round with The Cutting Garden: How to Grow Flowers For The House by Charlie Ryrie, now bookable on the world's leading virtual gardening school www.my-garden-school.com.

Cutting home grown flowers to fill interiors is in vogue and MyGardenSchool has the tools to transform any existing garden into a successful cutting plot. Whatever the space, this wonderful online gardening course shows budding floral designers how to grow and cut hundreds of different varieties for the home, including blowsy blooms, delicate subjects, bright and pale hues, subtle and scented bouquets and some real showstoppers. Students will also learn about planting foliage for cutting and a selection of more unusual flowers to sit alongside old favourites.

Regular tending is key to a successful cutting garden and Charlie will show students how and where to grow, maintain and pick blooms all year round. Students will also learn how to store flowers before using them, how to get the longest possible vase life and to keep flowers looking their best once they have been arranged.

Unique to www.my-garden-school.com this four week online horticultural course offers small classes of up to 20 students at a time, weekly 1-2-1 tuition and assignments set and critiqued by Charlie Ryrie; this is the only website in the world to offer this type of e-learning. Virtual lectures are available to view in the online classroom MyClassRoom at any time, even after the course has finished. Here students can connect with Charlie and other gardening enthusiasts and horticulture professionals from all over the world.

The Cutting Garden: How to Grow Flowers For The House by Charlie Ryrie begins on Saturday 3 January 2014. It starts again on the first Saturday of every month and runs continuously throughout the year. The four week course costs £145.00 (approx. US$232.00) and includes:

Weekly 1-2-1 tuition and feedback from Charlie;
Weekly video tutorials allowing students to revisit lectures again and again;
Weekly assignments critiqued by Charlie;
Magazine style downloadable transcript;
Successful students will receive a certificate of completion and an online badge. Each MyGardenSchool course is worth 2 CEUs (Continued Education Units) towards becoming a professional landscape architect with the APLD (Association of Professional Landscape Designers).

Charlie Ryrie is credited as the first grower in the country to provide bouquets of completely home grown garden flowers for nationwide delivery, weddings and events, from her own flower field at The Real Cut Flower Garden. Formerly a journalist and garden writer, Charlie began with a cottage garden and bare windswept field in Herefordshire and within five years, transformed it into a thriving business growing almost four acres of mixed flowers and foliage plants for cutting. Charlie is also the founder of The British Flower School at Mapperton Garden.

To book Cutting Gardens: How to Grow Flowers For The House by Charlie Ryrie, see: http://www.my-garden-school.com/course/growing-a-cutting-garden


- ENDS -




Notes to Editors


For more information, please contact Sarah Gartside: sarah@my-online-school.co.uk

For more information about MyGardenSchool, see: www.my-garden-school.com/how-it-works

MyGardenSchool.com is the world's first virtual gardening school. Tutors are world-leading authorities in their specialist field and teach on trend and elite gardening courses. Students value the convenience of online learning and the more in-depth, interactive experience that MyGardenSchool offers. MyGardenSchool went live in 2011 and is privately owned by Elspeth Briscoe and Duncan Heather.
Stay inspired
Get FREE Gardening tips and ideas from our experts in your inbox.