Reliable roses: secrets of success for keeping roses disease free
By Andy McIndoe •
Gardeners the world over love their roses and long to grow good ones. But these can be fussy creatures and for many they prove a challenge. I thought I'd share my thoughts with you and give you my top tips for success with roses.
The first rule for success with roses is plant weather and disease resistant varieties

Weather resistance, disease resistance, continuity of flowering, growth habit, fragrance and of course colour, are all qualities sought by the rose breeder. However it is surprising how many old roses still prove their worth through their resistance to weather and disease. The latter is particularly important in a wet summer.
The Gallica roses include some of the oldest varieties still in cultivation. Rosa gallica 'Officinalis' dates back to the 14th century. The Apothecaries rose, as it is commonly called, was grown for the fragrant petals of its semi-double flowers. Bright cerise pink in bloom they dry to soft dark crimson and retain heir fragrance. Although it flowers only once in midsummer it blooms for several weeks and has tough mid-green leaves that are remarkably resistant to black spot and rust. Rosa gallica 'Versicolor' (Rosa mundi) is a sport with pink flowers striped with cerise. It is a most attractive addition to a mixed border of shrubs and perennials and both these Gallica roses make an excellent low hedge.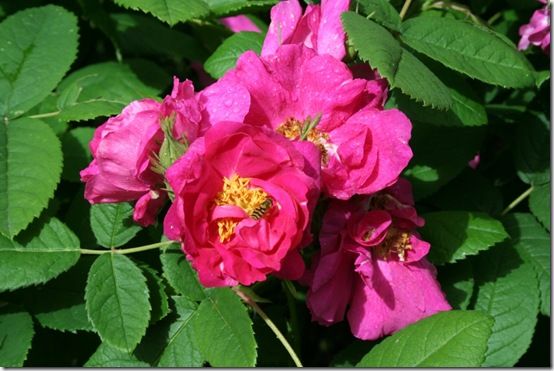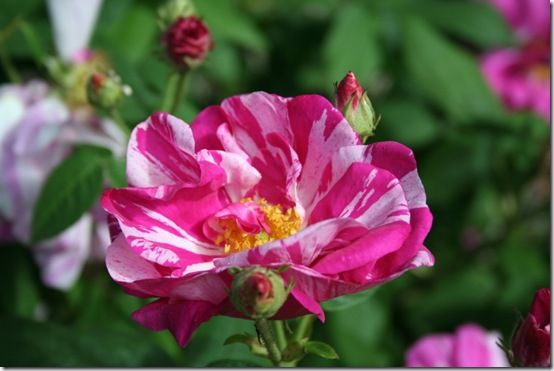 The Alba roses have attractive blue-green healthy foliage, and usually a rather upright habit so are ideal at the back of a border, particularly where they will contrast with dark evergreens. My favourite is Rosa x alba 'Alba SemiPlena' This has delicate white blooms with golden stamens with a wonderful fragrance. Again the Alba roses bloom only in midsummer, but their foliage remains attractive and disease free for much longer.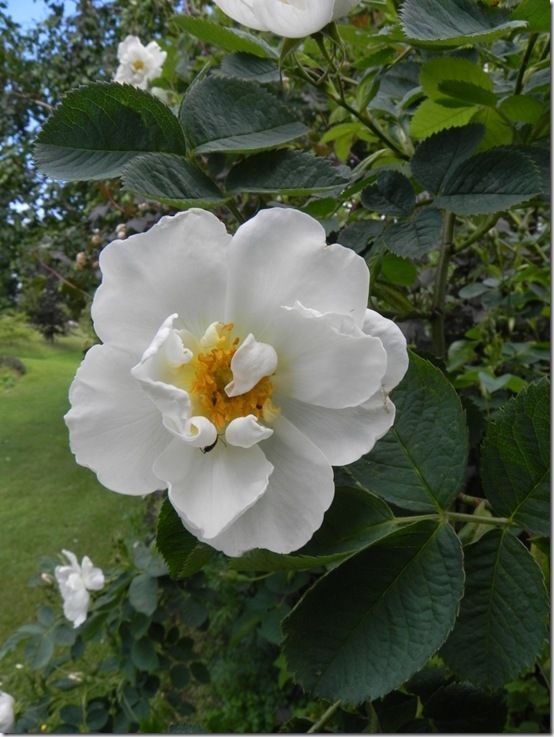 If like me you have light sandy soil you will find the rugosa Rosa 'Roseraie de l'Hay' particularly successful. Fragrant velvety crimson purple blooms and healthy apple green foliage which is totally disease resistant make this an excellent shrub. What's more deer don't seem to like rugosa roses either. The stems are a bit too thorny for these destructive but discerning creatures.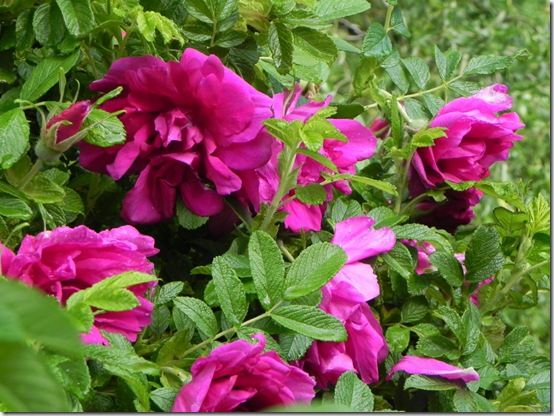 The repeat flowering hybrid musk roses are a delight when in bloom. They make rather spreading shrubs with glorious sprays of deliciously scented flowers. We had a hedge of 'Felicia' at our first house along the path leading to the front door. You couldn't get to the door when they bloomed but the display was spectacular. Yes, they got a bit of blackspot but you don't really notice it.
I also adore the colour and scent of Rosa 'Buff Beauty'. Plant it further back in a large border. It will reward with a splendid display even if the shrub is somewhat unruly.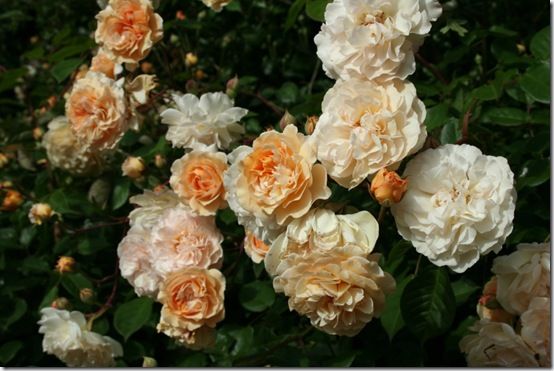 The English roses, bred by David Austin have largely taken over from old shrub roses in our gardens. These combine the repeat flowering qualities of modern roses with the charm, fragrance and flower form of old roses. Several new varieties are introduced each year and progress in breeding means that many of the newer varieties are far superior to their older counterparts. Also a far greater colour range is available today including some exciting new introductions.
Rosa 'Lady Emma Hamilton' is a delight with its bushy habit and copper tinted healthy foliage. The blooms are rounded with incurved petals of copper tinted with orange and pink, red in bud. They are delicately scented and remarkably weather resistant. Even more important in wet conditions they last well when cut. It has performed well in my garden in spite of my light sandy soil which is really too low in nutrients and too dry for roses.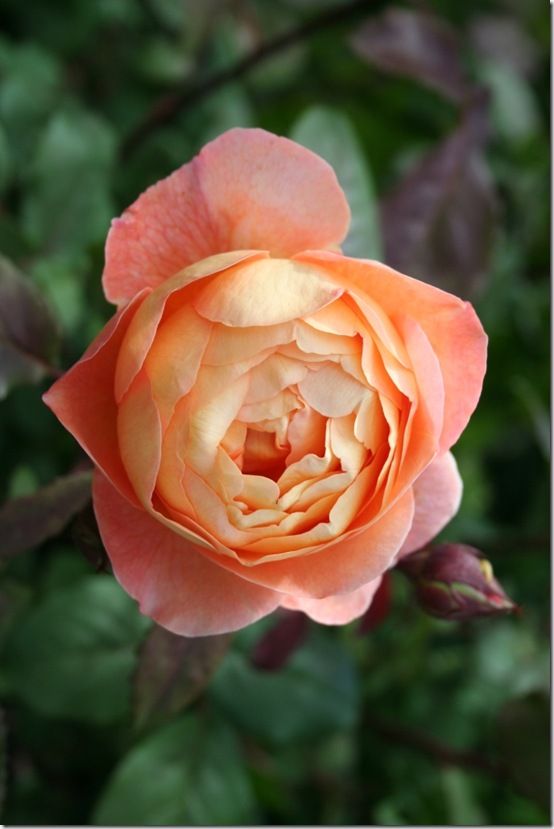 I've also had good results with the lovely short English Rosa 'Queen of Sweden'. This has strong stems, matt green leaves and glorious shell pink cupped blooms. They are a total delight with blue geraniums and alchemilla but the fragrance is only light.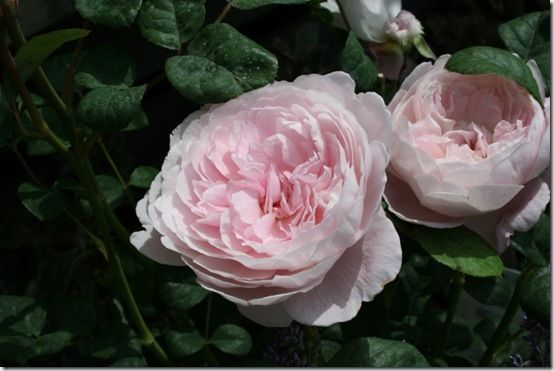 Dead heading and feeding are a priority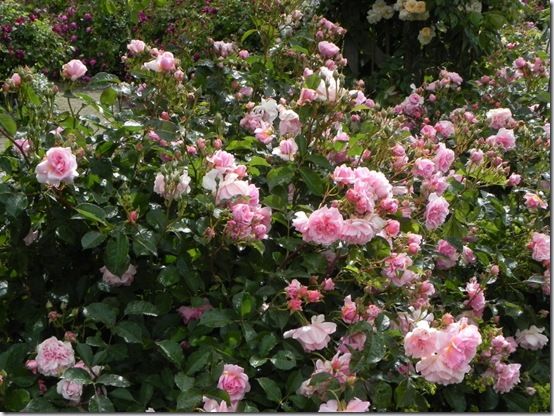 To get the best from your roses for the rest of the summer dead head as they finish flowering. Rather than snipping off individual blooms cut back flower heads to two or three buds further down the stems.
Feed the plants with rose fertiliser to bring forth late summer flowers. Be vigilant and look out for any sign of disease: pick off any infected leaves.
If weather is dry then water the roses and mulch the soil surface with garden compost, bark or any organic mulch. Dry roses are more likely to succumb to disease and fail to repeat flower satisfactorily.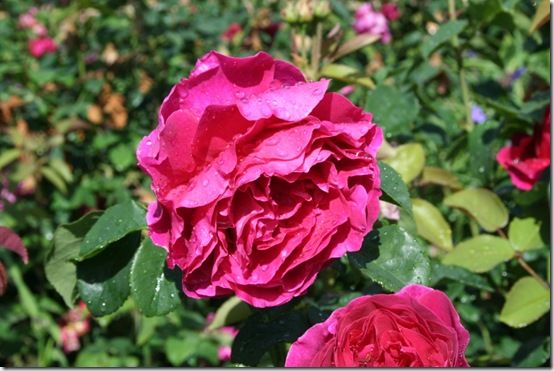 What about pest and disease control?
Personally I don't spray my roses. If they get a bit of disease so be it. If you are going to spray then here's a handy blog on garden pest and disease control with some great organic home-made recipes that are well worth a try.
http://www.my-garden-school.com/garden-pests-prevention-and-control/
If you do use a chemical spray always use it in the early morning and late evening when beneficial insects, especially bees aren't around. But do remember healthy roses shouldn't need spraying so good cultivation is the best form of prevention.
One last word: If you have a rose that always fails to perform, one that you spray regularly but it still gets disease, get rid of it and plant a different variety that will deliver. There is far too much to do and to enjoy in the garden to waste time on one plant that sulks.
Contrary to popular belief you can plant another rose in exactly the same place without changing the soil if you use mycorrhizal fungi. These are added as granules in the bottom of the planting hole and they grow in association with the rose roots to aid establishment and extend the root system.
If you're interested in learning more about Roses – check out the MyGardenSchool Online Gardening Course for Growing Roses taught by Michael Marriott, chief rosarian from David Austin Roses.
Stay updated
Receive free updates by email including special offers and new courses.