Street trees & imaginative urban landscaping: Budapest
By Andy McIndoe •
It doesn't matter where you put a horticulturist he or she will always be looking for anything growing. Sadly in an urban environment I am often complaining about crimes against horticulture: hatchet pruning of woody plants and badly maintained trees. With my design hat on I'm always looking at missed opportunities: dreary spaces that could be improved with a little imaginative hard landscaping and a few well chosen trees and shrubs. Often lack of investment in the urban landscape is limiting but that certainly did not seem to be an issue in Budapest, Hungary when I visited recently.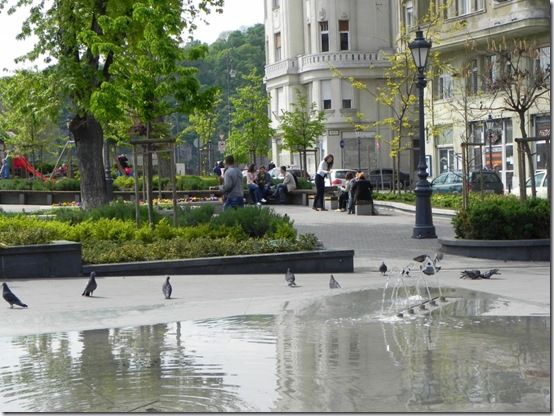 This is a beautiful, clean city with some magnificent architecture only slightly compromised by the addition of a few rather hideous more modern hotels in rather key positions; I imagine filling gaps left by wartime damage. Historic buildings have been cleaned and restored and the hard landscaping around them is still being improved with acres of superbly hand laid cobbles. The standard of workmanship is superb, and also the methods; no chaos, no mess and what appears to be immaculate organisation.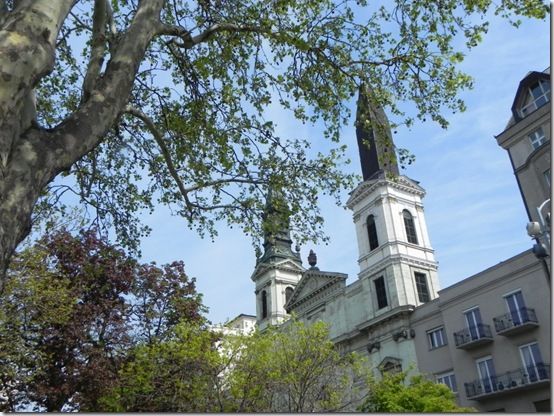 As I said in my last post about Budapest this is a very green city with plenty of well chosen trees that create light dappled shade and a wonderful foil for the ornate and impressive architecture. Where space allows there are the usual Platanus x acerifolia London Planes that you find in many capital cities. In open spaces and squares these have reached statuesque proportions and their high crowns display magnificent bark.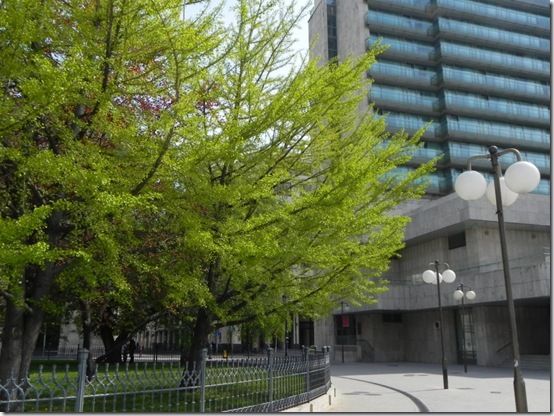 Landscape architects are always looking for compact and narrow headed trees for use as street trees. I have seen Gingko biloba, the maidenhair tree used as a street tree on many occasions and found some magnificent specimens alongside a modern waterfront development by the Danube. Although this is an ancient plant, unchanged since pre-historic times it has futuristic lines and makes a wonderful partner for a building facade of glass and steel.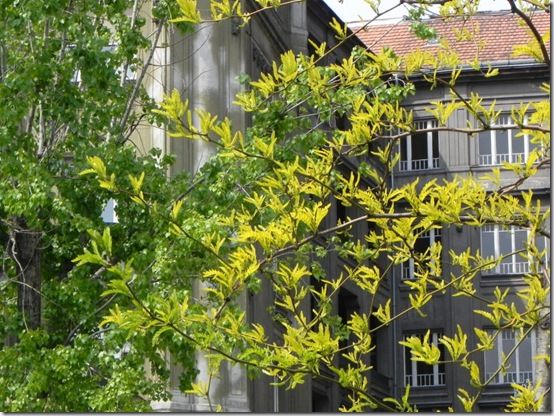 I also admired the use of Gleditsia tricanthos 'Sunburst' in an urban setting. The bright new foliage added a real ray of sunshine to the street scene. Although stiff in habit this tree has a wonderful lightness against heavy stone. Its tiny leaflets must also be a great advantage when they fall. The large leaves of many trees cause such a problem blocking drains and gutters when they all; they are also a slip hazard on walkways.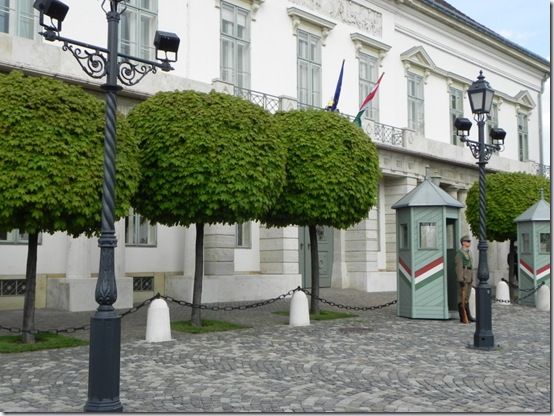 By contrast Acer platanoides 'Globosum' makes an impressive round headed tree for a more formal effect. Early into leaf and with butter yellow fall foliage this tree ticks so many boxes in an urban setting. It suits traditional and contemporary settings and its compact habit means it should be low maintenance. Its limiting factor is its brittle nature. The stocky branches snap easily in transit so it is difficult to transport.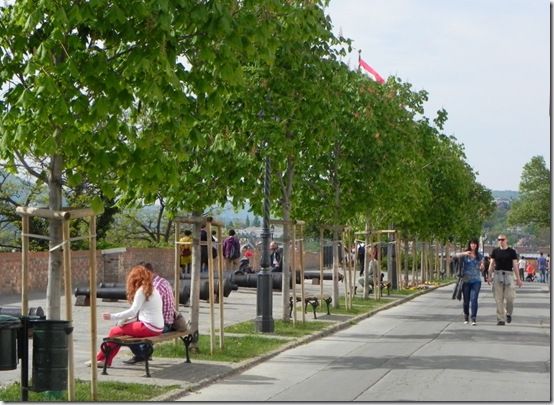 I commented previously on the health of the horse chestnuts, Aesculus hippocastanum. I came across several new plantings of them: substantial trees planted in quantity. Let's hope they stay clear of the pests and diseases that have rendered them virtually useless in many parts of Europe. I don't think I could say the same of ash, Fraxinus excelsior varieties. I did see some newly planted stock and I saw healthy trees in parks and on Margaret island. However I also saw some with distinctive die back indicating the presence of ash die back disease which seems to have spread throughout Europe.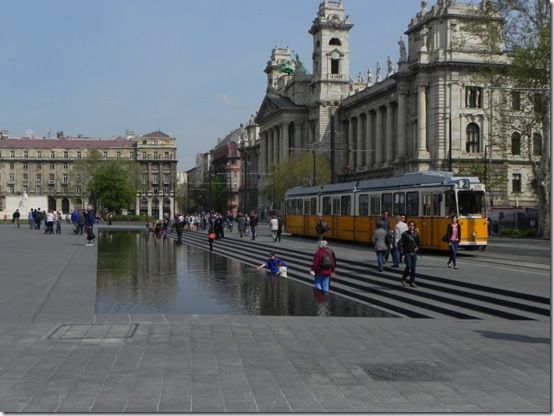 Having said that cobbles and new hard surfaces are being laid by the acre, the effect was far from bleak and uninteresting. Imaginative use of formal contemporary water adds another dimension to many squares and large spaces. The reflection and movement of water together with some interesting use of different levels transforms what could be just large open spaces of grey stone.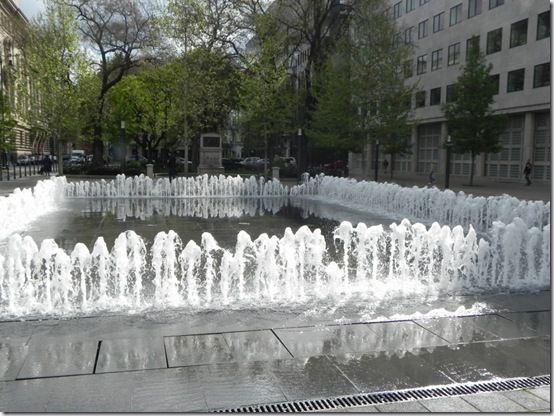 In smaller squares frothy, changing jets rise from the stone adding life, movement and sound; masking the sound of traffic. Interestingly the sound of traffic is minimal compared to most cities: few sirens, horns and a general lack of driving aggression: bliss. I visited this square on a quiet weekday morning when office workers were making their way to work past the refreshing presence of lively water. I also visited on a weekend morning where children were dodging the jets and squealing with delight as the patterns changed.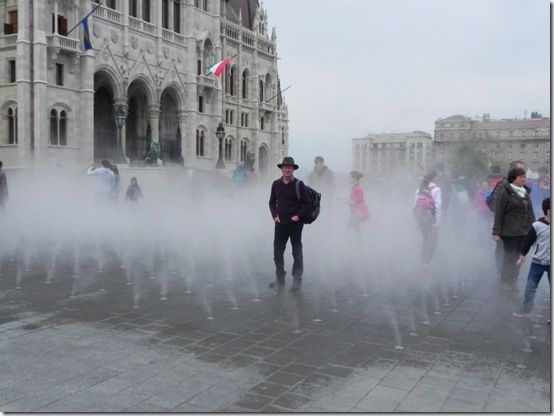 My favourite urban landscape feature of all was the use of fog jets outside the incredible Parliament building. This feat of architecture and vast square is so impressive it must have been incredibly challenging to add anything that could enhance it. Two large rectangles of jets concealed in the stone periodically throw up a surreal fog that hangs and drifts on the square transforming it into a mysterious and bewitching landscape. I defy anyone to walk away unimpressed: the fog rises and everyone is drawn towards it spellbound.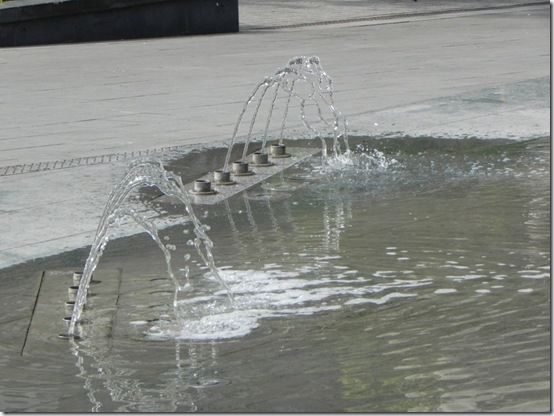 Budapest would certainly rank among the best designed and maintained city landscapes. Which cities do you rate for their hard landscaping and planting? I would love your thoughts.
Stay inspired
Get FREE Gardening tips and ideas from our experts in your inbox.