The advent of spring blossom makes me think about the value of flowering trees.Although the display may be relatively brief, they bring unexpected colour into the upper layer of the planting picture, an area that is normally reserved for foliage interest and the branch silhouette of deciduous trees. The first spring blossom is often the stimulus to plant a tree in your garden, so I thought I would try and pick out my top ten small flowering trees. Ones suitable for average small gardens; also ideally with more than one season of interest. Of course lots of other small trees flower, but these are all grown primarily for their blossom, even if they have other attributes. I've listed them in alphabetical order, rather than preference. Sizes are based on experience in average conditions; the ultimate heights quoted by many sources are often unrealistic in average garden conditions and in a lifetime!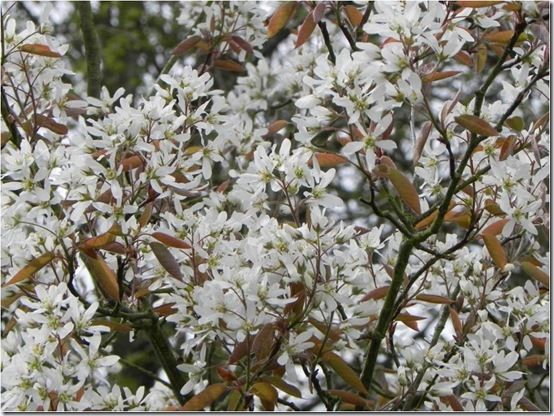 Amelanchier lamarckii A lovely small tree with coppery new leaves and sprays of white starry flowers inearly spring. Good fall foliage colour and small red fruits. An excellent choice for neutral to acid soil and good in damp soil conditions; very hardy. I think this is at its best as a multi-stemmed tree; there are several named varieties but these are not necessarily better. Drops its leaves early on dry, alkaline soil. (4 metres, 13ft in 10 years)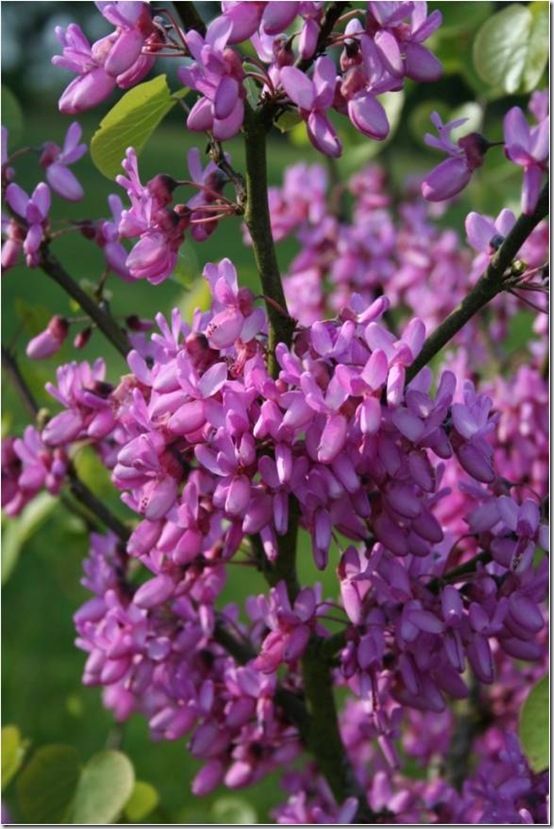 Cercis siliquastrum 'Bodnant' Superb variety of the Judas tree with purple-pink pea flowers in profusion in spring as the heart shaped leaves unfurl. These are followed by reddish seed pods which persist throughout the season. Good for dry, sunny situations. Wonderfully sculptural shape and dark stems. Good on acid and alkaline soils. (4 metres, 13ft in 10 years)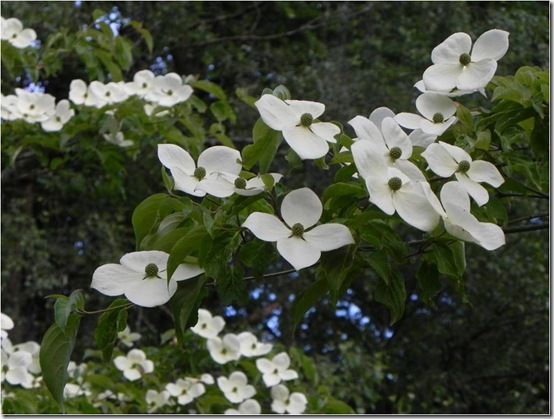 Cornus 'Porlock' Wonderful flowering dogwood with broad, spreading habit and semi-evergreen foliage. Bracts develop in late spring; first cream, then white, blushing pink before they fall. They are carried on short upright stalks all along the branches. Flowers are followed by showy strawberry-like fruits in autumn. (5 metres, 16ft in 10 years)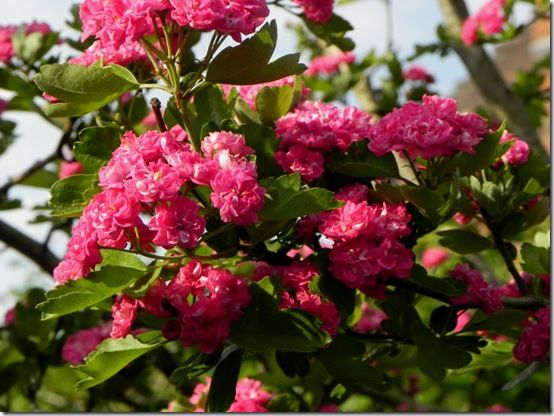 Crataegus 'Paul's Scarlet' Variety of hawthorn with clusters of crimson flowers in late spring; elegant habit. No autumn colour and no fruits but worth growing for the flowers. If you want fruit and autumn colour plant the ordinary common hawthorn Crataegus monogyna. This has single, white flowers which are great for bees and pollinators. Both can be pruned to control size and spread. (5 metres, 16ft in 10 years)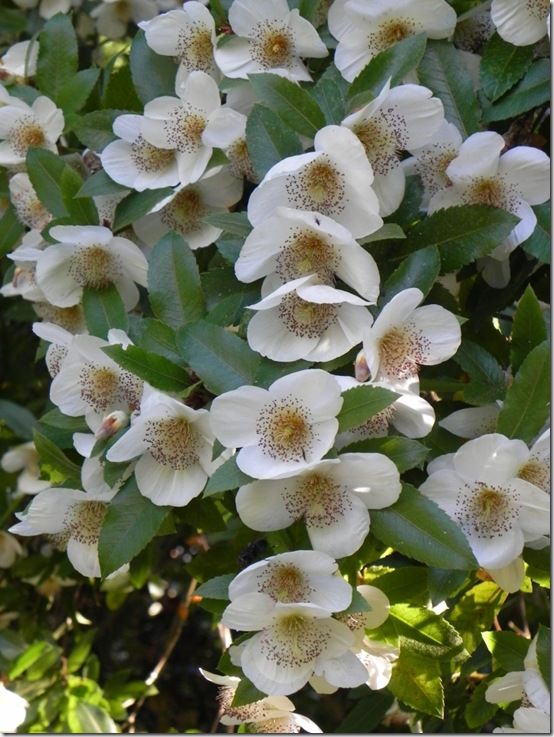 Eucryphia x nymansensis 'Nymansay' Often referred to as an evergreen shrub, this eucryphia is a good choice on acid soil. Deep green, evergreen foliage and columnar habit make a real statement; its narrow habit means it takes up little space in the garden; spectacular creamy white flowers in summer. A tree in flower is a wonderful sight and it is a delight to have a summer flowering tree. (5 metres, 16ft in 10 years)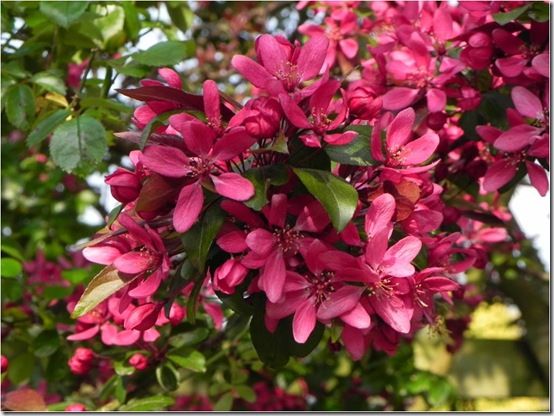 Malus 'Directeur Moerlands' Malus are always my first choice of flowering tree. This one has wine-red flowers and purple tinged foliage. It is an improved form of 'Profusion' which has been grown for many years. Dark twigs and an open, spreading habit. The small deep purple fruits are insignificant. (6 metres, 20ft in 10 years)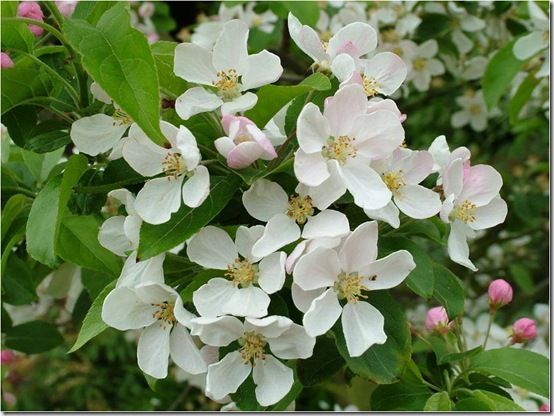 Malus 'Evereste' Fragrant apple blossom on a compact tree that can be pruned to control size and shape, in the same way as a domestic apple. Plain green foliage and some fall colour, however the autumn fruits are spectacular. Orange-red crab apples persist on the branches long after the leaves have fallen. (5 metres, 16ft in 10 years)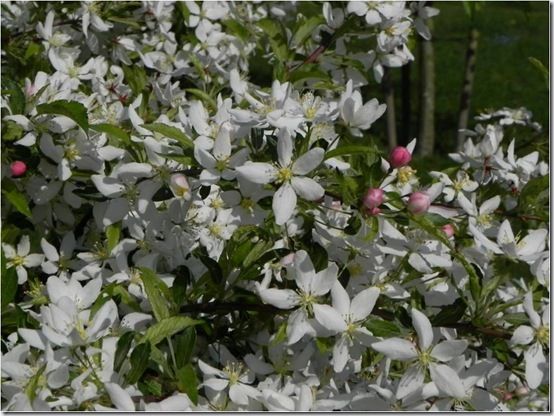 Malus transitoria A spreading habit for a small tree so it will need a bit of space, however the growth is light and graceful and the leaves are attractively cut. Branches garlanded with honey-scented blossom in spring; bees love it! Golden yellow fall foliage colour and tiny golden apple fruits. This would be my first choice! (4 metres 13ft in 10 years with similar spread)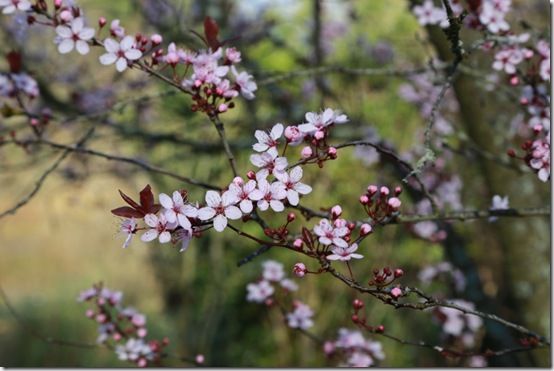 Prunus 'Pandora' A far cry from the big double cherries, this is a delicate little tree with ascending branches and small dark green leaves. Before these unfurl in spring the branches are crowded with pale pink single flowers making a spectacular display. Flame fall foliage colour makes this a tre subject for two seasons. Narrow habit; suitable for the smallest garden (5 metres, 16ft in 10 years)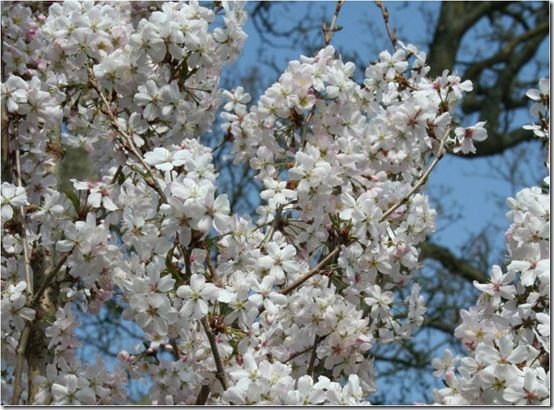 Prunus cerasifera 'Nigra' Lovely in spring and one of the first trees to flower. Twiggy habit and a cloud of pink early in the year; dark purple foliage follows creating a very changing picture. A good screening tree and a good dense habit for birds to nest in. (5 metres +, 16ft in 10 years)
If you want to learn more about choosing and using trees in tour garden then why not join me on my online-course. I'll convince you that all gardens need trees, and there are trees that you can grow in your garden however large or small it is. Courses start on the first Saturday of every month: http://www.my-garden-school.com/course/a-professional-guide-to-choosing-using-and-planting-trees/
Stay updated
Receive free updates by email including special offers and new courses.