Turning The Ordinary Into the Extraordinary
By Geoff Harris •
Discover Infrared Photography
Many advanced photographic techniques have become a lot easier and more mainstream with the arrival of digital cameras, but infrared photography still causes a certain amount of puzzlement.
Just how do you get those haunting infrared effects, particularly in black and white, without spending a bomb?

Here are 3 virtually identical images. The red image is from an IR converted camera. It's a RAW image with no post processing. The Black and white image is the processed RAW IR image and the colour image is there as a comparison, to show what a standard SLR camera would take.
Infrared basics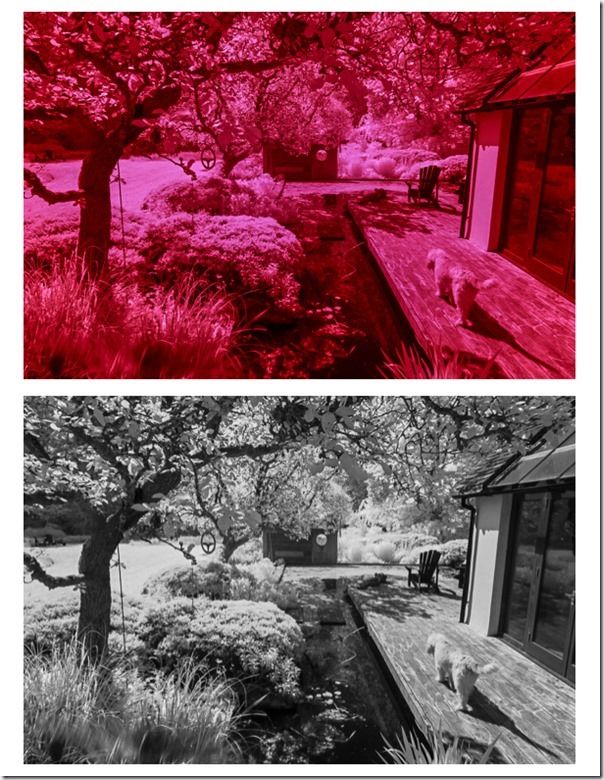 The first thing to remember is that you either need to use an infrared filter, convert your camera or replicate the effect in software. Unless you really like getting to grips with Photoshop, hacking your camera is probably the best long-term solution.
Basically, you are converting your camera so it can 'see' infrared light – as with the human eye, a conventional camera won't be able to perceive infrared light, situated at the far end of the electromagnetic spectrum.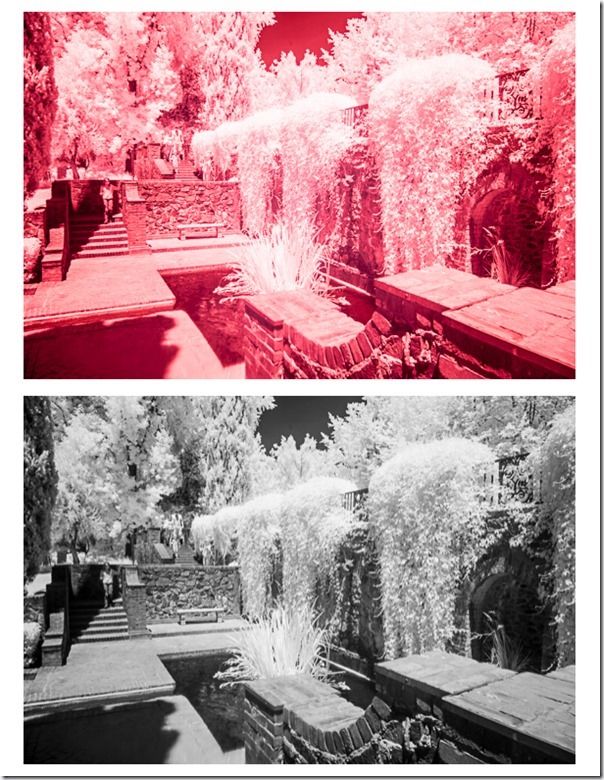 There is no shortage of companies such as Advanced camera services in the UK or Kolarivision and Spencerscamera in the US to do the conversion for you.  It will cost a couple of hundred pounds but just remember that once the camera is converted, you can't change it back. So, an infrared conversion is a great way to give a new lease of life to an old camera that you would otherwise sell or part exchange.
If this seems too expensive, you can also try a specialist infrared filter, such as those from Hoya or Cokin. They screw onto the front of your lens, but won't give such consistently good results as a camera conversion and can be quite fiddly.
Infrared Exposure issues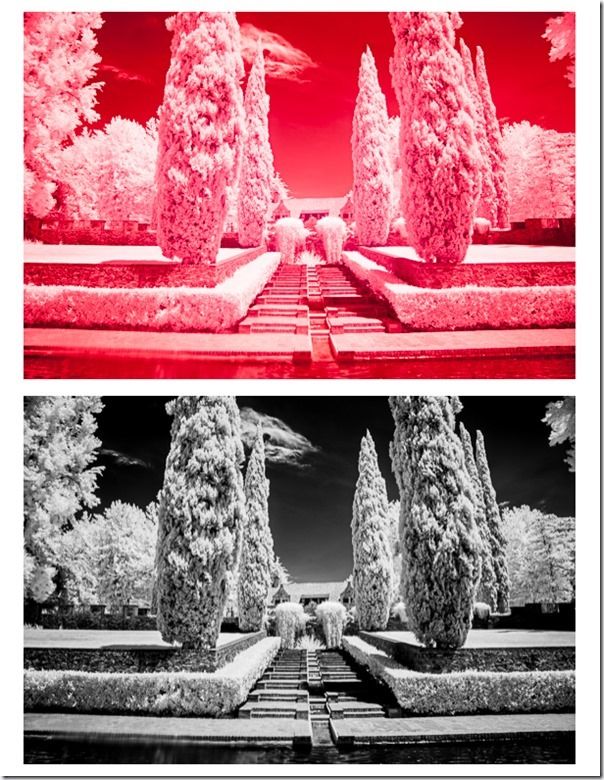 Once the camera is converted, it behaves pretty much like a standard SLR, and a lot of the technical and compositional considerations are the same. So, when shooting a landscape, you would choose a wider lens, narrower aperture, tripod with cable release, etc., and compose carefully to avoid clutter and distractions.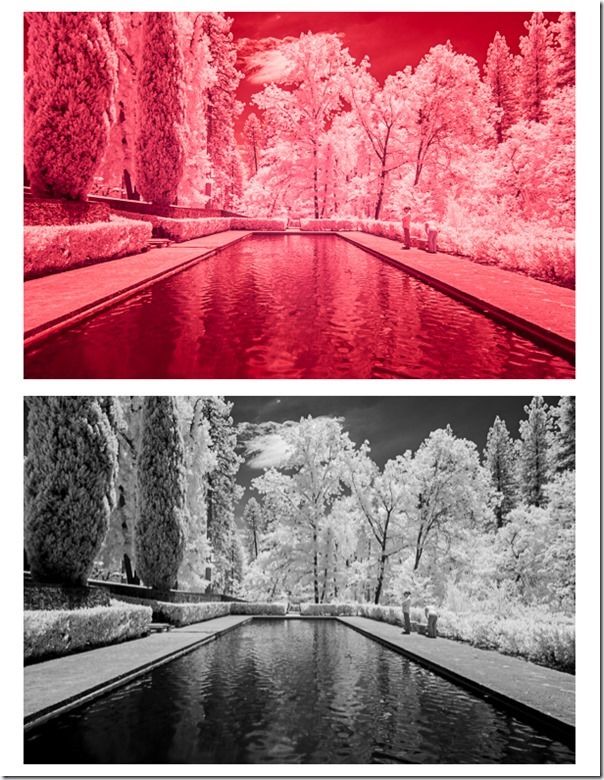 Exposure times are a bit faster, but otherwise you won't notice much of a difference, apart from an infrared image appearing on the rear LCD. When it comes to focussing, it's a good idea to focus via Live View, zooming into areas that need to be sharp. You can't manually focus in the normal way.
Autofocus might work fine, but it depends on how the camera was converted, so Live View focus is a safer bet.
You will need to set a custom white balance too – IR converters Live Pixel have posted a good video tutorial for Canon and Nikon here.
So what to shoot in infrared?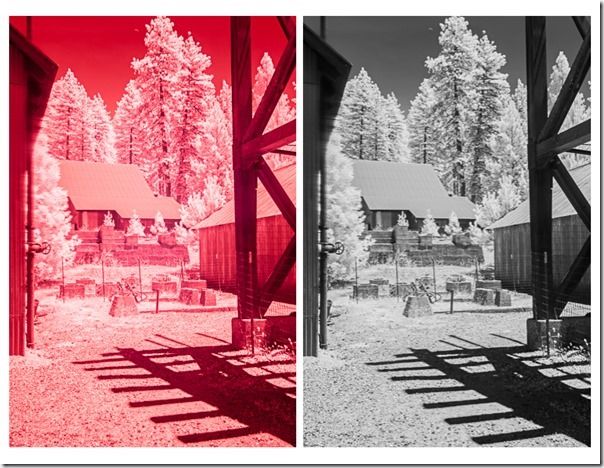 The classic subjects for infrared photography include trees and bushes on bright sunny days, as green foliage turns white and blue skies become very dark. Castles, temples or other old buildings can yield great effects too, particularly if there is bright green foliage around them.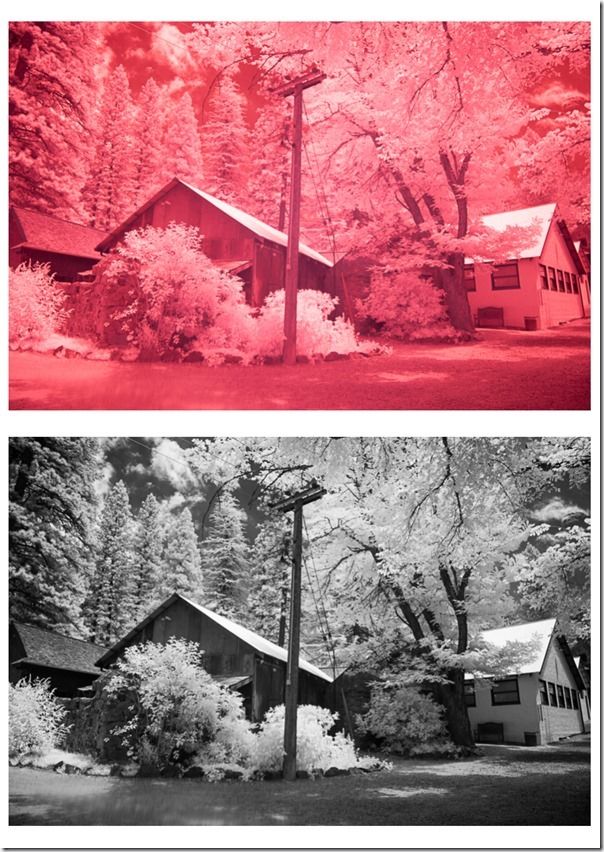 You also get interesting results with portraits, as infrared smooth's out wrinkles and blemishes. Finally, remember that you will need to do some editing with your photo-editing software for the best results, as images from the converted camera will be bright red. So shoot in raw to give yourself maximum latitude, and then do a careful monochrome conversion.
Infrared photography can feel a bit hit and miss as you are never quite sure how your subject will look, so another good idea is to bracket three exposures (-1, 0 and +1 stop) and then merge them in software for the best overall result.
Stay inspired
Get FREE Photography tips and ideas from our experts in your inbox.