WEEKEND ASSIGNMENT: Photographing Museums & Galleries
By Geoff Harris •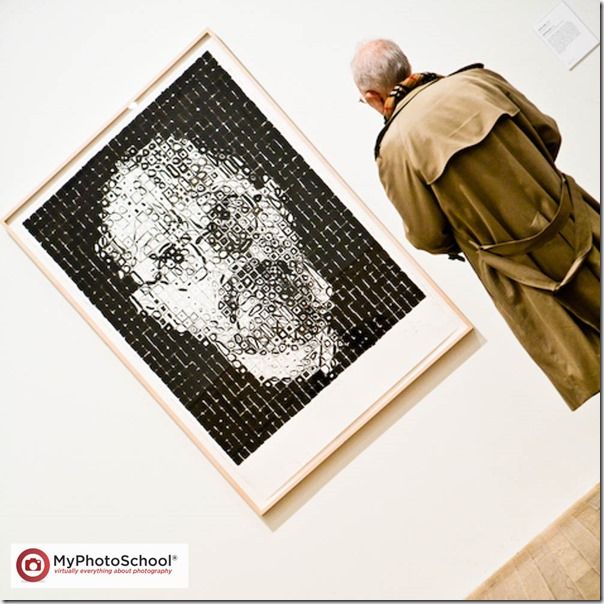 Try odd angle to spice up your composition
If you're looking for photographic inspiration your local museums or art gallery may be just the place to go. For a start there are the exhibits. If your local museum is anything like mine it'll be packed with weird and wonderful objects from around the world. Then there's the buildings themselves. Older museums are often an architectural joy. Even newer, more modern museums can have their charm. So, for a weekend treat, why not pop down to your local museum with your camera in hand. First though, here are a few things you might want to think about before you do...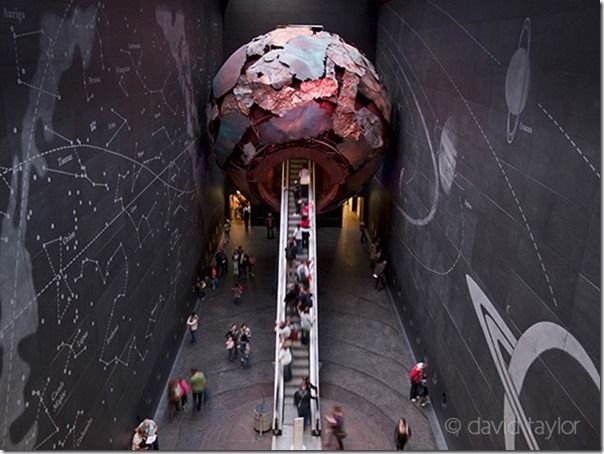 You'll first need to check whether the museum or gallery allows photography. Some do, some don't. It's up to you to find out before you go, rather than discover in mid-shot that actually you really shouldn't be doing that. Generally family-friendly venues are more open to photographers than those that are more exclusive. If a museum has no-camera policy don't try sneaking the occasional shot when you think no-one's looking either. You may find that you are being watched: by the museum's cameras.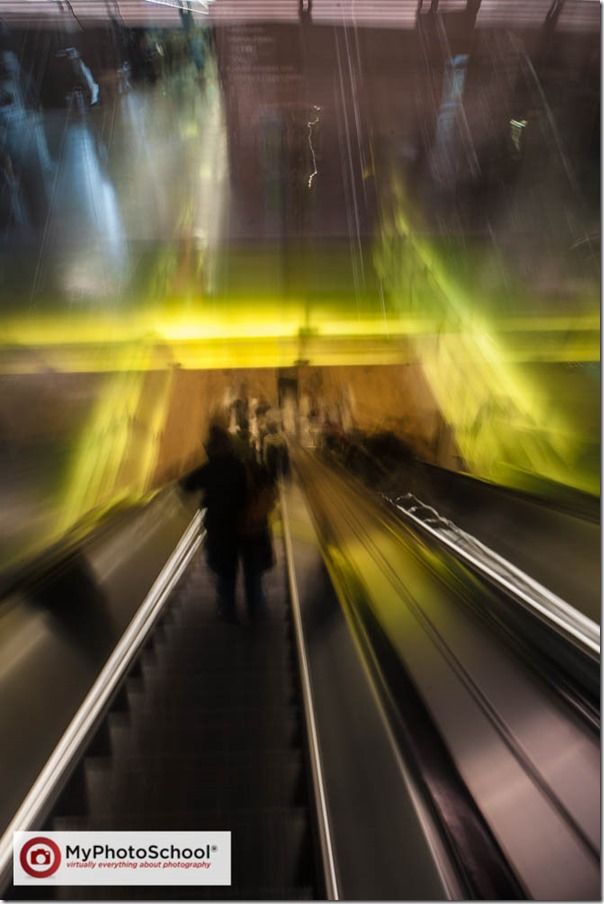 Image taken on the escalator at the Tate Modern London
Although you may be allowed a camera, it's less likely that you'll be allowed a tripod. For good reason. Museums and galleries are busy public places. A tripod is such a venue is an accident waiting to happen. Unfortunately, museums and galleries are sometimes dimly lit, which would make a tripod very useful. Instead either use a higher ISO than you would normally. Or rest your camera on convenient flat surfaces to take the shot (assuming that there are convenient flat surfaces available). Switching your camera to self-timer will help to avoid it being knocked when the shutter is tripped.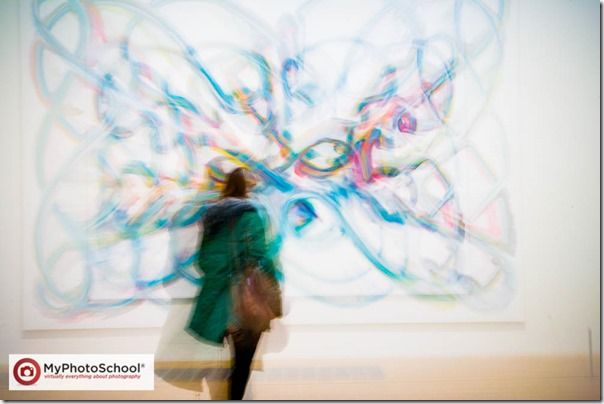 Flash is something to be avoided (and in fact, museums and galleries that tolerate cameras may still ban the use of flash). This is often because exhibits are delicate and would be harmed by the use of flash. On-camera flash isn't particularly attractive either. Plus, it's not really fair on the other people in the museum if you're there flashing all over the place (if you'll pardon the expression).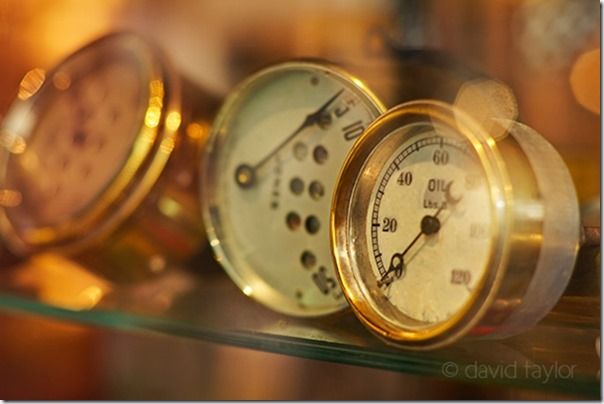 Exhibits in museums are generally behind glass. Glass is reflective, which can obscure the exhibit behind in the shot. Pressing the lens against the glass will cut out the reflection and help to keep the camera steady too. Don't press too hard though, particularly if the front element of the lens rotates as the camera focuses. If you're being really fastidious you could take a cloth to wipe the glass clean before you shoot. It's amazing how many sticky fingerprints people leave on display cabinets.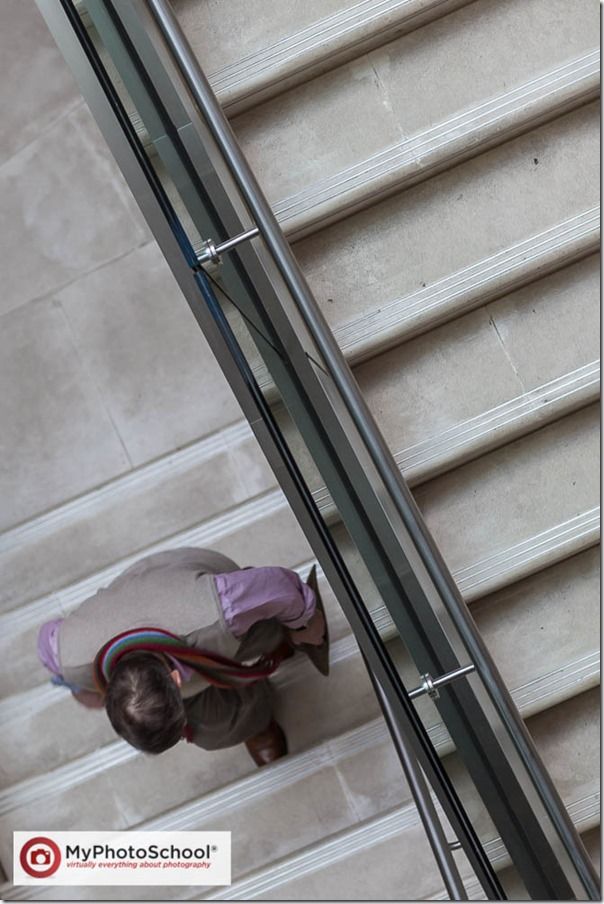 Look for lead in lines and abstract images of people and architecture
Compact digital cameras have one big advantage over their bigger cousins: macro mode. This makes them ideal for shooting smaller objects in a museum or gallery's collection. In my experience compact cameras engender a more experimental spirit too. There are shots that I've 'seen' when using a compact camera that I wouldn't have with a DSLR. The one downside to compact cameras is that using a higher ISO may turn your images into a noisy mush. Still, you could call it art and see whether it's suitable for hanging in the gallery you've just visited.
Your challenge this weekend is to shoot in a museum or gallery near you. Look for interesting objects, colours, even unusual or humorous juxtapositions.
Upload your best images to our free monthly photo competition for a change to win a 4 week online photography course of your choice.
Stay inspired
Get FREE Photography tips and ideas from our experts in your inbox.