Dahlias – summer bloom for late colour and cut flowers; perfect for pollinators
By Andy McIndoe •
Few perennials contribute as much variety of flower form and colour range as dahlias. Usually classed as summer flowering bulbs, dahlias grow from tubers which are inexpensive to buy, easy to grow and often live for several years. Although not frost hardy they can be started into growth indoors in early spring on a windowsill, in a greenhouse or conservatory, ready for planting out when danger of frost has passed. Living colour bulbs offer a great range of dahlias to suit everyone's taste and every garden situation.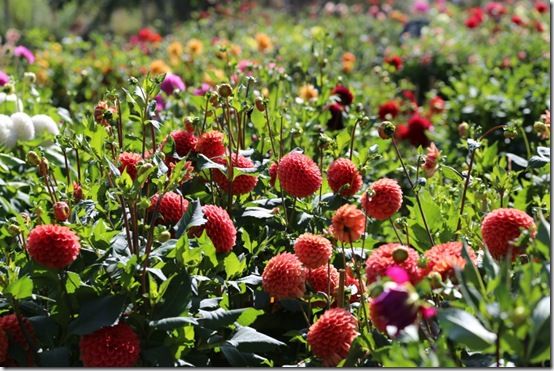 Dahlias are wonderful to add late summer and early autumn colour to beds and borders. Many make wonderful, long-lasting cut flowers and their exciting flower forms can add subtle magic of bold drama to floral decorations. The dwarf varieties are excellent in pots and start to bloom from mid- summer onwards. The tall single varieties mix well with shrubs and herbaceous perennials, rebooting the border as early flowering plants exhaust themselves. The large flowered varieties produce show stopping blooms that are works of art in themselves: they make dramatic statement plants.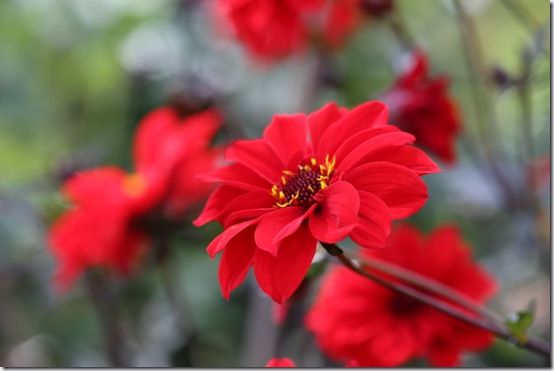 I was quite determined not to write about the scarlet flowered, Dahlia 'Bishop of Llandaff' again this year, I so often extol its virtues. However having seen its glowing flowers alongside so many other varieties I still think it is one of the best. It also falls into the category of dahlias with bronze foliage; The Bishop's leaves are rich chocolate and a feature even before the flowers appear. It is certainly an essential if you want to create a carnival of colour, try it with blue salvias, agapanthus or perovskia; it is simply stunning.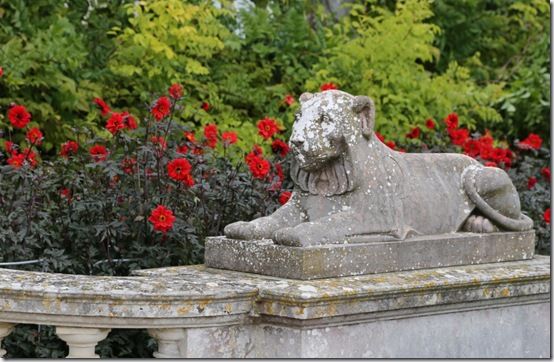 'Bishop of Llandaff' is a dahlia which lends itself to mass planting to make a statement. I came across its scarlet blooms in several great gardens last summer. As a background to a stone balustrade and statue its dark leaves and vibrant blooms are simply stunning.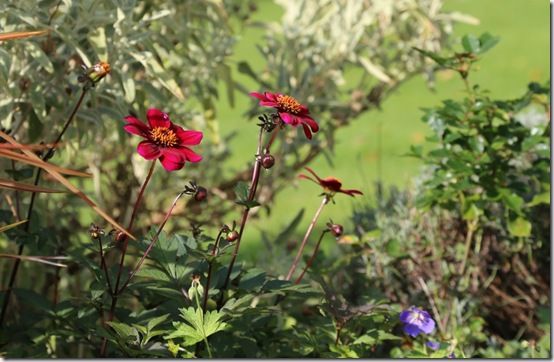 The Bishop series of dahlias offer a whole palette of different colours to suit any preference or planting scheme. The flowers are long-stemmed and are carried high above the foliage. This means that they are great for cutting and light enough in character to drift amongst other shrubs and perennials. Like most dahlias they will overwinter successfully if left in the ground in milder areas where the ground does not freeze far below the surface.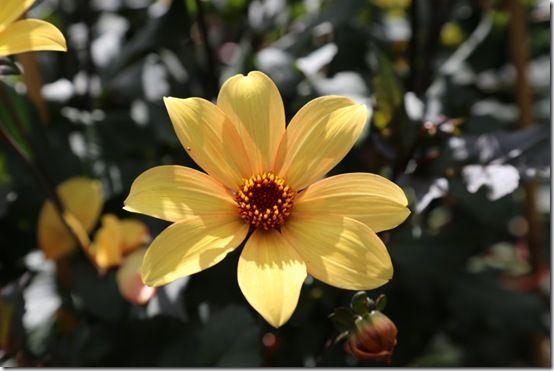 Dahlia 'Bishop of York'  is a wonderful soft, coppery yellow. Its shining single blooms are often more upward facing than the other 'Bishops' and make a striking contrast against the copper foliage. I would use this in an exotic planting scheme alongside rudbeckias, zinnias and some of the new hybrid sunflowers. If you want to really convey the tropical message then cannas are an essential partner. Personally I would always choose those with deep bronze foliage. There are plenty of other subjects with green leaves and the flowers of cannas, though lovely are really of secondary importance in the presence of dahlias!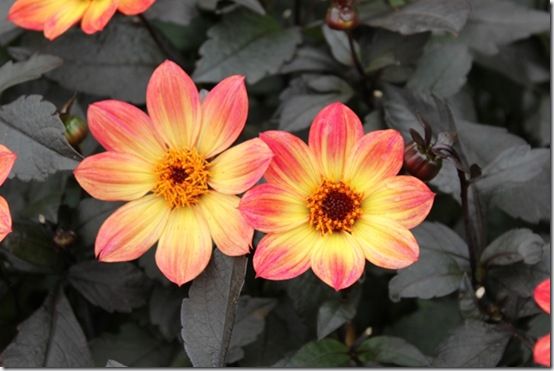 The Happy Single series of dahlias are cheery single flowered varieties that are shorter in stature than the 'Bishops'. They grow to less than 60cm (2ft) and have bronze foliage and plenty of blooms. They are perfect at the front of beds and borders and ideal in pots. The blooms are dark eyed to begin with becoming golden in the centres as the stamens release pollen. Dahlia 'Happy Single Flame' has yellow petals tipped with salmon.




Dahlia 'Happy Single Wink'  Has bright pink petals with a clear ring of crimson towards the centre of the blooms.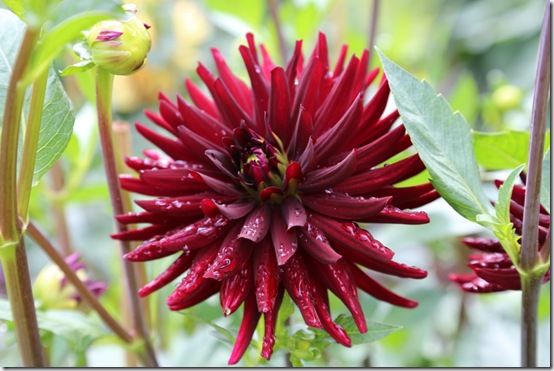 Of course any of the dark dahlias add a sense of drama and mystery to a planting scheme. The cactus blooms Dahlia 'Black Cat' ('Chat Noir')  are particularly striking. This is a tall-growing variety reaching 90cm (3ft). It would be an excellent accent plant in a mixed border and works with any other colour. It's also a great dahlia to grow in the vegetable patch against a row of scarlet flowered runner beans or rising out of the dramatic foliage of courgettes. Personally I am a great fan of spiky cactus dahlias, especially dark purple and burgundy ones. As I live in a household dominated by black cats, Dahlia 'Chat Noir' is particularly appealing.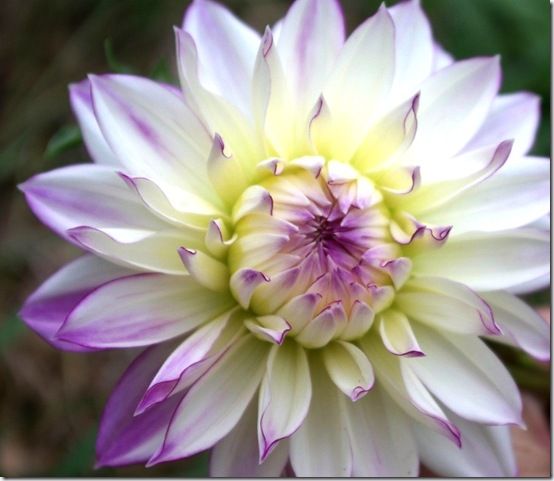 As a boy I remember going to the park to see the dahlias which were grown from tubers sent from Holland each year. I also recall green conical vases displaying magnificent blooms at the annual flower show that was held in a large tent in the park each summer. In both cases their blooms were unbelievably large, referred to as "dinner plate dahlias" they reminded me of the elaborate bathing caps often worn by older ladies at the public swimming pool. Dahlia 'Ferncliff Illusion' is just such a dahlia with its vast white blooms with purple tipped petals. Each flower could easily be 25cm (10") in diameter. The plants grow to 120cm (4ft) or more.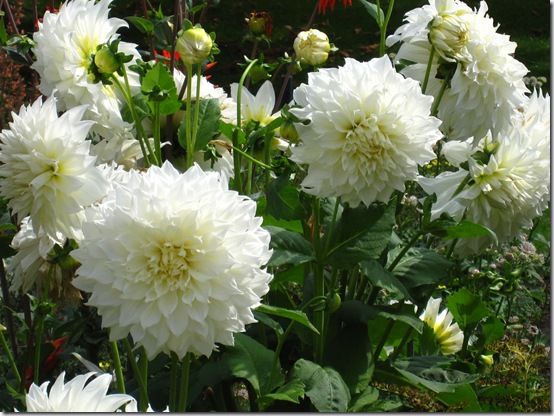 Dahlia 'Fleurel'  has pure white blooms of similar proportions. This is another decorative dahlia with green foliage. It would make a dramatic late season statement in a green and white planting scheme.

Dahlias are such versatile plants but don't forget the single flowered varieties and anemone-flowered dahlias are particularly attractive to bees and pollinating insects. The stamens are a rich source of pollen and the flowers are full of nectar. Now is a great time to buy dahlia tubers and get them started indoors. Check out Living Colour Bulbs now for dahlias and a host of other summer flowering beauties to add living colour to your summer garden.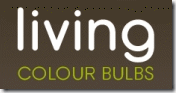 Stay updated
Receive free updates by email including special offers and new courses.