Spring sunshine means spring flowers; Andy's Adventures in Gardening
By Andy McIndoe •
What a difference a day makes. Here in England we seem to have endured an age of grey days; if not wet, then freezing cold. One bright spring day, when the sun finally breaks through the clouds suddenly its spring. In the in the world of gardening we are always very aware of the seasons. I always feel that spring has arrived when the first cheery crocuses open their shining blooms above blades of growing grass.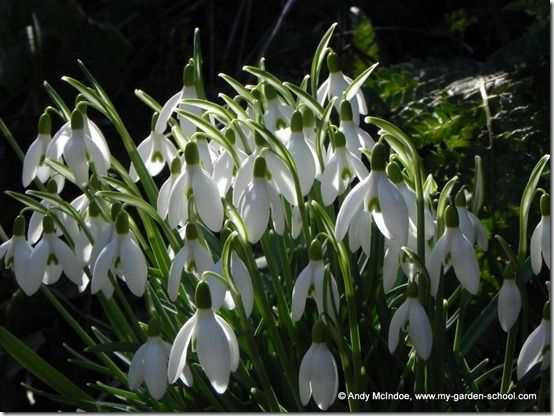 The snowdrops are at their fullest and tallest; still clear white and soft green and somewhat larger than they should be; close inspection reveals that their flowers are not long for this world. They may well have heralded the arrival of spring, but more brightly coloured spring flowers are about to steal the show.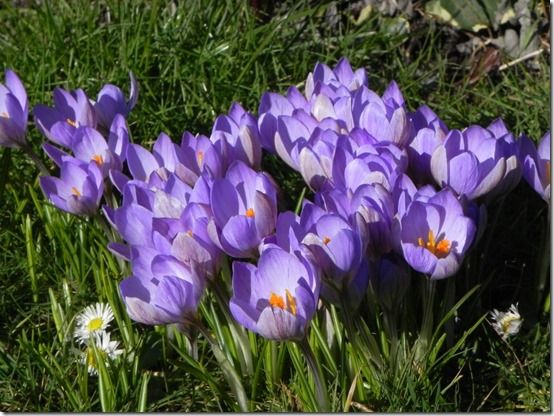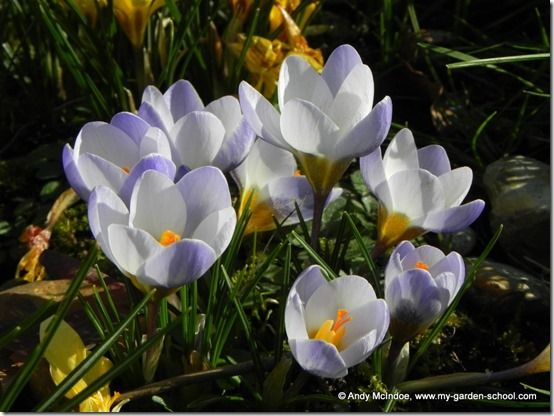 Even though the weather was still cold last weekend, I couldn't resist the temptation to gather a few hellebore flowers and arrange them on a dish of wet moss on the conservatory table. Their nodding cup shaped blooms are transformed when you can fully explore their beauty. I have a variety of Helleborus x hybridus plants in the garden, some specifically selected, and others that have arisen from chance seedlings.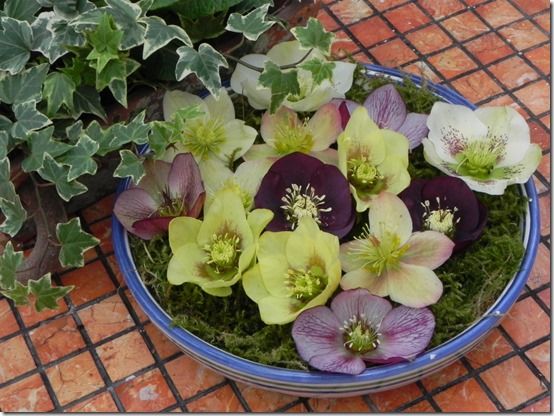 My burgundy hellebores that I planted last year have produced some particularly stunning blooms with primrose yellow stamens. My new plants of Helleborus x ericsmithii Monte Cristo are sporting large clusters of greenish, yellow blooms, the outside of the petals the colour of a ripe peach. The others: a variety of spotted and simple flowers in shades of pink, yellow and white. Why is it that the best ones always grow in the weirdest places? One seedling that's chose the most inconvenient spot produces large mauve pink blooms, plum on the edge of the petals and intricately spotted. Arranged on a bed of moss, rather than floated on water I find that they last longer and you see more of the flower.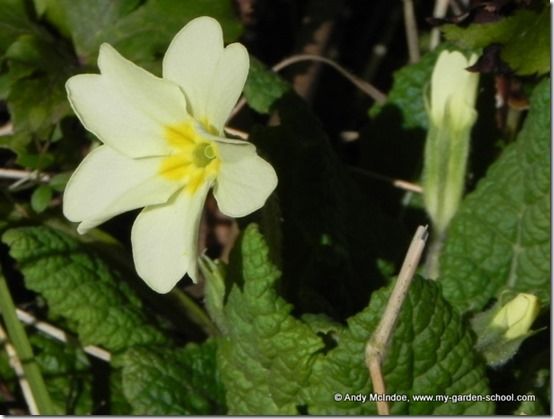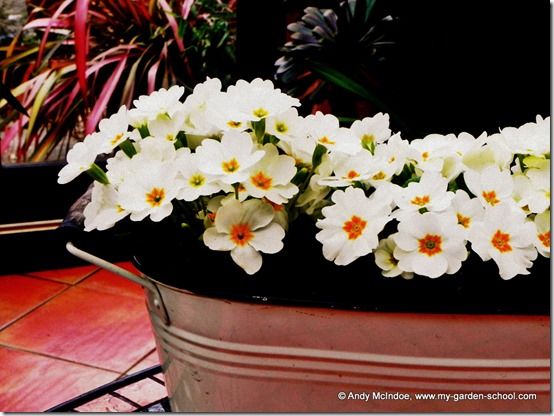 I love primroses; that is primrose-coloured primroses, not the brightly coloured ones that resemble Smarties. If found the brave spring flowers of Primula vulgaris beneath the shelter of a large lilac. Primroses seed freely on our light sandy soil and we allow them to naturalise under shrubs where they add so much early season interest. The conservatory is our little early haven of spring so I like to have primroses in there as early as possible. I have three plants of the lovely Primula 'Heritage'; it's creamier than our native primrose; more like the colour of pale custard. I've grouped them in a cream enamel container and they've bloomed in the cool, light conditions for several weeks already. Why bother with cut flowers when you can have these delightful pots of spring?
I planted another Primula 'Heritage' in a pot on the steps, along with a couple of double red Bellis perennis, that lovely pom-pom daisy. The red and cream flowers look great with Leucothoe 'Makijaz', a compact form of the ever popular Leucothoe 'Rainbow' which has intricately variegated cream, green and dark red leaves. I tucked a small plant of Euphorbia martinii 'Ascot Rainbow' in for luck. This is one of my favourite foliage plants for this time of the year, ever though its colours are more autumn shads. The narrow leaves are striped with olive green and old gold, flushed orange-pink at the tips of the shoots. It's a surprisingly tough and compact plant that's great for a pot or the front of a bed or border. It also has the bonus of spikes of bright yellow-green flowers to follow.
Getting up early in the dark is a fairly dreary experience through the winter months. However in the past few days it's getting light when I draw the curtains. There is birdsong too, another sign that things are waking up. Driving home in the evening it's still light: that means longer days gardening at the weekend, and it means that the soft green haze of spring will soon spread through the hedgerows. Heading up the path to the house the cool, fresh spring air carries the sweet lemon fragrance of Daphne odora 'Aureomarginata'. Delicate little posies of soft mauve-pink flowers have opened from clusters of purple buds, each framed by a ruff of finely gold edged leaves.
I wander up the garden to the pond to see if there are any signs of frogspawn; nothing I can see at the moment; hopefully the cold weather has made them wait for warmer days. Water lilies and irises are stirring though, even in the low light of early evening their bright green hues show against the brown fading foliage that remains from last year. A late clump of aconites still puts on a brave yellow show against those curious green collars that back the blooms. A carpet of Cyclamen coum is in full flower under Prunus 'Kojo no Mai' whose swelling buds promise imminent blossom. I bought this cyclamen at the Royal Horticultural Society's early spring show a few years ago. It had about three leaves and a couple of flowers, now look at it. Isn't it wonderful when a plant works like this one has? That's when the adventure of gardening seems even more worthwhile than it usually does. The new season has begun; spring sunshine, spring flowers and a whole gardening year ahead of us. Even though it's raining again now I know this year is going to be a good one.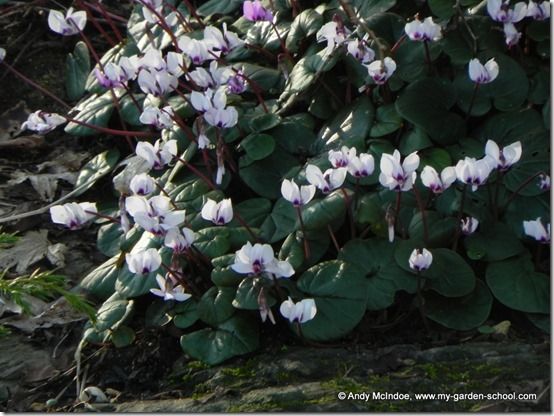 Why not tell us about the spring flowers you are pleased to see? Do you think the season is early or late where you are? We would love to hear from you!
Stay updated
Receive free updates by email including special offers and new courses.