This highly invasive plant is known as the Kudzu plant or "The Vine who ate the south," originating from Japan. It's a perennial vine which has been spreading like mad over several years, suffocating everything in its way.
Kudzu, also know as Pueraria Lobata is an invasive species. It is known for its rapid growth which in some cases has been proven to be very destructive. Kudzu is native to Asia, first originating in 19th century, however the infamous weed is now associated with the South Eastern hemisphere in America. Now covering about 227,000 acres of forestland in Southern US (an area about the size of a small county) Kudzu is known for it's invasive manner including smothering native crops, taking away sunlight, moisture and soil nutrients.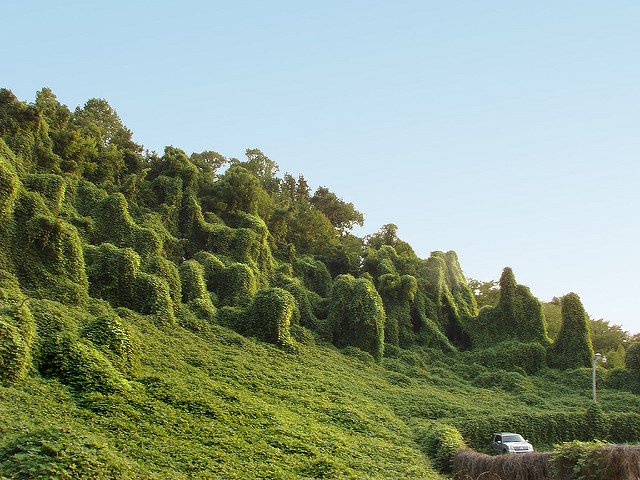 Kudzu plant spread over the whole valley. You can see the trees smothered by the plant
Kudzu thrives in the warm, wet climate of the South and has become a global symbol for the dangers of invasive species. However the myth of kudzu has recently been investigated. Is it really 'the vine that ate the south?'
The fact this specific weed has been grown on roadside plantings, which were isolated from grazing and impractical to manage it was no surprise it thrived in these conditions. Kudzu appeared larger than life because it's most aggressive when planted along road cuts and railroad embankments. As trees grew in the cleared lands near roadsides, kudzu rose with them. It appeared not to stop because there were no grazers to eat it back. But, in fact, it rarely penetrates deeply into a forest; it climbs well only in sunny areas on the forest edge and suffers in shade.
Kudzu was referred to for describing the Southern landscape although now we've taken a closer look, it actually only covers about one-tenth of 1 percent of the South's 200 million acres of forest. Invasive roses had covered more than three times as much forestland as kudzu.
So where did the more fantastic claims of kudzu's spread come from?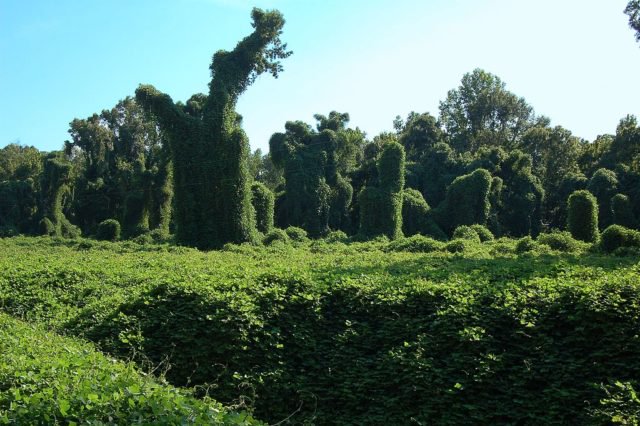 Kudzu covered field near Port Gibson, Mississippi, USA

In 1998, Congress officially listed kudzu under the Federal Noxious Weed Act. Today, it frequently appears on popular top-ten lists of invasive species. The official hype also led to various other questionable claims—that kudzu could be a valuable source of biofuel and that it has contributed substantially to ozone pollution.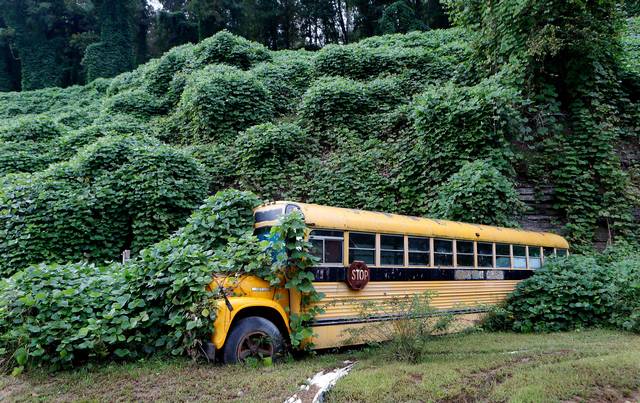 It veils more serious threats to the countryside, like suburban sprawl, or more destructive invasive plants such as the dense and aggressive cogon grass and the shrubby privet. More important, it obscures the beauty of the South's original landscape, reducing its rich diversity to a simplistic metaphor.

In the end, kudzu may prove to be among the least appropriate symbols of the Southern landscape and the planet's future. But its mythic rise and fall should alert us to the careless secondhand way we sometimes view the living world, and how much more we might see if we just looked a little deeper.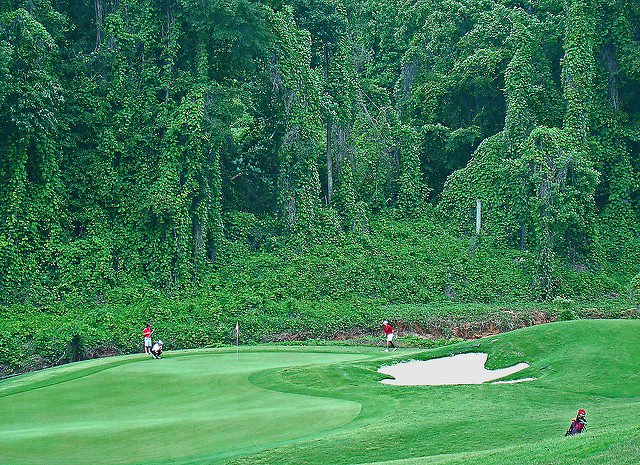 Kudzu wall on the edge of Legislator course at Capitol Hill Golf complex in Prattville, AL. Part of the Robert Trent Jones, Jr. Golf Trail
Stay updated
Receive free updates by email including special offers and new courses.