Yellow fever; Yellow flowers, golden foliage; Love yellow in the garden, or loathe it?
By Andy McIndoe •
How do You Feel About Yellow Flowers & Foliage?  Do you know euonymus, elaeagnus, ilex and aucuba?
Whenever I am talking gardening involving the use of colour I always ask the audience, "Who hates yellow in the garden?"  I can guarantee two or three hands raised, and a few sly grimaces, but sometimes half the audience declare their loathing of this lively colour. Some claim a similar aversion to variegated foliage, but usually further investigation reveals that they quite like green and white leaves, but loathe the strong yellow and green variegations exhibited by some shrubs.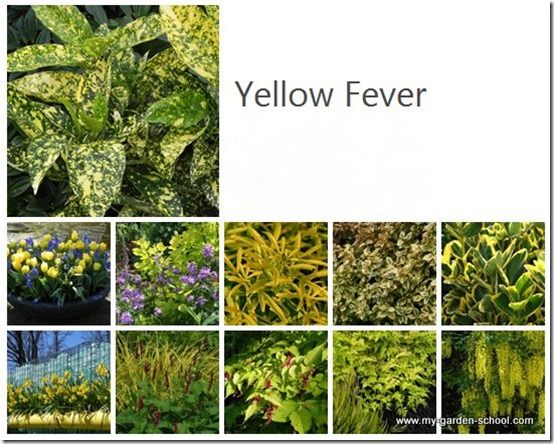 But what lights up the garden in winter? Variegated foliage in shades of gold and green is the simple answer.  Winter flowering shrubs are appealing, but colourful leaves are undoubtedly showier.  Throughout the year the bold, bright leaves of euonymus, elaeagnus, ilex and aucuba add colour. But in winter, without the diluting effect of masses of green leaves around them, they come into their own and steal the show.  Their hues are warm and strong, and all the more intense in low winter light.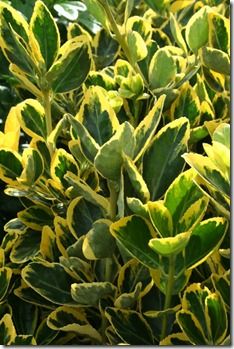 The evergreen euonymus are good examples: they grow on any soil in sun or shade, cope with salt winds and have year round appeal.  Euonymus fortunei 'Emerald 'n' Gold' is so widely planted because it works.  This plant is great under trees or to bring a ray of sunshine to any shady corner.  It is excellent in pots and containers, and makes a brilliant short climber.  It's hard to fail with this plant, perhaps that's why many avoid it; maybe they see it as, dare I say it? Common!
Euonymus japonicus 'Ovatus Aureus' is the widely used green and gold, large leaved variety which forms a rounded shrub up to 1.5 metres (5 feet) in height. Plants are variable and do have a habit of producing plain green shoots but a good plant is certainly colourful.
Gardeners have a love-hate relationship with ivy but the large-leaved variegated ivies are unbeatable for year-round colour on shady walls and fences, or up the trunks of mature trees.  Hedera colchica 'Sulphur Heart' is particularly showy with its large dark green leaves boldly splashed with gold and emerald.  It would make the perfect backdrop for a mahonia such as 'Charity' or 'Winter Sun'; the yellow flowers of the mahonia will pick up the golden highlights in the ivy.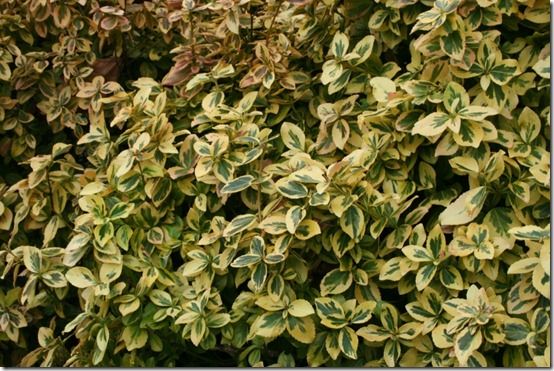 So what is it about yellow flowers or foliage that some find so offensive? Well, yellow is an attention grabbing colour.  Wherever it is placed it draws the eye and gets noticed.  Yellow is uplifting and raises the metabolism.  It is often used as the colour for the walls of institutional corridors because it gets people moving!  I used all-yellow planting at Chelsea Flower Show around my outdoor gym: it certainly got noticed.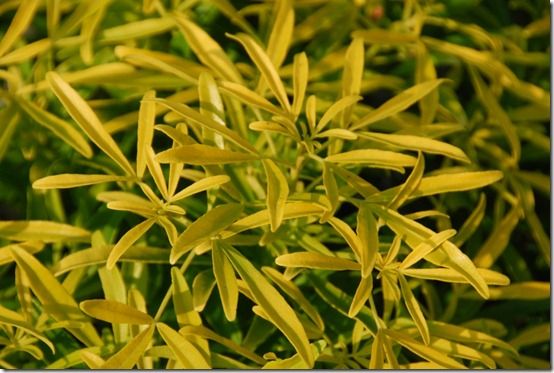 Using yellow in the garden does need a certain amount of care and thought.  Use a bold yellow shrub such as the new Choisya 'Aztec Gold' by an entrance, gateway or doorway and you will highlight a route through or into the garden.  Use a lovely soft yellow leaved shrub such as Leycesteria 'Golden Lanterns' alongside a statue, birdbath or feature and you will highlight it as a focal point in the garden.  This plant has a truly Oriental look when used with appropriate accessories.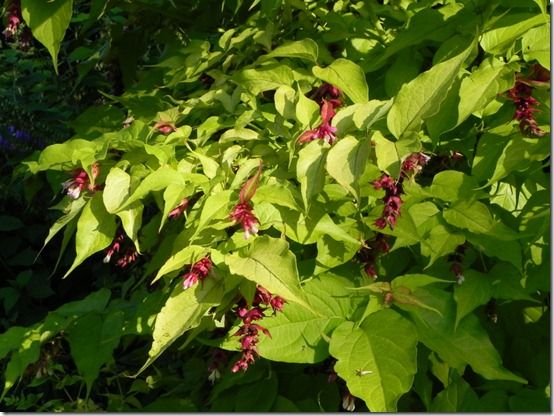 Yellow needs to be balanced through the planting to be successful. Plant strong yellow only on one side of the planting picture and it just won't work. Balance the colour through the picture and it will. You can sprinkle yellow through the planting, this works using yellow flowers; especially perennials and bulbs.  You can use light, airy yellow plants such as sedges and grasses in the planting to highlight other colours.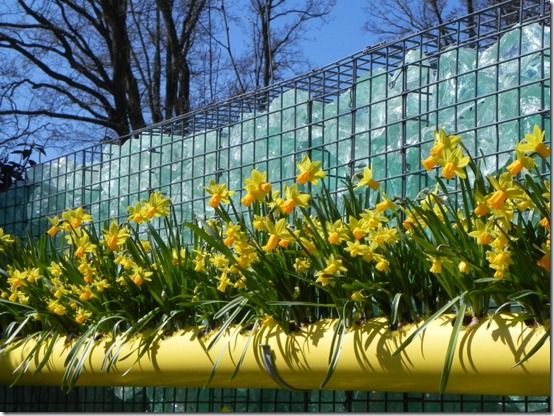 Bright yellow flowers in spring seem to work: cheery daffodils and narcissi drifting beneath the trees and sparkling in pots and containers. Would I plant yellow flowers?  Yes I would.  The small flowered specie-type yellow daffodils I love.  I am less keen on the large flowered trumpet yellow daffodils.  I know one gardener with a strong dislike of yellow who has about three acres of yellow daffodils, and a garden sprinkled with forsythia and mahonias. Perhaps spring yellows are different?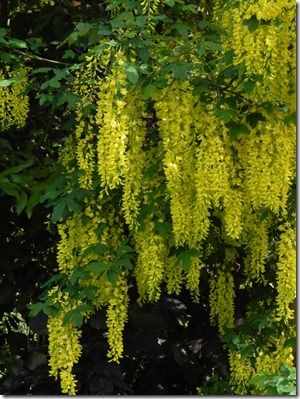 So would I have yellow in my garden? Yes I would.  One of my favourite shrubs is the lovely Cotinus 'Golden Spirit' with its soft yellow, rounded leaves. It's a great choice to partner adventurously with other colours.  I love laburnum; I think there are few more arresting sights than a tree dripping with golden-yellow flowers in late spring. I like yellow foliage in shade where it goes limey-green, but is still bright and uplifting.  I love pale yellow and blue together and often use it in pots.
So let's hear about your golden moments in the garden.  Yellows you love; yellows you loathe.  Or maybe you avoid yellow at all costs? Christopher Lloyd used plenty of yellow......................But I've rarely seen a yellow garden. Maybe we'll talk white next time.
Stay inspired
Get FREE Gardening tips and ideas from our experts in your inbox.