Nikon D750 v Canon 7D Mark II – New SLRs Compared
By Geoff Harris •
Nikon D750 v Canon 7D Mark II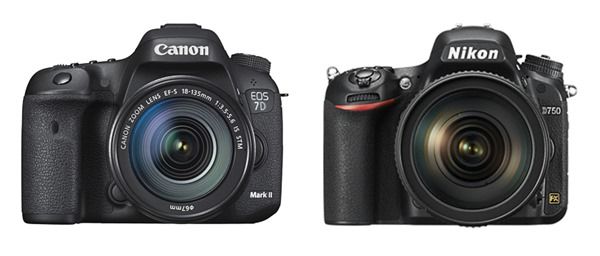 With two new brand new high-end SLRs announced in the last month, anyone looking for a powerful new SLR has suddenly found their decision is much harder. While the Nikon D750 and Canon 7D Mark II are similar in some ways, in others they are very different, so read on for a quick overview of their pros and cons to help you choose the right camera for your needs.
Resolution


While some Canon fans may be disappointed that the big C didn't bring out a high resolution full-frame SLR, the 7D Mark II still packs a lot of punch. The Canon EOS 7D Mark II has a similar 20.2Mp sensor to the Canon EOS 70D but is APS-C, rather than the 24.3Mp full-frame chip inside the Nikon D750.
While non-full frame SLRs have physically smaller sensors, the Canon gets an advantage in terms of speed and usability, as the file sizes are smaller. If you prefer larger, very high resolution files though, maybe for portraits or weddings, but don't want the exponentially higher resolution of the Nikon D800, the D750 seems a more obvious buy.
Speed

Here, the difference between the two cameras becomes much more clear. The Canon is built for speed, with dual Digic 6 image processors that enables a continuous shooting speed of 10 frames per second. The Nikon is rather left behind at 6.5 frames per second, so again, how much of an issue this is depends on how you like to use your camera.
If you are very keen sports photography amateur or even a semi pro, the Canon is a much more tempting buy. If a very high fast burst rate is nice to have but not absolutely essential, it becomes more of a level playing field again.
Autofocus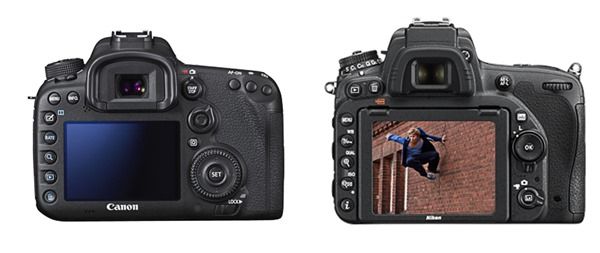 Both cameras have upgraded AF systems, with the Nikon boasting a pro-spec, 51-point AF system, along with the new Group Area AF mode that made its debut on the flagship D4s model. In comparison the Canon offers 65-point system, also based on the sensitive cross-type cross type system.
On paper the Canon wins this aspect of the battle but in practice there isn't a great deal of difference between the two. An extra 14 AF points is unlikely to persuade many people who have already built up an arsenal of Nikon lenses to convert.
ISO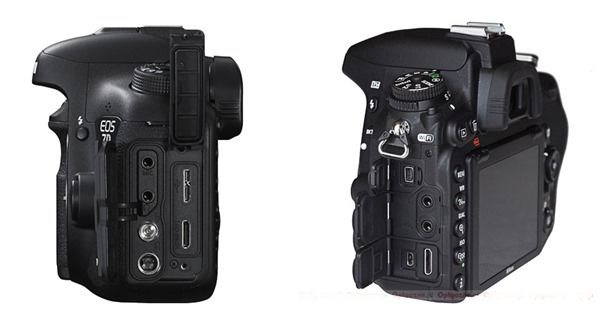 Low light fans are spoilt for choice. The Canon has a native sensitivity range of ISO 100-16,000 while the expansion settings allow you to take it up all the way to ISO 51,200. Very impressive stuff. Meanwhile the Nikon's sensor and processor combination delivers a native sensitivity range of ISO 100-12,800 with extension settings that enable you to kick it up 51,200.
So Canon is again the clear winner, but it should be remembered that we are talking about very high ISO levels that a lot of users would only select in quite exceptional circumstances. Many photographers get a bit nervous when they go higher than ISO 3200, as the risk of noise rises exponentially.
Other extras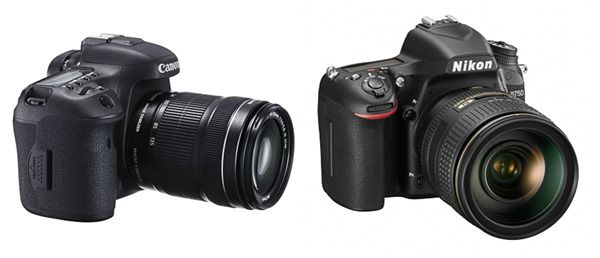 So it's a pretty evenly matched race and the final buying decision will probably hinge on whether you want a full-frame sensor or are happy sticking with APS-C. Obviously, full frame images give you very detailed, high resolution images, but there are downsides – full-frame lenses tend to be lot more expensive for a start. So are there any other extra features in these cameras that could sway your buying decision? I really like the tilting rear LCD on the Nikon D750.
It sounds like a small thing, but the fixed rear screens on most higher end SLRs can feel restrictive when you are used to the much more flexible ones on cheaper SLRs or compact system cameras. Having this tilting screen will definitely aid composition. There is built-in WiFi too. So it's a bit of a let down to discover that the Canon only offers a fixed rear screen, with no built-in WiFi. We're not sure why, and it seems a bit of an unfortunate omission.
On the positive side the ergonomics are excellent and the Canon has many customization options. Also, the lack of some of these bells and whistles soon tends to be forgotten about when you are blazing away at 10 frames per second and enjoying the superbly fast AF system.
Conclusion
While the Canon is an excellent camera, I can't help feeling that the company has rather been thrown back on the defensive by not giving the 7D Mark II a higher resolution sensor. So the big appeal of this camera comes down to how important speed and high ISO performance are. If you are fine with a slightly slower burst rate and more conservative ISO numbers, the Nikon seems to offer the most bang for your back.
Obviously though much will depend on whether you have already invested in a lens system for Canon or Nikon. There is probably no single improvement about either camera that is likely to make you convert – neither of these cameras, while very nice, are genuine game changers like the Canon 5D Mark II or Nikon D800.
Stay inspired
Get FREE Photography tips and ideas from our experts in your inbox.