London's most secret garden; The old Arsenal football pitch
Did you know the old Arsenal Football ground is the only other garden (apart from No. 10 Downing Street) - you can apply for a ticket to visit by ballot?


With World Cup fever starting, our interest has turned to Arsenal FC's former pitch redesigned into a revolutionary contemporary London communal garden by Christopher Bradley-Hole.  The former football pitch is one of 20 new gardens that was open in this year's London Open Garden Squares Weekend this weekend.  I was fortunate enough to preview this secret garden of hallowed turf at Highbury Square the very first time it was open for viewing to the press a couple of months ago. This was quite a strange experience having been many times to see Arsenal play at Highbury when it was still one of the most famous football stadiums in the world.




 The pitch at Highbury Stadium, has been transformed into a contemporary garden enclosed by the luxury flats surrounding it which were previously the football terraces frequented by diehard Arsenal fans until 2006.  The stadium itself is still just as imposing and impressive, designed by Archibald Leitch and built in the Art Deco style.  There's no doubt about it; the conversion has been sensitively done (as it should have been costing a reported £170 million).  I must admit I wasn't sure how I would feel about it walking in (as I'd also been to the backoffice at Arsenal many times before), but I was pleasantly surprised.




[caption id="attachment_8650" align="alignleft" width="560"]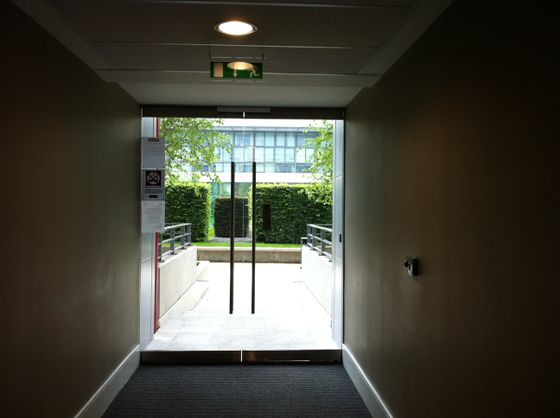 The Arsenal Tunnel[/caption]


And most strange of all was that the art installation tanks – with bubbles running through them, did really honestly remind me of the crowds.  Whether this was the intention or not I've no idea – but when you see the garden, through the bubbles, it's exactly the same as the crowd bubbling with anticipation before the match.  Clever stuff – intentionally; or unintentionally!  The only way I could get close to capturing this was by videoing it.   See below.





The Highbury Square Gardens as The former Arsenal pitch is now known – is the only garden apart from the garden at number 10 Downing Street that is open for access via a public ballot.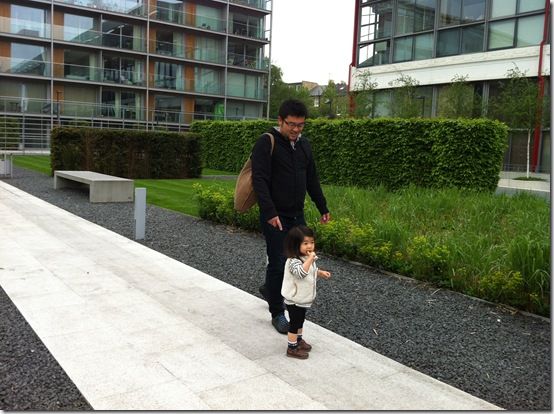 Bradley Hole's garden design deftly pays tribute to the former Arsenal pitch and is unequivocally the focal point of the whole development. Maintaining the simple sports-ground shaped rectangular space, the inside has been abstracted into a complex grid of planting and water features surrounded by tall wild grass plantings - which cleverly add movement to the former pitch. The planting with wild grasses and hedgerows set out on a tartan grid and punctuated by decorative features of glass encased, illuminated water walls.  Importantly the garden also includes a Memorial Garden, where the ashes of over 500 Arsenal supporters are buried.  The photo below shows the section where 500 Arsenal supporters' ashes are scattered in the original turf saved from the Arsenal Pitch .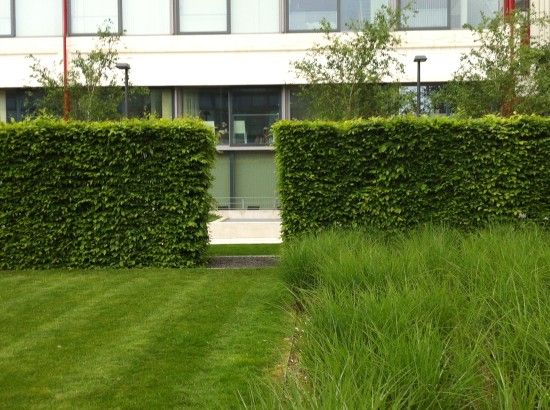 Away from the central garden, the north and south blocks form a series of six garden courts. The visual links created between these more intimate spaces and the garden encourage residents to feel ownership of the development as an addition to London's strong tradition of garden squares



More than 200 gardens took part in the London Open Squares Weekend.


The former Arsenal Pitch was first open to the public officially (aside from press day) this weekend on 14 and 15 June, and this garden was open along with other classic London square gardens roof gardens, community allotments, urban wildlife and ecology centres as well as the gardens of historic buildings, institutions and businesses, open to the public in 27 boroughs.




The annual event was established in 1998 and is run by the London Parks & Gardens Trust in association with the National Trust.




Open Garden Squares Weekend took place in London this year, with more than 200 hidden and little-known gardens opening to the public on Saturday 14 and Sunday 15 June. This year there were over 20 more gardens open than in 2013.




The gardens, located across 27 London boroughs, ranged from the historic and traditional to the new and experimental. They included classic London square gardens, roof gardens, community allotments, urban wildlife and ecology centres as well as the gardens of historic buildings, institutions, restaurants, schools and shops.




Highlights of the 2014 Weekend included:


 


Barnsbury Wood (N1, Barnsbury) is London's smallest local nature reserve. This delightful hidden woodland was originally the garden of a house built in the 1840s. It eventually became abandoned to nature and is now home to a wealth of wildlife. Due to its small and vulnerable nature, it is rarely open to the public.




The Hill Garden
and Pergola (NW3, Hampstead) on the edge of Hampstead Heath, this secret garden is an extraordinary space with a grand Italianate feel, boasting a grade II listed, 800-foot-long pergola, designed by Thomas Mawson. There are fine views of Harrow Church and Hampstead Heath.
Fenton House and Garden (NW3 6SP, Hampstead) is managed by us and boasts extensive walled gardens, a 17th-century merchant's house with formal terrace walks and lawns, a sunken rose garden, meadows, a kitchen garden with culinary herb borders and a historic orchard where more than 30 varieties of English apples grow.
The Skip Garden (N1, King's Cross) is a mobile allotment on the new King's Cross site, built by local partners as an example of organic urban agriculture on one of the largest development sites in Europe. The functions of an organic garden are organised into separate rubbish skips  including a growing house and green engine!
East London and Docklands
St Angela's Ursuline School (E7, Newham): The Catholic Ursuline Sisters came from Holland to Forest Gate in 1862 and established this school on an extensive piece of land. The walled garden is very mature with one of the oldest flowering tulip trees in this part of the country. It is a green oasis, with many religious icons, providing a daily refuge for the school's staff and students who come from a variety of different cultures and backgrounds.
Cordwainers (E8, Hackney): On the site of the former shoe-making college, this small community garden focuses on the wider uses of plants, cultivating a small medicinal plant bed and growing plants used in colour fabric dye, with regular dye workshops using flowers, leaves, 'weeds' and barks gathered from the garden. This year they are growing flax as part of a London-wide project to grow a garment entirely within the bounds of the M25.
Core Landscapes Pop-up Garden and Nursery is a community plant nursery and 'pop-up' garden with a difference - it can move! Currently cultivating a large site in east London, staff and volunteers reclaim and develop wasteland for community and wildlife wellbeing – and then move on. Land that would otherwise be inaccessible is opened up to the community for food and flower growing, volunteering, horticultural education and plant sales with the whole project designed to be movable from site to site. 2014 includes a new 'Pop-Up Garden' demonstrating what can be done with a few tyres, annual seeds and donated shrubs and perennials.
Zander Court
Club House (E2, Bethnal Green) is a community garden made up of plants that thrive in an urban setting, designed and looked after by residents to maximise the pleasure and interest for passers-by. It lies at the heart of a 1970s housing estate, built by Stillman and Eastwick-Field and was noted by architectural guide writer Nicholas Pevsner for its irregular, low-rise and human-scale design.
Eastbury Manor (IG11 9SN, Barking & Dagenham) is a grade I listed Elizabethan manor, owned by us, with well-preserved walled gardens which retain their original internal brickwork, complete with bee boles. The garden features herbs and flowers that would have been used in the Tudor period for cooking and medicines.
Garden Barge Square (SE1 2AX, Bermondsey) at Tower Bridge Moorings dates back over 200 years. Gardens are created on the decks of many of the barges to form a truly unique 'inside-out' floating garden square including a 'tree barge' with a square of quince trees in its centre. The gardens are a vital link in the green corridor of the Thames foreshore.
Central London
The Nomura Building (EC4, Angel Lane) has views over the City and the River Thames, and its new roof garden is a model of sustainability. The large kitchen garden is managed voluntarily by the receptionist team of Eileen, Linda and Tessa. Now in its third year with about 25 different varieties of vegetables and edible flowers, the garden provides an array of produce, enabling Nomura's chefs to pick fresh vegetables daily for client dining. The surplus is offered for sale to staff, with profits donated to charity.
Collingham Gardens Nursery (WC1, Bloomsbury) is a completely hidden, semi-wild garden in the middle of Bloomsbury, with many large trees dating back at least a century. Originally part of the first graveyard set outside church land in London, the gravestones (and the bodies!) remain. For the past 50 years the garden, which was given in posterity for the use of children, has been used by a cooperative nursery run by local parents. They grow food, which they harvest and cook, and plant new trees to replace those that die.
The sunken courtyard of the International Lutheran Student Centre (WC1, St Pancras) is a quiet haven in the busy streets of St Pancras. It was created on the site of a World War II damaged Church of England property as a calm place for student residents and members of the Church community. There is a variegated weigela shrub and Japanese rowan tree, with ground-level beds containing a variety of perennial shrubs, seasonal and annual plants. In St Mary's Church, which opens onto the garden, there is a sculpture of Christ on the Cross by Elisabeth Frink. Visitors are invited to take time to reflect, listen to music or join in a guided meditation.
Number 10 Downing Street (SW1) is the official residence of the British Prime Minister, an important office and also the place where the Prime Minister entertains guests. The garden at Number 10 Downing Street is shared by residents in Number 10 and Number 11, as well as guests from both buildings. The terrace and garden at Downing Street were constructed in 1736 shortly after Walpole moved into Number 10. The garden is dominated by an open lawn of half an acre that wraps around in an L-shape. Tubs of flowers line the terrace and roses line the main pathway through the garden. Entry by public ballot, no purchase necessary, see website.
Park Square and Park Crescent (NW1, Marylebone) were originally planned as a full circus by Regency architect John Nash but only a graceful and elegant semicircle was realised. The wonderfully atmospheric Nursemaids' Tunnel connects Park Crescent with Park Square and has an elegant pavilion concealing a ventilation shaft for the London Underground. Park Crescent is dominated by magnificent London plane trees of a similar age to their counterparts in Park Square.
Middle Temple Gardens (EC4, Temple) was the scene of the plucking of the red rose of Lancaster and the white rose of York in Shakespeare's Henry VI and in 1602 the first presentation of Shakespeare's Twelfth Night was held in Middle Temple Hall. The Shakespeare connection lives on with Rosa 'William Shakespeare' planted along the main terrace. Flamboyant planting includes mixed shrubs and roses and a changing display of herbaceous and tender annuals - this year salvia and penstemon.
The Phoenix Garden (WC2, Covent Garden): This tucked-away community garden on a former bomb site provides a peaceful, green retreat for both people and urban wildlife. Plants are chosen to suit the difficult growing conditions and support as many wildlife species as possible. Echiums tower over vibrant red salvias, clematis scramble through bramble and golden nettles thrust through purple elders. A stone's throw from the West End's theatres, a surprising range of wildlife makes its home here, including the West End's only frogs.
Gardening Leave at Royal Hospital Chelsea (SW3 4SR, Chelsea)
is a haven for veterans and serving military personnel who seek horticultural therapy, working with staff and volunteers to grow vegetables for the Hospital, and cut-flowers for the Chapel and State Apartments. The garden is extremely private and encompasses a quiet area, a poppy bed, raised beds for the less mobile and has plenty of seating, showcasing many ways of growing vegetables in containers, which the veterans can then take home.
South London
Bee Urban (SE11, Kennington) is a beekeeping and environmental education community project at the Keeper's Lodge in Kennington Park. Local volunteers have transformed the unused garden with new beds, fruit trees, soft fruit, nectar-rich plants, herbs and flowers to support the bees in the 'Bee Barn'. Volunteers learn gardening, beekeeping, construction/carpentry, cob oven construction, cooking, candle-making, paper-making and more.
Glengall Wharf Garden (SE15, Peckham) is where local people reclaimed this large new community garden on the derelict site of an old wharf of the Surrey Canal in 2012. They use a wide variety of different sustainable gardening methods, using permaculture techniques to develop an edible forest garden and grow vegetables for three local restaurants. There are bumble bee sanctuaries, hot composting, a compost toilet, pergola, pond, polytunnel and specially-constructed plant-growing mounds.
The kitchen and secret gardens at Charlton Manor Primary School (SE7, Charlton) feature raised beds, a vegetable patch, fruit trees and vines, greenhouse, pond, hide, chickens and an observation beehive. Lessons from maths to geography are taught in the gardens and the school has two in-house chefs to teach the children how to cook the produce they grow. Charlton Manor has grown plants for a number of RHS shows.
Friends of Carnegie Library (SE24, Herne Hill) have developed the garden of this old Arts and Crafts building as a quiet place for visitors to read. There is a bog garden, raised beds and wildlife area as well as a garden trail and storytelling for children.

The Jamyang Buddhist Centre (SE11 4NA, Kennington) garden is a peaceful retreat located in the original Victorian exercise yard for prisoners of the Old Kennington Courthouse. It features a magnificent golden Buddha statue, onsite café and a small meditative garden space. The gated courtyard garden is planted with a mixture of shrubs, climbers, perennials and annuals, and features a magnolia tree planted by His Holiness the Dalai Lama in 1999.
West London

Pembridge Square (W2, Notting Hill) is a beautifully maintained and cultivated large garden square, featuring different garden spaces for quiet reflection or play. Previous visitors include Princes William and Harry whose primary school used the gardens as a playground.
John Betts House (W12, Hammersmith) is part of the Hammersmith United Charities' Almshouses. This hidden courtyard garden for older people is a marvellous surprise. A gold medal-winner in the London Gardens Society and Hammersmith & Fulham in Bloom competitions, the garden features many unusual plants, hanging baskets, a greenhouse, raised vegetable beds, a water feature and balconies with residents' container gardens.
The Roof Gardens (W8, Kensington): Above the former Derry & Toms department store and, briefly, the iconic Biba clothes boutique, these gardens opened in May 1938 with three themed gardens, all now extensively restored and replanted: the Spanish Garden in the style of the 1950s, the Tudor Garden based on the Biba ethos and the English woodland as a 21st-century environmental and wildlife garden with fully-grown oak and fruit trees and a flowing stream inhabited by Mandarin ducks and the infamous flamingos. The original Spanish garden is being recreated as an Artisan Garden at this year's Chelsea Flower Show.
The Tudor-walled kitchen gardens at Osterley Park and House (TW7, Isleworth) grow ornamental vegetable displays as they would have been grown at the time the house was built in the late 18th century. Just eight miles from Hyde Park Corner, Osterley is the last remaining country estate in London and is managed by us. The 18th-century Pleasure Grounds have been recently restored, and include a grade I listed garden house by architect Robert Adam with lemon trees, an 'American border' and Long Walk.
St Michael's Convent (TW10, Ham): Four acres of garden, behind a convent, include a walled vegetable garden, orchards, vine house, ancient mulberry tree, extensive borders, labyrinth, meditation and Bible gardens.
Many gardens also presented stalls, music, entertainment, family and art activities, food and drink.
Stay inspired
Get FREE Gardening tips and ideas from our experts in your inbox.